MILTON, September 25, 2021 – Monte Miki made his first stakes appearance a memorable one, claiming top prize courtesy of a primetime performance in the $824,000 Metro Pace, Saturday night at Woodbine Mohawk Park.
A bay son of Always B Miki, Monte Miki arrived at the Metro with an unblemished record after three starts. At the end of the prestigious event for two-year-old pacers, he was still undefeated and very much at the top of his game.
Lining up in the second tier from post 11, Monte Miki, typically a close-to-the pace type, was settled into ninth spot by Scott Zeron, as Wearinmysixshooter, with Dexter Dunn holding the reins, grabbed early control of the race with Fourever Boy keeping close tabs on the pacesetter through an opening quarter of :27.
Wearinmysixshooter was still firing on the front end as Zeron and Monte Miki sat tenth after a half-mile timed in :55.3.
"You might not have noticed, but I probably moved my horse three times before the half just because there was so much action going on," said Zeron, who was driving the horse for the first time. "Yannick (Gingras) wasn't able to get in this second-tier path there when he was trying to. There was a lot in the middle portion of that race, then obviously when Sylvain (Filion, driving Bob Loblaw) made his break, it kind of opened the floodgates for me."
As the field entered the turn for home, Wearinmysixshooter began to pace away from his rivals, ahead of his closest pursuer by three lengths at Ken Middleton's stretch call. Monte Miki, meanwhile, had been methodically picking off his rivals one-by-one and was quickly gaining ground on the leader.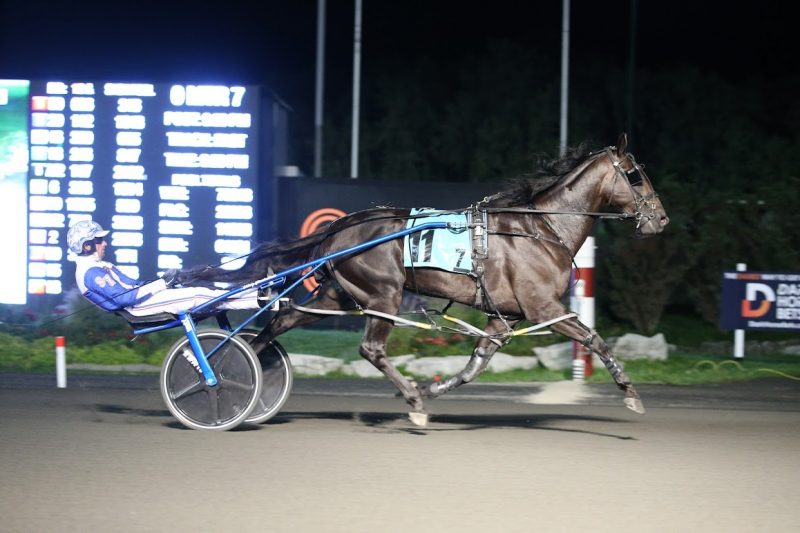 At the wire, Monte Miki, who carved out a final quarter of :28, won by 2 ¾-lengths, stopping the teletimer in 1:52.2. Wearinmysixshooter was second and Fourever Boy was third.
"I thought for sure I was going to be second, second at three deep, because he really responded well and he's very big horse and gets over the ground so well," offered Zeron. "I knew he'd carry speed all the way up to second, but Dexter had a cushion up front, and just probably with the last eighth of a mile to go, I thought I was going to catch him."
Sent off at 15-1, Monte Miki returned $33.70 for the milestone win.
After taking a qualifier in 1:58.1 at Hoosier Downs on June 23, the Velocity Standardbreds (Lebanon, OH) homebred debuted at Scioto Downs on July 8, posting a three-length triumph in a time of 1:55.
The Mark Evers trainee posted two more wins at Scioto, on July 22 and September 1, to net the natural hat trick before his date in the Metro, where he made it a grand slam to start his career.
Woodbine Communications