MILTON, July 7, 2018 – The popular pacer Nickle Bag surpassed $1 million in career earnings with his 38th career victory Saturday night at Woodbine Mohawk Park.
Known for his gritty performances, Nickle Bag did it all on the front to score a 1:52.2 victory in a $13,000 event. James MacDonald guided the classy pacer for trainer Bill Robinson.
A gelded son of Rocknroll Hanover, Nickle Bag made his racing debut on August 24, 2012 at Mohawk Park and Saturday evening was his 198th career start. All 198 starts have taken place at Woodbine Racetrack and Mohawk Park.
Nickle Bag has spent a large portion of his career racing in the Preferred and took on the sport's heavyweights in the 2016 Canadian Pacing Derby, finishing fifth.
A true warrior, Nickle Bag has hit the board in 118 of his 198 starts. His career-mark is 1:49, taken on April 30, 2016 at Mohawk Park.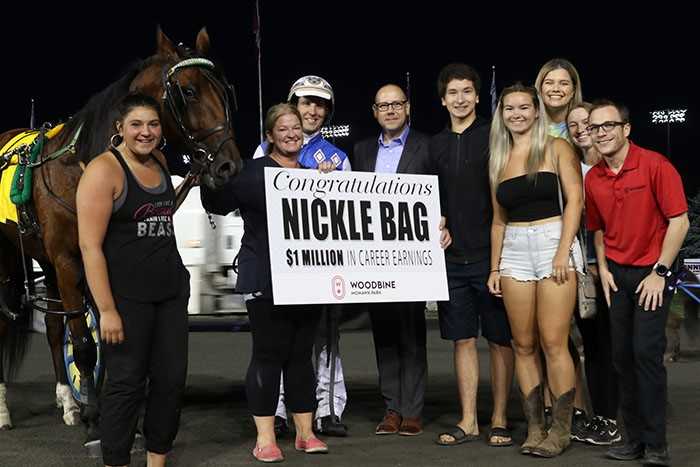 Nickle Bag continues to grind away at the age of eight and now has four wins and nine "on the board" finishes in 23 starts this season.
The Robinson trainee paid $2.60 to win Saturday.
Congratulations to the connections of Nickle Bag on the pacer's incredible accomplishment.