MILTON, September 25, 2021 – Two undefeated freshman pacing fillies came into tonight's $500,500 Shes A Great Lady final at Woodbine Mohawk Park and only one, Niki Hill, kept her streak intact but the other, Prohibition Legal, made sure she earned it.
The lead changed hands twice before the :26.4 opening quarter but it was heavy favourite Niki Hill well ensconced on the front by the :54.4 half which is when Prohibition Legal began her challenge. The two unbeaten misses were almost neck and neck at the 1:22.3 three-quarters and battled together down the lane but Niki seemed to find another gear and hit the wire first 1:50.2.
A very game Prohibition Legal, who came into tonight's final with a perfect six for six record, was second for James MacDonald. Her sire, Big Jim, stands at Seelster Farms which who sponsored tonight's final. Joyride Hanover was third while Boudoir Hanover and Balance completed the top five.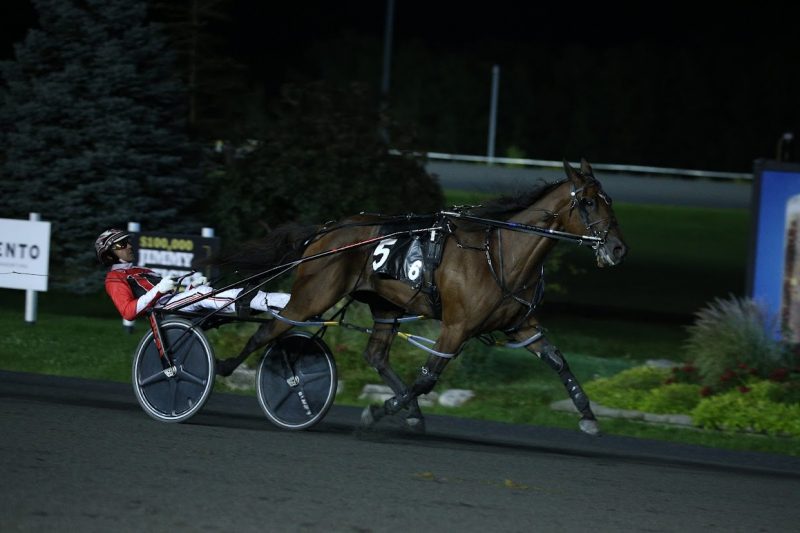 Niki Hill, a daughter of Always B Miki trained by Chris Ryder, now has a perfect five for five record with tonight's contest the richest she's competed for by more than $445,000. Bred by Stephen Dey of New Jersey, she was a $155,000 yearling purchase by owner Tom Hill at the Lexington Select Sale. With tonight's win she has $315,000 banked to date.
Niki Hill is the third foal of the good race mare Road Bet, a winner of over $380,000 in her career. Her first foal was the $1.1 million winner Cattlewash.
Niki's pilot in all of her starts to date, Dexter Dunn, said of the race: "James and his filly really threw down there at the three-quarters into the stretch. I hadn't asked my filly too much yet, I thought she had more in the tank and she kicked away at the end of it."
Dunn was asked to compare this filly to her extremely talented former stablemate Party Girl Hill, who was 15 for 16 in an incredible thee-year-old season last year and was on tap to return this year but had to be retired due to injury.
"She's on her way to that stage. Obviously Party Girl didn't race at two, she started her career at three. She has that staying ability like Party Girl and can hold her speed for a long way in the mile."
As for his success so far this season the driver commented: "It's the horses I get to drive and the people I get to drive for. I've been lucky, I've driven some unbelievable horses, they do all the hard work."
The filly' owner, Tom Hill Sr. explained the victory was more special given what happened with Party Girl: "After losing the ability to race Party Girl this year God sent me two champions, he sent me this one and he sent me Grace (Hill), who are two super fillies and fill the void for Party Girl."  Grace Hill, a three-year-old pacing filly also by Always B Miki, is currently riding a five race winning streak and has $638,000 earned to date.
"We always like coming to Mohawk, it's a great track, great venue. With what's happened around the world with the pandemic I never thought we'd be here again like we are. it's unbelievable," added Tom Hill Jr.
The Shes A Great Lady is named in honour of the talented Ontario-sired pacing mare who was an O'Brien Award winner and world record setter in 1996 and established more than one world record.
Now 29 Shes A Great Lady is enjoying her well earned retirement at Diamond Creek Farm whose entrant in tonight's final, Balance, finished fifth.
Woodbine Communications