MILTON, September 4, 2018 – The entry box for the Canadian Trotting Classic and Elegantimage Stakes closed Tuesday morning at Woodbine Mohawk Park with neither event requiring eliminations.
The $665,000 Canadian Trotting Classic for three-year-old trotters attracted 11 entries, while the $340,000 Elegantimage for three-year-old trotting fillies received seven entries.
All entrants advance directly to the finals to be contested on Saturday, September 15.
Pennsylvania Sires Stakes champion Crystal Fashion and Zweig Memorial champion Mets Hall headline the field of 11 for the Canadian Trotting Classic.
Trained by Jim Campbell, Crystal Fashion has earned $652,182 this season to bring his career earnings to $813,474, which is the highest in the field. The son of Cantab Hall has won eight of 12 this season, including the $500,000 final of the Earl Beal Memorial, an elimination of the Hambletonian and most recently the $253,000 PASS Championship.
Mets Hall is also a son of Cantab Hall and entering the Trotting Classic on a strong roll. The Julie Miller trainee captured the $169,183 Simcoe Stakes last Saturday at Mohawk Park, which came two-weeks after winning the $350,000 Zweig Memorial.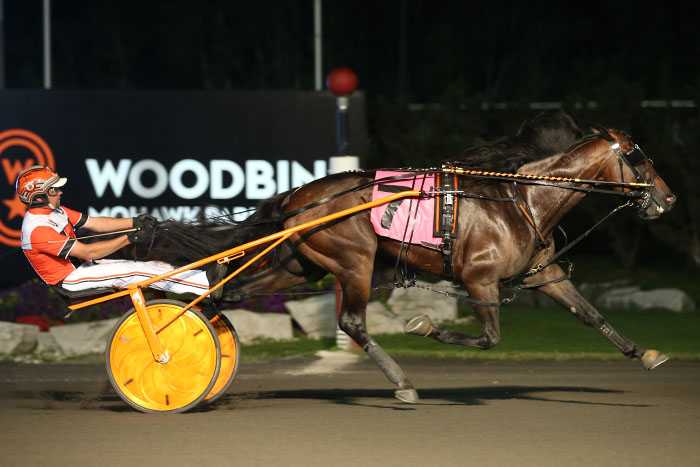 A winner of $808,499 lifetime, Mets Hall has earned $541,364 this season with his biggest payday coming from his runner-up finish in the $1 million Hambletonian final. He has won three of seven starts this season.
The field for the Canadian Trotting Classic also includes O'Brien Award winner Alarm Detector and last year's Breeders Crown champion Fiftydallarbill.
The $340,000 Elegantimage Stakes will be the next showdown between superstars Atlanta and Manchego. The Hambletonian champion and Oaks champion clashed for the first-time this season on August 24 at Mohawk Park with Manchego winning the Casual Breeze Stakes.
The next chapter in the Atlanta-Manchego rivalry will also feature the addition of Hambletonian Oaks runner-up Phaetosive. The Trond Smedshammer trainee enters the Elegantimage off a victory in Sunday evening's PASS Championship and is five for seven this season with $397,864 earned to bring her career earnings to $675,604.
Hambletonian champion Atlanta is six for eight this season with her only losses coming to Manchego in the Casual Breeze and Trotting Classic entrant Crystal Fashion in an elimination of the Hambletonian. The Rick Zeron trained filly has earned $737,234 this season.
Jimmy Takter trainee Manchego leads the fillies in career earnings with $1.4 million earned in 21 career starts. The Hambletonian Oaks champion has six wins and $517,722 earned in nine starts this season.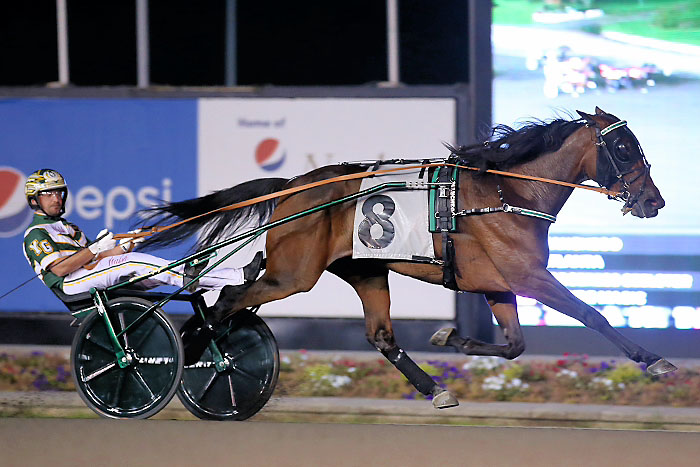 The Canadian Trotting Classic and Elegantimage Stakes will be joined by the finals of the William Wellwood Memorial and Peaceful Way on September 15 for a card featuring more than $1.8 million in purses.
Below are the complete fields for the Canadian Trotting Classic and Elegantimage. Fields are listed in alphabetical order.
$665,000 Canadian Trotting Classic
Alarm Detector (Trainer: Ben Baillargeon)
Crystal Fashion (Trainer: Jim Campbell)
Fiftydallarbill (Trainer: William Crone)
For A Dreamer (Trainer: Brad Maxwell)
Lawmaker (Trainer: Harry Poulton)
Mets Hall (Trainer: Julie Miller)
Missle Hill (Trainer: Tony Alagna)
Run Director (Trainer: Ben Baillargeon)
Winning American (Trainer: Paul Reid)
You Know You Do (Trainer: Jimmy Takter)
Zephyr Kronos (Trainer: Jimmy Takter)
$340,000 Elegantimage
Alloveragain (Trainer: John Bax)
Atlanta (Trainer: Rick Zeron)
Blonde Magic (Trainer: Tom Durand)
Jordan Blue Chip (Trainer: Mike Keeling)
Manchego (Trainer: Jimmy Takter)
Phaetosive (Trainer: Trond Smedshammer)
Sneeker Hanover (Trainer: Duane Marfisi)