MILTON, September 1, 2020 – Tall Dark Stranger's dominant performance in the 37th Pepsi North America Cup highlighted a record-setting evening for Woodbine Entertainment.
The 13-race Pepsi North America Cup card on Saturday, August 29 generated a handle of $5,619,396, the highest wagering handle in the 57-year history of racing at Woodbine Mohawk Park. The $5.6 million total surpassed the previous track and Pepsi North America Cup card record of $5.2 million set in 2016.
The 2020 Pepsi North America Cup card handle of $5.6 million was up 47.7 per cent over the 2019 event, which had a handle of $3.8 million.
"Saturday night was an extraordinary event during extraordinary times," said Jim Lawson, CEO, Woodbine Entertainment. "Despite hosting the event without the usual packed crowd, it still had the feel and excitement the Pepsi North America Cup has come to represent while delivering a record handle."
The wagering menu for this year's Cup card was headlined by a Jackpot Hi-5 mandatory payout, which saw $1,189,337 in new money wagered. The new money joined a carryover total of $381,378 and winning horseplayers received a return of $1,559.16 for a $0.20 ticket.
The Early Pick-5 saw its largest pool-ever with a total pool of $185,925. The Early Pick-5 is harness racing's largest nightly pool, averaging more than $120,000 a night since live racing resumed in June.
A special "All-Stakes" Pick-5 was part of the wagering menu and generated a total pool of $174,313, closing as the second-highest Pick-5 pool in track history. The Early and Late Pick-4 each topped $100,000, coming in at $102,072 and $107,136, respectively.
The record-setting handle came during an unprecedented time in the history of the Pepsi North America Cup and Woodbine Entertainment. With strict capacity limits in place due to COVID-19, this year's Pepsi North America Cup was restricted to an invitation-only crowd.
Despite being closed to the public, wagering in the Woodbine market was up 4 per cent over last year. Ontario HPIbet wagering on this year's card nearly doubled the number from 2019, up 96.8 per cent. Foreign wagering also saw a significant increase compared to 2019, growing 74 per cent.
The limited number of fans onsite and the large number watching on TSN, HPIbet, Darkhorse App and other platforms saw a spectacular performance from pacing superstar Tall Dark Stranger, who became the first-horse to ever win the Metro Pace and Breeders Crown at age two and then return to win the Pepsi North America Cup.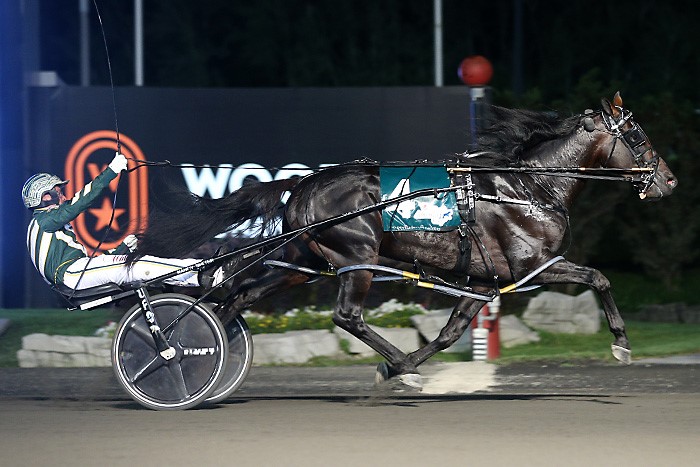 Trainer Nancy Takter became the first trainer since 1994 to win back-to-back editions of the Pepsi North America Cup, while driver Yannick Gingras secured his first win in Canada's most-prestigious harness race.
"On behalf of Woodbine Entertainment, thank you to our staff and horsepeople for being committed in following our COVID-19 safety protocols during the pandemic, which provided the entire industry with the opportunity to experience this event," said Lawson. "To our fans, thanks for your ongoing patience and we hope to see you back at the track soon, and certainly for next year's North America Cup."
The Pepsi North America Cup card featured $2.4 million in purses and kicked-off a stretch of five-consecutive Saturdays with cards containing total purses north of $1 million. The current month of live racing at Woodbine Mohawk Park is stacked with Grand Circuit events, including this Saturday's Canadian Pacing Derby and Maple Leaf Trot.
The "Grand Circuit Month" at Woodbine Mohawk Park concludes with the $1 million (USD) Mohawk Million and $850,000 Metro Pace on Saturday, September 26.
Live racing continues every Monday, Tuesday, Thursday, Friday and Saturday at Woodbine Mohawk Park. Post time is 7 p.m.