TORONTO, January 19, 2018 – Winter Series action continued Friday night at Woodbine Racetrack with four divisions of the Snowshoe Series for three and four-year-old pacers.
A total of 32 pacers competed over four $17,000 divisions for the first leg of the three-week series.
(Replays of each Snowshoe division can be viewed at the bottom of story)
Abbeydorney and driver James MacDonald captured the first division at odds of 9/2.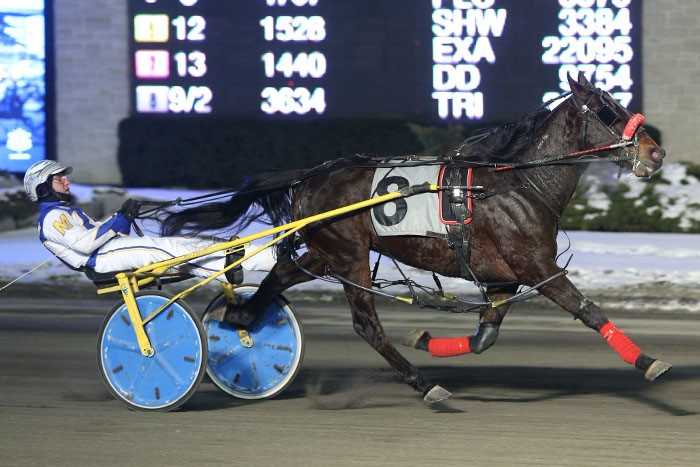 Trained by Scott Friend, Abbeydorney was hustled from an outside starting spot and would settle into the early two-hole behind My Teen Idol, who posted a :27.1 opener.
Lyons William, the 4/5 favourite, made a second-quarter move from third to first and led the field through middle-half panels of :56.2 and 1:25.1. However, Lyons William would hit a wall at the head of the lane and My Teen Idol was able to pop the pocket and grab the lead.
The lead would be short-lived for My Teen Idol, as MacDonald was able to squeeze through a tight spot and provide Abbeydorney with clear room to surge by and score a four-length victory.
My Teen Idol crossed the finish line second, while Fitbid Luck crossed third and Lyons William fourth.
The final results for the opening division would see several changes following a pair of reviews by the AGCO Judges.
My Teen Idol was deemed to have broken equipment before the start and therefore was a full pari-mutuel refund. The connections of the three-year-old pacer still receive the purse money for finishing second.
Meanwhile, race-favourite Lyons William went inside several pylons in the stretch and was disqualified from fourth to seventh.
Race-winner Abbeydorney is now one for three in 2018 to follow up a three-year-old season that saw him win three of 22 starts. The four-year-old gelded son of Rock N Roll Heaven has now banked $44,272 for owners Aaron Waxman and Alan Alber.
Abbeydorney paid $10.50 to win.
The second division featured an intriguing matchup between Jack Darling trained three-year-old Burn Out Hanover, who was seeking a fourth straight win, and Dean Nixon trained four-year-old Artofficial Flavor, who holds a mark of 1:51.4 and a victory over tougher competition.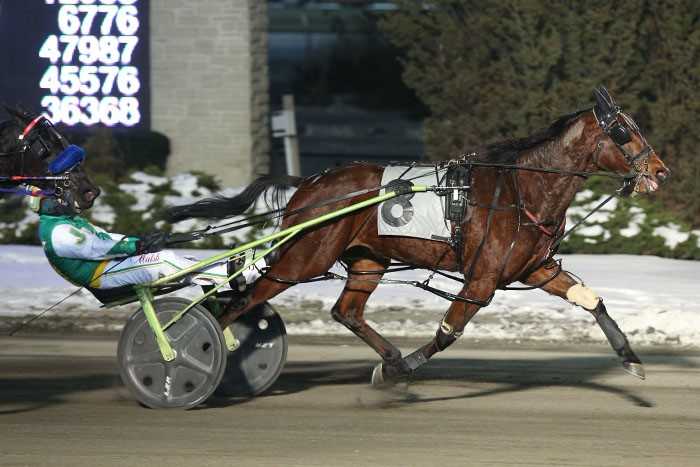 Friday's division went to the three-year-old, as Burn Out Hanover went coast to coast at odds of 9/5.
Driven by Jody Jamieson, Burn Out Hanover left from the outside and was able to secure the lead ahead of even-money favourite Artofficial Flavor and posted an opening-quarter of :27.2.
The top-two choices would sit one-two throughout the middle-half, where Jamieson was able to get sensible fractions of :57.4 and 1:27.4.
Burn Out Hanover began to create separation at three-quarters and never gave any rivals a chance en route to a length score in 1:56.2. Young Man Matt finished second, while Shagnwiththedragon was third.
Artofficial Flavor got poor-gaited early in the stretch and made a break, which caused him to finish fourth.
A gelded son of Well Said, Burn Out Hanover capped off his rookie season with a pair of victories and has now matched those victories with two more in 2018. The sophomore pacer is now seven for 16 in his career and has banked $63,810 for owner-trainer Darling.
Burn Out Hanover paid $5.90 to win.
Tremendous Play and Mario Baillargeon were able to split rivals in the lane to take the third division at odds of 10-1.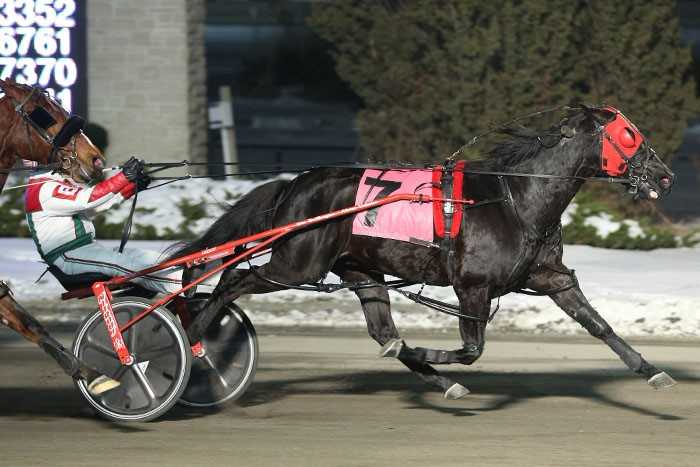 Leaving from post-seven, Tremendous Play was put in play and paced to the early lead, while forcing Gillys Boy, the post-eight starter, to work hard to clear for the lead after a :27 opening-quarter.
The positions at the front went unchanged by the half in :55.3, before In Spades, the 2/5 favourite, began advancing first-up from fourth to draw up near Gillys Boy at three-quarters in 1:24.2.
In the stretch, Baillargeon tipped off the back of Gillys Boy and was able to split through that rival and new leader In Spades to bust through and win by a length. In Spades settled for second, while Casimir Quasimodo was third and Gillys Boy fourth.
A four-year-old gelding, Tremendous Play is now one for three to start the new season after going two for 22 in 2017. The Ben Baillargeon trainee has three wins and $84,295 in career earnings for owner Claude Gendreau Stb Inc.
Tremendous Play paid $22.20 to win.
JK Pridenjoy wrapped up the Snowshoe first leg with a 1:55.3 victory as the 1/2 choice.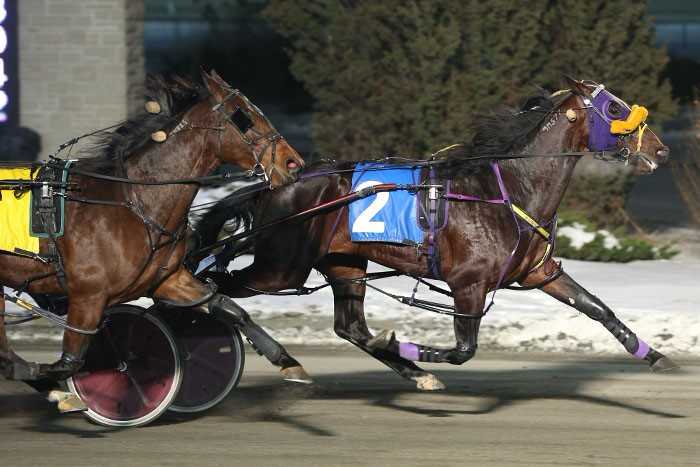 Driven by Doug McNair, JK Pridenjoy got away third, while Hurrikane Kingkong led narrowly over a parked Montys Play at the opening-quarter in :28.2.
Montys Play cleared to command, but handed it over in the second-quarter to a moving JK Pridenjoy. The public's top choice posted fractions of :57.3 and 1:27.2 before pacing home in :28.1 to win by half a length over Gerardo. Carolina Magic was third, while Hurrikane Kingkong was fourth.
A four-year-old son of Rock N Roll Heaven, JK Pridenjoy arrived at Woodbine on short-rest after racing Monday at Yonkers. The Nick Surick trainee, who raced in last month's Valedictory Series, is now two for three in 2018 to improve off a one for eight three-year-old season.
Owned by Nick Surick Stable LLC and JL Benson Stables Inc, JK Pridenjoy has career numbers of four wins and $46,167 earned. He paid $3 to win Friday.
Three and four-year-old pacers, who were non-winners of $30,000 lifetime as of October 31, 2017, were eligible for nomination to the Snowshoe Series.
Round two of the Snowshoe will take place next Friday (January 26) with the final scheduled for Friday, February 2.
Live racing continues Saturday night at Woodbine. Post time is 7:10 p.m.