By Dave Briggs for Woodbine Communications
MILTON, August 19, 2021 – Winning two Ontario Sires Stakes Gold Series events in the same night even once would be among a trainer's career highlights. Winning two Golds in a night two times in the same year with the same two horses is almost beyond comprehension for Nick Gallucci.
Gallucci, the 33-year-old private trainer for Millar Farms of Stouffville, ON, has struck Gold twice this year on two different occasions with talented 2-year-old pacing fillies Silver Label and Prohibition Legal.
"It's pretty amazing," Gallucci said Thursday (Aug. 19), two days after Silver Label and Prohibition Legal each won $103,000 Gold events Tuesday (Aug. 17) at Woodbine Mohawk Park a month after the pair of homebreds turned the same trick in OSS Gold events on July 18 at Georgian Downs.
"Winning both the other night going for $100,000 was really awesome. I was really expecting a good effort from Silver Label, but Prohibition Legal, that win really surprised me. I was really, really happy with her," Gallucci said.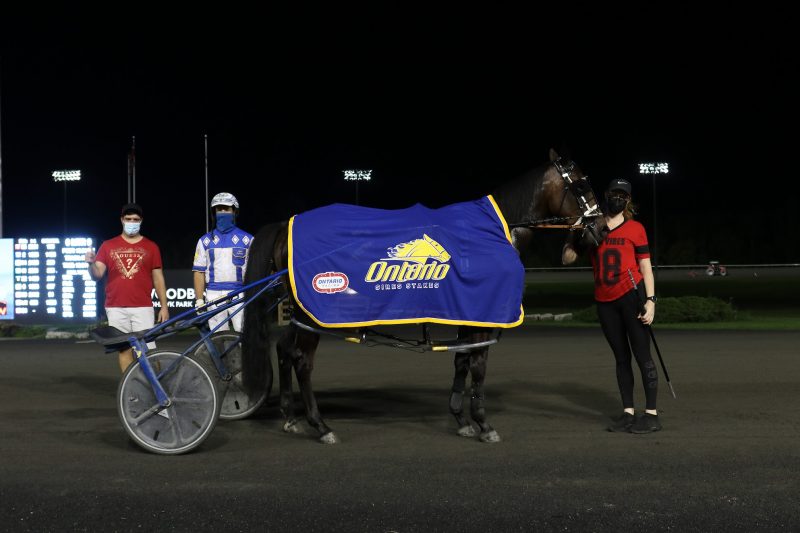 Two week prior, Prohibition Legal was at the University of Guelph's Equine Clinic for five days with a bout of abdominal pain. Gallucci said he did not know whether she would race again this summer, let alone recover in time to compete in the Gold at Mohawk. Fortunately, vets were able to successfully treat her with medication, not surgery.
"We got really lucky. Then going into the race, I wasn't able to do anything that I wanted to do (with her). She just overcame it all. She's just a special filly," Gallucci said.
Those two fillies and 2-year-old pacing colt Betterhavemymoney — the winner of the $251,050 Battle of Waterloo at Grand River Raceway on Aug. 2 — have helped Gallucci post a gaudy .429 training average this year and earnings of $836,639, which is closing in on his career best year of just over $1 million set in 2020.
"It's mostly the 2-year-olds that are putting up the numbers," Gallucci said. "It's not so much with the aged horses which is what I have, generally, always raced. I must be doing something right with these babies to perform the way they are… I had a program set in my mind and we stuck to it all winter and they're just really performing well. It's going great.
"Talent-wise I would probably say Silver Label is the best. But I think Prohibition Legal would beat her in a race just because she has the desire. Definitely my favorite is Prohibition Legal and then the other two are a dead-heat for second — Silver Label and Betterhavemymoney. Betterhavemymoney has already made a lot of money ($241,015) and now it's just a matter of hopefully getting him turned around. It's already been a thrill to have him so far in his career."
All of which has been inspiring for Millar Farms' 71-year-old owner George Millar, who had a double lung transplant in February that resulted in a 13-week stay in hospital and a rehab program that is ongoing. The day after he received the transplant, doctors discovered the new lungs were infected with COVID-19. Millar lost 35 pounds and had to learn how to walk again. He has said his horses gave him the strength to survive.
"When George was sick, obviously everyone was really shaken and hoping for the best that he would pull through. Luckily, he did," Gallucci said. "Now the mood's kind of shifted. Everybody's really upbeat and things are going well. Everything seems to flow well. It seems like every decision you make is the right one. Hopefully, we can just keep carrying forward with that mindset.
"He supports the Ontario program so well. For him to have three really nice 2-year-olds like that and, actually, we've got another one that I think you're going to hear from, Aviator. He's a pretty nice horse, too.
"George has got a big fan base. The biggest reason I moved out here (to Stouffville) was to do well for George. Obviously, it is helping me, as well, but it was mostly for him why I came here and I'm just trying to get the horses to the level that we're finally starting to get to. It's one of those things you think you will be able to do when you're young. It's finally coming together. It feels amazing. It's hard to describe."