CAMPBELLVILLE, September 14 – Paul Reid has a trio of competitors shining during the Grand Circuit festival at Mohawk Racetrack, including Dancer Hall competing in the $684,000 Canadian Trotting Classic this Saturday (September 16) at Mohawk Racetrack.
A winner of seven races in 15 starts, Dancer Hall enters the Canadian Trotting Classic final for owner 1187422 Ontario Inc. off a second-place finish in his elimination (to Bills Man). The colt by Deweycheatumnhowe from the Amigo Hall mare Daylon Mystique has earned $76,160 this season. 
Dancer Hall joined the Reid barn back in the spring after winning three of five starts as a rookie.
"He came up sore after the Valley Victory, and he had some issues going up to that where he wasn't sound enough to get a lot of starts in him," Reid said of his abbreviated two-year-old season. "Once I got him and trained him a bit, I had a pretty good idea that he was a nice horse.
"He still had some issues we had to iron out—we played around with his rigging a bit and later on I added the hopples. He always felt like he had the speed, but we weren't quite getting it all out of him."
Since receiving Dancer Hall, Reid has been conditioning him purely in preparation for the Canadian Trotting Classic, where he will start from post eight.
"He was a little sick the start before [his elimination], so we were hoping he would be sharp enough and he was; Doug [Mcnair] drove him great. He's coming out of the [elim] well—right now he's the sharpest he's been all year. It seems like we have the soundness issues under control and now, with the eight hole, we're going to need a little racing luck."
The Reid barn will also send out three-year-old trotting filly Sweet Of My Heart in Saturday's $385,000 Elegantimage Stakes. The Angus Hall filly out of the Muscles Yankee mare Sweetheart K, has won five times in 16 starts, earning $216,162 for owner-breeder Rob Key.
Prior to her start in the Elegantimage elimination, Sweet Of My Heart broke in the $166,872 Simcoe Stakes when hitting the wheel of another horse moving into the first turn. She was fifth to morning line-favourite Ariana G in her Elegantimage elimination and will start from post five in the final.
"I know she gunned out of there in 27 flat; I think she was a little too wound up that night [in the Elegantimage elimination]," Reid said. "When [Jody Jamieson] shut her down, he might've shut her air off a little bit, because she's had some front trips but she's never stopped that bad on the front. We're going to try a new overcheck on her this week and see if that can help keep her a bit more controllable."
While the Reid barn is focused on their trotters competing this weekend, they can't help but think ahead to next weekend when star rookie pacing filly Kendall Seelster will compete in the $500,000 Shes A Great. Only eight fillies were entered in the event, which meant eliminations were not necessary.
Kendall Seelster, by Shadow Play out of the Bettors Delight mare Kiddie Cocktail, enters the Shes A Great Lady off a 1:52.4 off-the-pace victory in a $125,800 Ontario Sires Stake Gold Division at Mohawk Racetrack.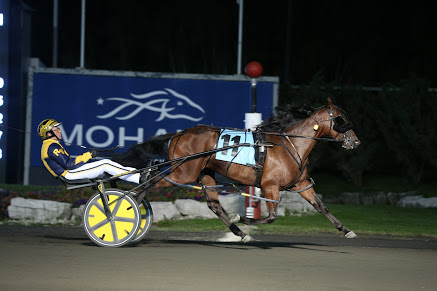 "She's had some tough weeks here recently, so I think [the off week] is going to help us," Reid said. "I'd like to take credit [for her improvement], but she's just a nice horse. She got some good trips that helped braven her up—those two-hole trips where she couldn't get out actually set her up well for the times she actually did [get out]."
A winner of three races in eight starts, Kendall Seelster has earned $262,085 for owner 1187422 Ontario Inc. Two starts ago, she broke Percy Bluechip's unbeaten record, upsetting a $169,381 Champlain division at 9-1 in a lifetime-best mile of 1:51.1.
"She's actually a pretty easy filly to take care of; she has responded every week. We haven't really had to change anything with her since she baby raced—we let her hopples out a couple times, but it's been amazing to see what she's been able to do, and she's not a big filly either. She's a little temperamental in the post parade, but I can put up with that if she races the way she does."
The Reid stable has been making plenty of noise in recent weeks at Mohawk. The conditioner has sent out 44 starters over the last 20 days, posting seven wins and 18 top-three finishes.
Momentum is key in any discipline and could help Dancer Hall and Sweet Of My Heart to strong finishes in Saturday's rich finals.
Here are the fields for the Canadian Trotting Classic and Elegantimage Stakes.
PP/Horse/Driver/Trainer/Morning Line
$684,000 Canadian Trotting Classic
1. Southwind Cobra (M. Kakaley/R. Burke) 20-1
2. Bills Man (C. Callahan/J. Butenschoen) 4-1
3. Dover Dan (B. Miller/J. Butenschoen) 9-2
4. What The Hill (D. Miller/R. Burke) 7-2
5. International Moni (S. Zeron/F. Antonacci) 3-1
6. Seven And Seven (S. Filion/T. Durand) 12-1
7. Long Tom (T. Tetrick/M. Melander) 6-1
8. Dancer Hall (D. McNair/P. Reid) 10-1
9. Victor Gio IT (Y. Gingras/J. Takter) 12-1
10. Lindy The Great (M. MacDonald/F. Antonacci) 15-1
AE: Dunbar Hall (J. Jamieson/C. Jamieson) 30-1
$385,000 Elegantimage Stakes
1. Winter Sweet Frost (D. McNair/R. Boyd) 15-1
2. Lady Grey (P. MacDonell/C. Beelby) 30-1
3. Dream Together (D. Dube/L. Blais) 4-1
4. Ariana G (Y. Gingras/J. Takter) 1-2
5. Sweet Of My Heart (J. Jamieson/P. Reid) 20-1
6. Glitzey Gal (D. Miller/R. Norman) 20-1
7. Magic Presto (T. Henry/R. Norman) 8-1
8. Feed Your Head (L. Roy/J. Takter) 6-1
9. Dream Baby Dream (R. Allen/R. Allen) 12-1
10. On A Sunny Day (S. Filion/L. Blais) 15-1
AE: Mrstery Bear (D. Miller/G. Hebert) 30-1
Ray Cotolo for woodbine.com