TORONTO, January 18 – Domedomedome and Lady Ping scored repeat victories in the second leg of the Lifetime Dream Series Monday night at Woodbine Racetrack.
A pair of $20,000 second leg divisions were contested under chilly conditions Monday evening.
In the first split, Domedomedome continued her hot start to 2016 with a 1:57.1 victory.
Sent off as the 2/5 favourite, Domedomedome and trainer/driver Jack Moiseyev got away fourth, while Aspen California cut an opening-panel of :28.1. I Jasmin circled around the leader from second to lead the field by the half in :58.1.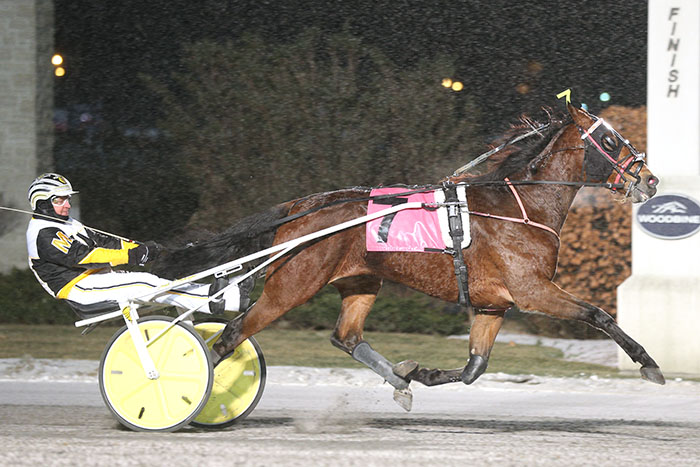 Moiseyev was able to pick up cover around the final turn and had Domedomedome poised to strike from second-over turning for home. In the lane, the public's choice surged by to the lead and trotted home comfortably in :29.1 to win by 3 ¼ lengths over Piscean.
I Jasmin finished third, while Aspen California was fourth.
A five-year-old daughter of Deweycheathumnhowe, Domedomedome has now visited the winner's circle twice in three starts this season and nine-times overall.
Owned by Joanne Colville and Pamela Schmidt, Domedomedome increased her career earnings to $120,550 with Monday's victory. She paid $2.90 to win.
A pair of scratches left just a field of four for the second division, but the small field put on a good show.
Lady Ping, the 3/5 favourite, and trainer/driver Dagfin Henriksen trotted along third in the early stages, while Giona cut out opening-fractions of :29.1 and :59.2. After trotting by the half, Henriksen brought his mare to the outside and trotted up to within a length of Giona at the three-quarter pole.
In the stretch, Giona battled tough and refused to surrender the lead to the public's choice. Lady Ping needed every inch of racetrack to get by the leader and did so in the final stride to win by a head in 1:58.1.
Luau Hanover finished third, while Missys Ga Ga, who made a break at the start, was fourth.
A four-year-old daughter of Muscle Mass, Lady Ping is owned by Henriksen, Dr. Brett Anderson and Kyle Anderson. The trotting mare now has two wins from three outings in 2016 after winning four of 24 last year.
Lady Ping's sixth career triumph pushes her career bankroll over $131,000. She paid $3.30 to win.
In order to be eligible to the Lifetime Dream, the four and five-year-old trotting mares had to be non-winners of $100,000 lifetime as of October 31, 2015.
Domedomedome and Lady Ping will both be aiming for a series sweep in next Monday's (January 25) $44,200 final.