MILTON, October 29, 2018 – The inaugural Championship Meet at Woodbine Mohawk Park concluded with a 10-race card on Monday evening.
All eyes were locked to the standings for top driver and top trainer entering the final card of the meet, which began on April 12.
Louis Philippe Roy entered the evening with a one-win lead over Sylvain Filion for top driver, while Bob McClure and Trevor Henry trailed by just two and three wins, respectively.
The race for the training title saw Carmen Auciello enter the evening up three wins on Richard Moreau with both trainers sending out several starters.
Roy and Moreau teamed up to win the evening's first-race with three-year-old pacing filly Miss Rockadali ($5.70) in a first-leg division of the Harvest Series. The victory created separation in one category and tightened up the other.
The opening-race win from Roy and lack of production by those near him in the standings kept the drama low for most of the card.
McClure guided claiming pacer Brickman ($20.80) to an upset score in the sixth-race to join Filion in second-place, two wins back of Roy.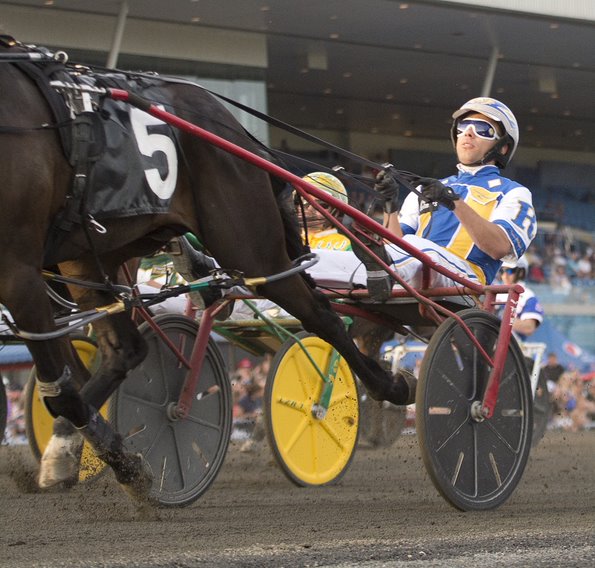 The driving title battled ended in the ninth and penultimate race on the card, as Trevor Henry steered eight-year-old millionaire pacer Nickle Bag ($5.10) to his 40th career victory and in turn locked up top driver for Roy.
Filion and McClure each needed to sweep the 'Late Double' to tie Roy for top spot.
Over on the training side, the quick start for Moreau wouldn't go far, as Auciello's barn got the three-win lead back in the fourth-race with four-year-old pacer Luckslist Bluegrass ($19.10).
The battle for the training title officially came to an end in the seventh-race when five-year-old trotter Free Willy Hanover ($12.70) snapped a seven-race winless streak to secure the title for Auciello.
Louis Philippe Roy finished the Championship Meet with 128 victories to claim the driving title. The Mont-Joli, Quebec native drove the winners of over $3.5 million.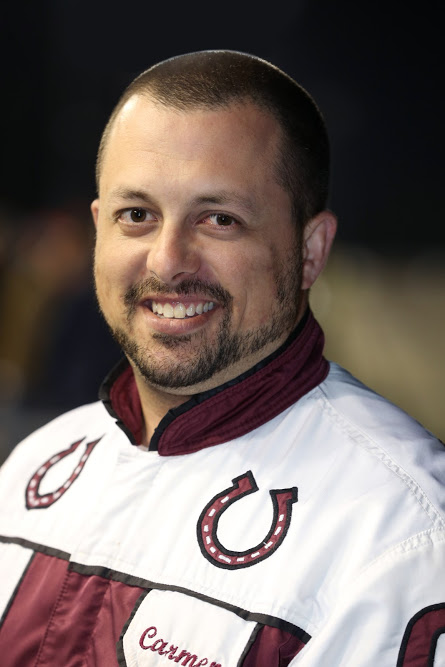 Carmen Auciello concluded the Championship Meet with 81 victories to capture the training title. His barn racked up $1.3 million in earnings.
Also on Monday, the Harvest Series for three-year-olds kicked off with four $17,000 divisions, three for pacing fillies and a single for trotting fillies.
As mentioned above, Moreau trainee Miss Rockadali took the first split for the pacing fillies with a 1:56 triumph. The daughter of Dali was shipping in from Rideau and debuting for Moreau.
Miss Rockadali now has eight wins and $36,251 earned in 19 starts this season for owner Andre St Laurent.
Shadow Play filly D Gs Shadowsbell ($56.90) pulled off a 27-1 upset in the second division for pacers. The Chantal Mitchell trainee and driver James MacDonald converted off a two-hole trip to defeat the favourite Shadow World by three-quarters of a length in 1:55.2.
D Gs Shadowsbell was also making her Woodbine debut and now has two wins and $23,704 earned in 17 starts this season for owner Daniel Surprenant.
Joe Hudon trainee I Shadow U capitalized off a two-hole trip to shoot through for a 1:55.2 victory in the third pacing division. The daughter of Shadow Play picked up her fourth win of the season.
Owned by Ross Warriner with trainer/driver Hudon, I Shadow U increased her seasonal earnings to $42,627 with the victory. She paid $7 to win.
On the trotting side, Johnny William filly Shotgun Sally turned in a career-best 1:58.4 performance to win by three-lengths for driver Paul MacKenzie. The Todd Clements trainee entered the Harvest Series off a victory and pair of runner-up finishes away from Mohawk Park.
Shotgun Sally improved her sophomore numbers to three wins and $30,166 earned in 25 starts this season for owner Trisha Barsby. She paid $23.70 to win.
Ontario sired three-year-olds, who were non-winners of $30,000 in 2018 as of September 30, 2018, were eligible for nomination to the Harvest Series.
Live racing resumes Thursday night at Woodbine Mohawk Park with the first-card of the Fall-Winter meet. Post time is 7:10 p.m.