It was a road well-travelled for Scott  McKelvie.
Forty-plus years after his rookie season with the then named Ontario Jockey Club, McKelvie, currently the Racing Secretary for Woodbine Mohawk Park, will call it a career on March 31 after five decades of significant contributions to the Canadian standardbred racing industry.
It's an industry he has longstanding ties to.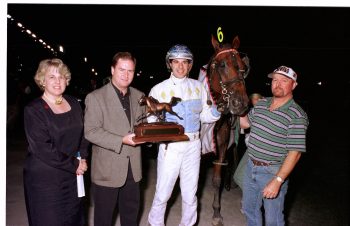 "My dad owned some horses, and he was involved with the racetrack in Owen Sound back in the late 1960s," recalled McKelvie. "I was just a kid and I remember going to the races and enjoying it. I guess that would be my first job, charting races in Owen Sound when I was 12 or 13, something I did for a couple of years. I had the bug ever since I was a small kid."
His affinity for the sport continued to grow throughout his teenage years and beyond, eventually leading him to take over the leadership reins of the Race Office, where he has served as the long-time Racing Secretary of Greenwood, Woodbine and Woodbine Mohawk Park since 1992.
His influence and impact on the sport is respected and revered far beyond the Milton oval.
From creating a top-tier, year-round racing program and the establishment of Woodbine's highly regarded and lucrative stakes schedule, McKelvie, who has worked all 38 editions of the Pepsi North America Cup, has played a prominent role in making racing in southwestern Ontario a preferred destination for horsepeople across the globe.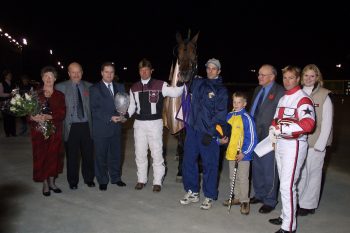 A renowned industry leader who has contributed his time and effort to various boards and committees, McKelvie is a past president and current director of the American Harness Racing Secretaries Association and a current vice-president of the Grand Circuit.
"The integrity and competitiveness of our product over the years has been second to none," he offered.
"I don't think anybody can question that. No other track can rival what we've done the last 30-40 years. I think the product has maintained itself over the years. No matter who comes to the races, they always rave about the experience. We get that a lot, especially from the people who ship-in for the stakes races. They don't get treated any better than they do here, which is a testament to everyone who works here and who has worked here. It's been a great group of people I've worked with over the years."
"Scott is a true champion of the sport of horse racing in Canada," said Jim Lawson, CEO, Woodbine Entertainment. "Through his hard work and perseverance over decades in our industry, he has accomplished so much for the Woodbine product, brand and the industry in general. We will miss him and wish Scott the very best in retirement."
Jessica Buckley, SVP of Standardbred and Thoroughbred Racing with Woodbine Entertainment, lauded McKelvie's many contributions to the sport.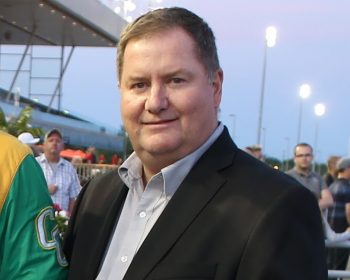 "I would like to thank Scott for his tremendous contributions to our team and recognize his positive influence on harness racing in North America over the past 35 years," said Buckley. "Scott has served as a steadfast leader with an unwavering commitment to the integrity and success of our sport. He has helped develop a great team for the future of standardbred racing. We will miss his daily counsel, humour and calm approach to challenges.  I wish him all the best in this next chapter."
One of those next chapters will be a familiar one for McKelvie, albeit in a different role.
On June 18, the date of this year's $1 million Pepsi North America Cup, he'll keep his consecutive streak of watching the race live, only this time as a racing fan.
"It's a world-class event," said McKelvie, of the race originally known as the Queen City Pace before it became the Pepsi North America Cup in 1984. "I think that put OJC, at the time, on the map, North American-wise. We always had Grand Circuit events, but that race really stamped our Standardbred racing product as a major-league player. I'm absolutely going to be there again for the race this year. I wouldn't miss it."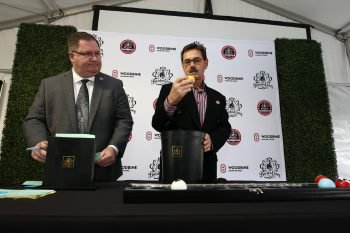 As for which editions of the Cup stand out as his personal favourites, McKelvie opted for a pair of memorable performances, one from 35 years ago and the other in 2008.
"Going way back, it would be the Jate Lobell and Frugal Gourmet race, with that amazing stretch duel that saw Jate Lobell come out on top. That was a big highlight and there have been so many great ones since. The one where Somebeachsomewhere won, the huge crowd and the atmosphere that night, it was just an amazing sight. It was quite a thrill to hear the crowd as he came to the wire."
Aside from his trip to be part of this year's Cup crowd, McKelvie will continue to track the successes of horses and horsepeople at the place that has become a second home.
"I've been very lucky to work with a lot of great people, both for the company and the thousands who work in the industry. There are a lot of good memories from over the years. I've always been a fan of the sport and I always be. I'm definitely going to be following along, and I'll be there to watch the races."
Whenever he does take the familiar route to Woodbine Mohawk Park to catch the pacers and trotters, McKelvie will be reminded of the road well-travelled, the one he has navigated with great success.
He's grateful for the journey.
"The horsepeople have been great to work with over the years. They have been tremendous to deal with, and there are a few that have been there right from when I started. Not a lot of them, but certainly some familiar faces from years ago. I'd like to think I've had a pretty good rapport with everyone, and I can say that I've truly enjoyed my time in racing. I've been very fortunate in so many ways."
Chris Lomon, Woodbine Communications