Story by Chris Lomon / @ChrisLomon
MILTON, June 9, 2021 – In a day that was all about drives for Scott Young, the ones to come on Friday night were the most pleasing of all.
After a Monday morning in which he drove horses in 11 of the 13 qualifiers at Woodbine Mohawk Park, the 29-year-old reinsman was on the golf course, minutes away from lining up his first tee shot of the afternoon.
Whether it was day of pars, birdies or bogeys, what he shot wasn't as important as it usually would be.
Not when he heard the news he and other horsepeople have been waiting for: live racing is back on track in Ontario.
"The race office at Mohawk told me we could start live racing Friday if we got the word from the provincial government," started Young, a lifetime winner of 1,080 races. "I'm ecstatic. Finally. This is what we've all been waiting for."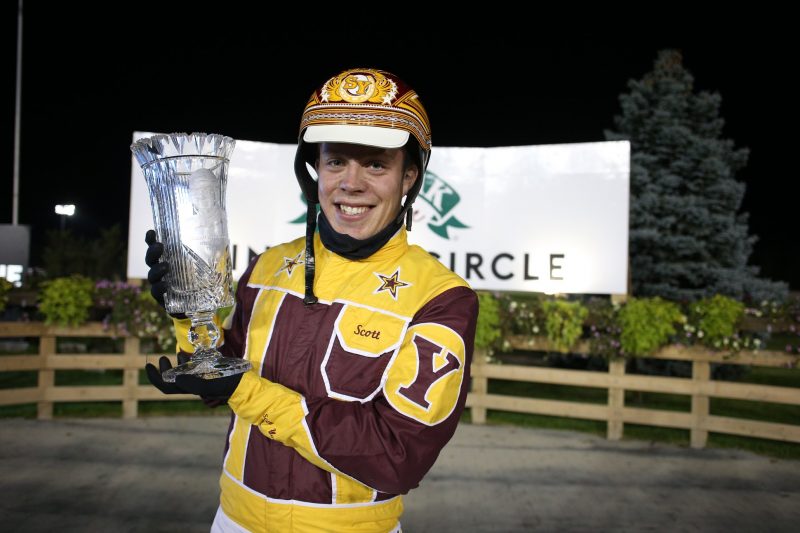 With Ontario entering Step One of the 'Roadmap to Reopen' plan earlier than what was anticipated, Standardbred racing at Woodbine Mohawk Park will resume on June 11 with a 7 p.m. post time.
Young, who reached the 1,000-win mark on January 15, 2020 at Western Fair, is looking forward to adding to his career totals starting Friday.
Eleven years into his life in the race bike, the son of accomplished harness racing horseman Robert Young stayed in Ontario when live racing was temporarily halted in early April.
"I didn't go to the U.S. I probably could have, but I preferred to stay here with my family and my girlfriend. We've waited this long, so I'm definitely happy to get back at it."
Wondering when that day would come crossed his mind every time he lined up a horse behind the starter car for qualifiers.
It's something he thought of 11 times on a humid Monday morning at Woodbine Mohawk Park.
"I was happy to get some work once qualifiers were back on. Including Monday, I think I drove 40 or 50 horses over the four days, including last week. To be able to get some work, tighten the horses up, and then get the opportunity to drive a lot of horses in race action… it's a good feeling. It felt good to be back with the qualifiers and it will be a great feeling when you get that first race back."
An adrenaline rush, noted Young, akin to the atmosphere of an NHL playoff game.
"There were times when it felt like this day would never come, but now that it has, it really gets you pumped up for that first night. It's going to be exciting. You wish there were fans to see it, but that day will come. Just like everyone else, you want to get off to a good start now that we're back and carry that momentum throughout the year."
As for his golf round, it didn't end up with Young walking away with bragging rights amongst his foursome.
His biggest hope when it comes to hitting the fairways is that he won't be doing it as often as he has of late.
Not with racing back in Ontario.
Getting back into the swing of things on the racetrack is Young's top priority.
"If I don't get to golf as much, that's a good thing because it means we're racing. Once we start up, I'm hopefully going to be doing five days at Mohawk, Wednesdays at Grand River, and then Sundays at Georgian Downs. I'm looking to be busy now that we're up and rolling again. I enjoy the chance to drive at different tracks, so today's news really gives you reason to smile."