Dave Briggs for Woodbine.com 
July 22, 2021 – Ann Straatman laughed good-naturedly when asked if her family's Seelster Farms had celebrated this week after Lawless Shadow became the first Meadowlands Pace winner the Lucan, ON nursery has produced in the 45-year history of the U.S. classic.
"We're putting in hay and straw, so no celebrations here per se, but certainly it's something we talk about and it was great to have that recognition," Straatman said.
Such is the busy life of one of Ontario's leading standardbred breeding operations. But that doesn't make the victory any less exciting for Straatman and the rest of the Seelster team.
"We're just one small piece of the puzzle getting that horse there, but I'm thrilled that he's done so well… It's what every breeder strives for, that recognition on the biggest Grand Circuit stage," Straatman said.
On Saturday (July 17) at the Meadowlands Racetrack in New Jersey, Lawless Shadow was elevated to victory by the judges after initially finishing second to Charlie May who was disqualified for interference. It was a mostly-Canadian victory for Lawless Shadow who was driven to victory by Prince Edward Island native Mark MacDonald and is trained and owned, in part, by Ontario-based PEI native Dr. Ian Moore, R G Croup Ltd. of New Brunswick, NHL legend Serge Savard of Quebec and Floridian Frank Cannon.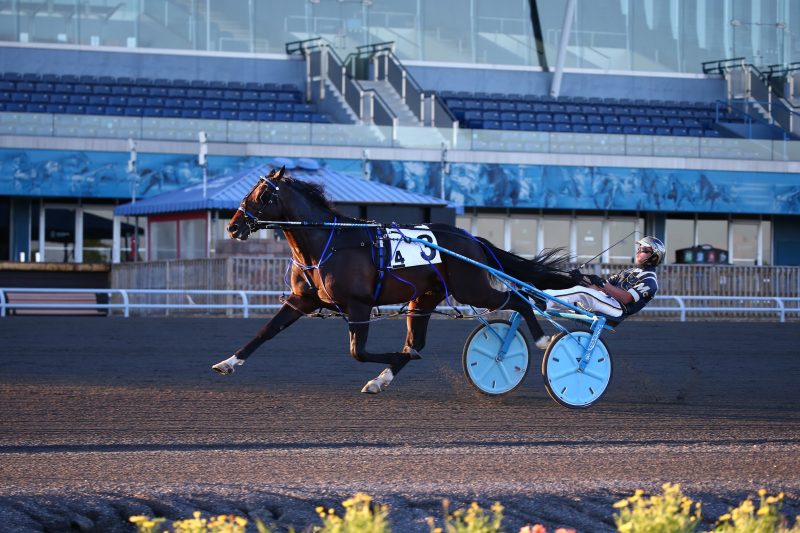 Lawless Shadow, a son of Shadow Play out of Ladycino, is also the third straight Ontario-sired horse to win the Meadowlands Pace, following Tall Dark Stranger (Bettors Delight) in 2020 and Best In Show (also Bettors Delight) in 2019.
Though Seelster no longer owns Ladycino, Straatman said she was delighted for the mare's new owner, Kevin Kerr, who just happens to be Seelster's neighbour.
"Ladycino is actually just one pasture over from where she was before. She still lives in Lucan," Straatman said. "They, unfortunately, did not get her in foal to have a yearling to sell this year, which would have just been icing on the cake, but they do have a beautiful Big Jim filly at her side and she's back in foal to Shadow Play. So, we're just thrilled for them. They're a small breeder in Ontario and now seems to have a really top mare. I wish them all the best that it can be a windfall for them, as well, with yearlings going forward… We love the mares that we have and when we sell them, all we want is for them to go on and be productive mares for someone else. It's great for us."
Originally named Lawless Seelster, Straatman said the colt earned his name from the 2012 movie Lawless about bootlegging, not from having a hell-raising personality.
"It was just a good, strong name, we thought. He was a very respectful foal, very smart, very unassuming," she said. "What an exceptional young horse he was… He's a mid-May foal. We always group our yearlings in their sheds by age group. So, he was with the youngest group, but he was such a standout as far as maturity, was well-developed and muscled. He had perfect conformation. He was more mature than he was for his age group."
Dr. Moore, who trained and owns Shadow Play, was the perfect buyer.
"Doc likes to look at all the Shadow Plays," Straatman said of the stallion who stands at Winbak Farm of Ontario in Inglewood, ON.
On Oct. 19, 2019, Moore spent $270,000 to purchase sale-topper Marlboro Seelster at the London Selected Yearling Sale, which still stands as the record for a standardbred sold at auction. That same day, Moore also spent $52,000 to buy Lawless Seelster, whom he renamed Lawless Shadow.
Eight months earlier, Seelster sold Ladycino to Kerr, in foal to Thinking Out Loud. The resulting foal, a filly named Lady Loud, was sold by Kerr at last fall's London Virtual Yearling Sale and has yet to make her pari-mutuel debut after three qualifiers.
As for Lawless Shadow's Meadowlands Pace victory, which comes after he was named the O'Brien Award winner as Canada's top 2-year-old pacing colt of 2020, Straatman said she had a very good reason for not seeing Saturday's race live.
"It was my son's wedding rehearsal that night. I didn't get to see it until afterwards," she said. "It's so funny, he's actually getting married on Hambletonian Day. It takes me out of the two biggest racing days at The Meadowlands."
That doesn't make Lawless Shadow's triumph any less exciting.
"To have that recognition in the United States at the biggest, greatest racetrack in the U.S. is great for any breeder. We're in great company in that race with all the bigger breeders, for sure," Straatman said.