TORONTO, February 1, 2018 – After two-weeks of competitive and intriguing action, the Snowshoe and Blizzard Series finals will take place this Friday (February 2) at Woodbine Racetrack.
Each final will feature a field of 10 with the Snowshoe (3 and 4-year-old pacers) going for a purse of $41,400 and the Blizzard (3 and 4-year-old pacing fillies and mares) for a purse of $39,400.
Both series were open to three and four-year-old pacers who were non-winners of two-races or $30,000 lifetime as of October 31, 2017.
This year's Snowshoe Series has generated good buzz through the opening two-weeks, as a total of 32 pacers competed in the preliminary legs. The large turnout made for great racing during the preliminary legs with top results necessary to qualify for the final.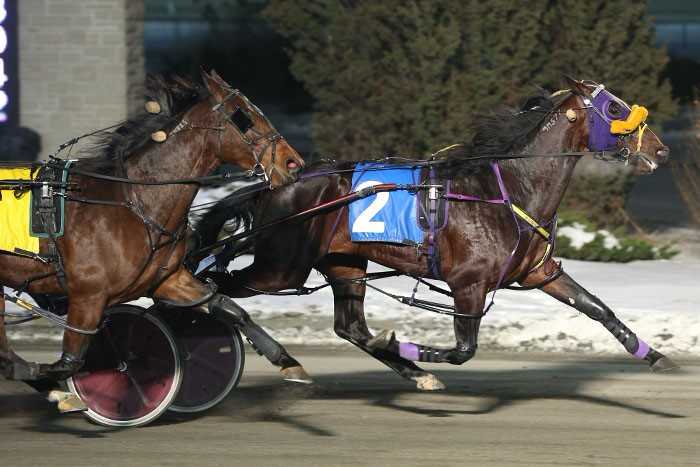 JK Pridenjoy will be seeking a series sweep for trainer Nick Surick. The four-year-old gelding built off his round one victory by capturing his second leg division in a career-best of 1:52.4.
The second leg victory was notable for JK Pridenjoy, as he defeated a pair of first-leg winners (Burn Out Hanover, Tremendous Play) to boost his record to a solid three for four in 2018.
JK Pridenjoy will be competing in his second Woodbine Winter Series final of the meet.
The Surick trainee raced in the Valedictory on Boxing Day and left hard from post-ten, ultimately fading to finish tenth. The son of Rock N Roll Heaven will be looking for a little redemption and will start from post-seven with driver Doug McNair.
Friday's final will feature five other starters who won a preliminary leg division.
Burn Out Hanover (PP4, Jody Jamieson), Tremendous Play (PP6, Mario Baillargeon) and Abbeydorney (PP8, James MacDonald) were victorious in round one, while Artofficial Flavor (PP2, Bob McClure) and Gillys Boy (PP5, Sylvain Filion) visited the winner's circle in round two.
Burn Out Hanover is one of two three-year-olds in the final. The Jack Darling trainee had a four-race win streak snapped when he finished fifth in his second leg division.
The other sophomore in the field is Gerardo (PP3, Louis Philippe Roy), who finished second in both his first and second leg divisions. The Richard Moreau trainee is winless in 11 outings, but has hit the board in seven of those starts.
Completing the field is Star Clipper (PP1, Ed Hensley), In Spades (PP9, Trevor Henry) and Casimir Quasimodo (PP10, Jonathan Drury).
One of the notable past champion's of the Snowshoe Series is Modern Legend, who won the 2012 edition. The Dave Drew trainee went on to win the 2014 Canadian Pacing Derby and finished his career with $1 million in earnings.
The Snowshoe Series final is carded as Race 7 on Friday's card.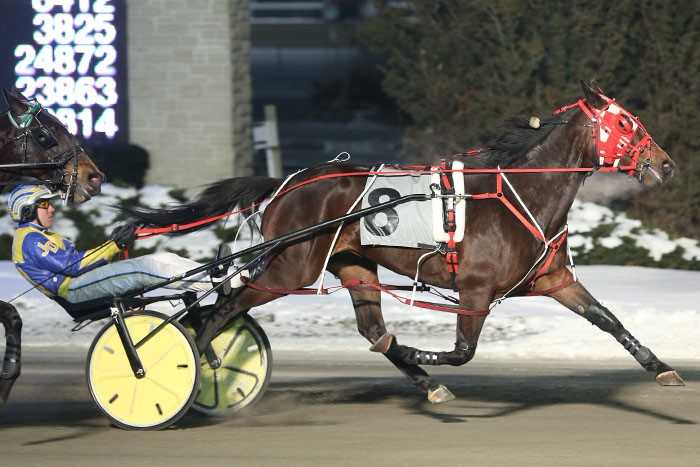 A series sweep is also a possibility in the Blizzard final, as Circle The Page will look to go three for three at Woodbine. The four-year-old pacing mare was sent up from the Meadows by co-owner John Sullivan to trainer Victor Puddy to compete in the Winter Series.
Circle The Page arrived at Woodbine on a nice roll and now enters the Blizzard final having won four of her last five starts, while also finishing first or second in 10 straight outings.
Jonathan Drury will again sit behind the daughter of Real Artist, who last week lowered her career-mark to 1:52.4.
Eric Adams trainee Franschoek (PP10, Mike Saftic) and Moreau student Bettim Jackie (PP3, Louis Philippe Roy) were also victorious during the preliminary rounds.
Four-year-old Franschoek, who won a first leg division, nearly went all the way in her second round split, but just couldn't hold off Circle The Page and lost by a neck.
Bettim Jackie is one of four sophomores in the Blizzard Series final. She impressively came first up to win her second leg division in a career-best 1:53.2.
The Blizzard Series final is carded as Race 5.
Friday evening's 10-race card gets underway at 7:10 p.m. and a free program can be downloaded by clicking here.
Below are the full fields for the Snowshoe and Blizzard Series finals.
$41,400 Snowshoe Series (Race 7)
Star Clipper (Ed Hensley/Renaldo Morales) 15-1
Artofficial Flavor (Bob McClure/Dean Nixon) 8-1
Gerardo (Louis Philippe Roy/Richard Moreau) 3-1
Burn Out Hanover (Jody Jamieson/Jack Darling) 5-1
Gillys Boy (Sylvain Filion/Murray Brethour) 8-1
Tremendous Play (Mario Baillargeon/Ben Baillargeon) 6-1
JK Pridenjoy (Doug McNair/Nick Surick) 7-2
Abbeydorney (James MacDonald/Scott Friend) 12-1
In Spades (Trevor Henry/Chad Milner) 12-1
Casimir Quasimodo (Jonathan Drury/Kody Massey) 15-1
AE: My Teen Idol (Chris Christoforou/Rod Boyd) 15-1
$39,400 Blizzard Series (Race 5)
Glancewithme (Trevor Henry/Mike Bishop) 8-1
The Time To Win (Jody Jamieson/Andy Gardner) 15-1
Bettim Jackie (Louis Philippe Roy/Richard Moreau) 3-1
Classy Chris (Sylvain Filion/Murray Brethour) 12-1
Promise Blue Chip (Phil Hudon/Amy MacDonald) 15-1
Katies Gal (Doug McNair/Ted MacDonnell) 8-1
Village Jamie (Michael Whelan/Corey Giles) 10-1
Circle The Page (Jonathan Drury/Victor Puddy) 5-2
Big Chute (James MacDonald/Murray Brethour) 8-1
Franschoek (Mike Saftic/Eric Adams) 6-1
AE: Manhattan Again (Bob McClure/Dean Nixon) 12-1