MILTON, May 29, 2018 – A stakes-filled card with major Pepsi North America Cup implications is set for this Saturday evening (June 2) at Woodbine Mohawk Park.
The Somebeachsomewhere Stakes and Graduate Series will make up half of Saturday's card with three divisions of each event to be contested.
A big turnout for the Somebeachsomewhere Stakes has 28 three-year-old pacers split into three $60,000 divisions. The event for sophomores is annually slated for the week prior to the Pepsi North America Cup eliminations and this year's event will see 19 eligible pacers prepping for Canada's richest harness race.
Metro Pace champion Lost In Time headlines this year's edition, as the Dan Patch Award winner will leave from post-three with driver Scott Zeron in Saturday's third division.
A son of A Rocknroll Dance, Lost In Time will be making his second start of the season after finishing second by a nose in a Pennsylvania Sires Stakes division on May 19 at Pocono. The Jimmy Takter trainee has five wins, three runner-up finishes and over $700,000 earned in 10 career starts.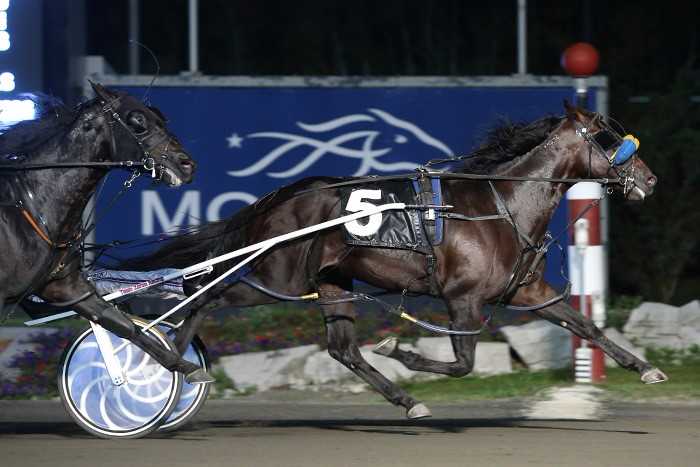 Saturday's event will be Lost In Time's first start at Woodbine Mohawk Park since he captured the $816,000 Metro Pace last September for original trainer Jim Mulinix.
Takter's stable will have a big chance to find the winner's circle in the evening's first division, as he sends out the strong duo of Grand Teton (PP2, Yannick Gingras) and Nutcracker Sweet (PP7, Tim Tetrick).
Nutcracker Sweet finished fourth in his season debut at Pocono on May 19 after posting a sizzling qualifying mile of 1:50.2 a week earlier at The Meadowlands. The son of Bettors Delight won four of 13 starts, including two Grand Circuit events at The Red Mile, during his rookie campaign.
Grand Teton, a half-brother to three-time Breeders Crown champion Pure Country, will be making his Canadian debut in the Somebeachsomewhere. The son of A Rocknroll Dance posted five wins and three runner-up finishes in 12 starts last season. He comes into Saturday's contest off a second-place finish at Pocono on May 19.
Local speedster Summer Travel (PP10, Louis Philippe Roy) will also compete in the opening-division and enters off a strong 1:50.3 win last week at Woodbine Mohawk Park.
The evening's second division will have all eyes on Clyde Francis trainee Lather Up (PP5, Montrell Teague) following his ultra-impressive 1:49.1 victory last Saturday at Woodbine Mohawk Park.
Lather Up is three for three this season after winning four of seven starts during an interrupted rookie campaign. The son of Ohio-stallion Im Gorgeous has posted Track Record miles in both his two and three-year-old seasons in the Buckeye State with a 1:51.1 performance last year at Scioto and a 1:50 effort on May 6 at Miami Valley.
The Somebeachsomewhere Stakes have been carded as Races 5, 8 and 10.
Woodbine Mohawk Park will also be hosting a leg of The Graduate Series on Saturday evening. The series for four-year-old pacers and trotters will be visiting the Milton, Ontario racetrack for the third-consecutive year.
The Graduate pacing division has attracted 16 entrants, split into two $60,000 divisions, while the trotting side will see one-dash with an overflow field of 12 battling for $95,250.
The opening-split for pacers includes Classic Pro (PP3, Sylvain Filion), last season's O'Brien Award winner, and Miso Fast (PP8, Tetrick), a career-winner of over $600,000.
The second-division will see the Graduate Series debut of Beckhams Z Tam (PP3, Ricky Macomber Jr), who captured last year's Breeders Crown at Hoosier Park and is a career-winner of more than $565,000.
The Graduate Trot has potential "race of the night" written all over it with a field of 12 to tango.
Superstar Ariana G (PP2, Gingras) is undefeated in six-career starts at Woodbine Mohawk Park and comes into Saturday's race off a victory in the first-leg on May 19 at The Meadowlands.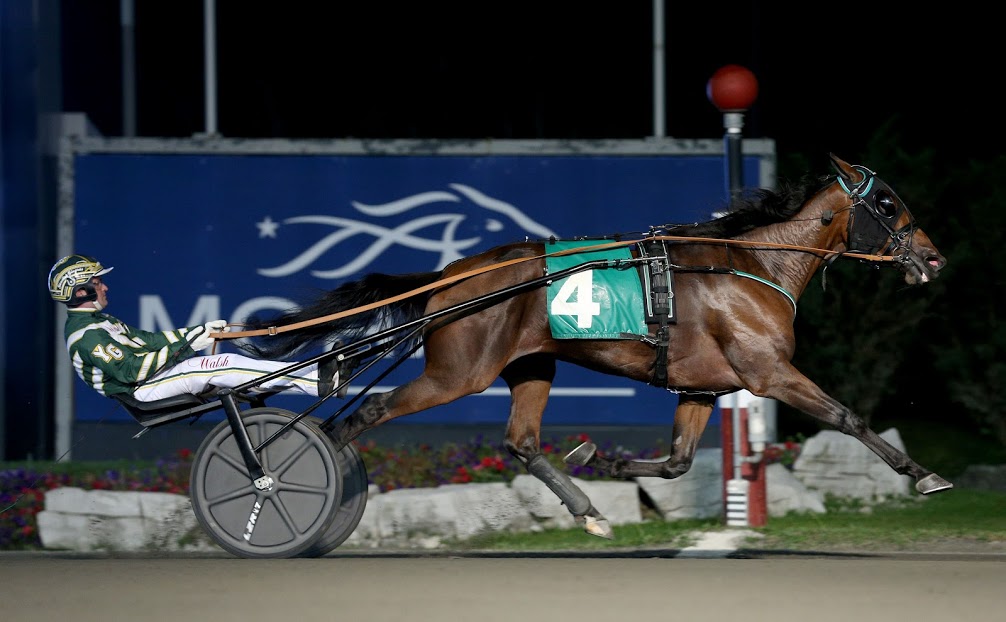 Achille Duharas (PP7, Mario Baillargeon) captured the other division on May 19 and is six for nine this season with four wins at Woodbine Mohawk Park.
The Graduate Series pacing splits have been carded as Races 3 and 9, while the trotting event will go as Race 7.
Post time for Saturday's stakes-packed card is 7:30 p.m. To view early program pages for the 12-race card, click here.
Below are the fields for Saturday's stakes events.
PP/Horse/Driver/Trainer
Race 3: Graduate – Pace – $63,500
1. Photobombr Hanover (Brett Miller/Tom Fanning)
2. Bags To Riches (Jody Jamieson/Jason Skinner)
3. Classic Pro (Sylvain Filion/Dr. Ian Moore)
4. Funknwaffles (Corey Callahan/John Butenschoen)
5. Lawrencetown Beach (Louis Philippe Roy/Ron Burke)
6. Dreamfair B J (Jody Jamieson/Patrick Fletcher)
7. Rock N Tony (Louis Philippe Roy/Ron Burke)
8. Miso Fast (Tim Tetrick/Virgil Morgan Jr)
Race 5: Somebeachsomewhere – $60,000
1. Topville Olympian (Jody Jamieson/Dave Menary)
2. Grand Teton (Yannick Gingras/Jimmy Takter)
3. Beachin Lindy (Chris Christoforou/Steve Charlton)
4. Burning Midnight (Trevor Henry/Corey Giles)
5. Hidden Delight (Sylvain Filion/Eric Adams)
6. Sharp Action Money (Sylvain Filion/Murray Brethour)
7. Nutcracker Sweet (Tim Tetrick/Jimmy Takter)
8. Simple Kinda Man (Corey Callahan/Scott McEneny)
9. Sports Legend (Louis Philippe Roy/Richard Moreau)
10. Summer Travel (Louis Philippe Roy/Casie Coleman)
Race 7: Graduate – Trot – $95,250
1. Barn Bella (Jeff Gregory/Steven Pratt)
2. Ariana G (Yannick Gingras/Jimmy Takter)
3. R First Class (Mario Baillargeon/Ben Baillargeon)
4. Bills Man (Corey Callahan/John Butenschoen)
5. Moonshiner Hanover (Trevor Henry/Chris Beaver)
6. Lindy The Great (Tim Tetrick/Domenico Cecere)
7. Achille Duharas (Mario Baillargeon/Ben Baillargeon)
8. Dunbar Hall (Jody Jamieson/Stephanie Jamieson)
9. Top Flight Angel (Andy Miller/Julie Miller)
10. International Moni (Scott Zeron/Domenico Cecere)
11. Yes Mickey (Louis Philippe Roy/Ake Svanstedt)
12. Jake (Bob McClure/Luc Blais)
Race 8: Somebeachsomewhere – $60,000
1. Dancin Doug (Trevor Henry/Ron Adams)
2. Scouts Report (Sylvain Filion/Eric Adams)
3. Stock (Sylvain Filion/Dany Fontaine)
4. Mission Three (Phil Hudon/Jack Moiseyev)
5. Lather Up (Montrell Teague/Clyde Francis)
6. Western Passage (Doug McNair/Casie Coleman)
7. St Lads Neptune (Jody Jamieson/Stephanie Jamieson)
8. Pro Beach (Yannick Gingras/Jimmy Takter)
9. Dragon Time (Sylvain Filion/Dave Menary)
Race 9: Graduate – Pace – $63,500
1. Blood Line (Yannick Gingras/Jimmy Takter)
2. Independent One (Louis Philippe Roy/Richard Moreau)
3. Beckhams Z Tam (Ricky Macomber Jr./Jamie Macomber)
4. Odds On Delray (Sylvain Filion/Tony Alagna)
5. Maroma Beach (Louis Philippe Roy/Ron Burke)
6. Daiymir (Montrell Teague/Clyde Francis)
7. Eddard Hanover (Louis Philippe Roy/Ron Burke)
8. Macs Jackpot (Brett Miller/Jeffrey Smith)
Race 10: Somebeachsomewhere – $60,000
1. Pedro Hanover (Trevor Henry/Corey Giles)
2. Casimir Richie P (Trevor Henry/Dr. Ian Moore)
3. Lost In Time (Scott Zeron/Jimmy Takter)
4. Chocolate Swirl (Sylvain Filion/Eric Adams)
5. Levis Day (Trevor Henry/Victor Puddy)
6. When You Dance (Jody Jamieson/Ben Wallace)
7. Jimmy Freight (Louis Philippe Roy/Richard Moreau)
8. Ghost Dance (Mike Saftic/Eric Adams)
9. Trump That (Jody Jamieson/Dave Menary)