Story Courtesy of Standardbred Canada
CAMPBELLVILLE, September 16 – Stay Hungry stalked a contested tempo, swooping to victory in one of three $40,000 Metro Pace eliminations Saturday, September 16 at Mohawk Racetrack, going a lifetime-best mile of 1:50.2.
Lost In Time launched to the lead, setting a :27.3 quarter before yielding to Summer Travel into the backstretch. Shadow Moon, on his back, then brushed to the lead passing three-eighths as Lost In Time, anxious behind the pair, tipped wide to reclaim command following a :55.2 half while wide of Shadow Moon. 
Past three-quarters in 1:22.4, Shadow Moon retook a narrow lead from Lost In Time turning into the stretch, soon losing it as Lost In Time and Hayden Hanover, moving off cover, overpowered the leader. Stay Hungry, wide of Hayden Hanover, drew alongside the pair into the eighth pole, getting a neck in front of Lost In Time, who took second, and Hayden Hanover in third.
Undefeated in three starts, Stay Hungry, by Somebeachsomewhere from the Dragon Again mare My Little Dragon, has earned $75,940 for owners Brad Grant and Irwin Samelman. Trained by Tony Alagna and driven by Doug Mcnair, he paid $4.60 to win.
"This is kind of where you aim for to start a season," Mcnair said. "He's coming into the Metro final in good shape – dropped two more seconds off his previous mark and he did it pretty handily. He felt pretty good [while] they were battling up front. He's green once he clears – he hesitates a bit, but he's real smart; he knows what he's doing."
Sent off the 1-5 favourite, Pedro Hanover launched off cover to take the first elimination of the Metro Pace in 1:51.2.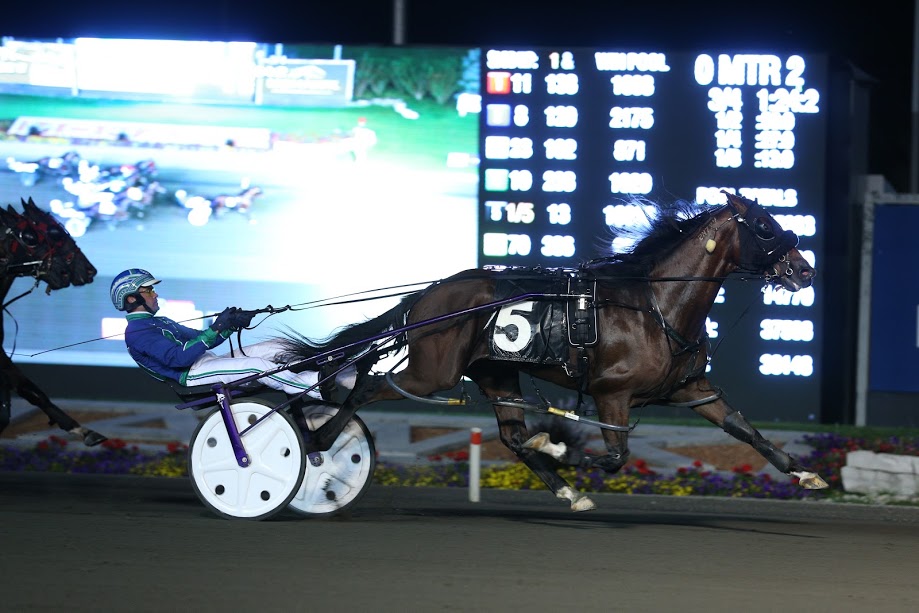 Floating into fourth approaching the first turn, Pedro Hanover tipped wide to pursue pacesetter Phil The Thrill following a :27 opening quarter, picking up cover from Declan Seelster before the half timed in :56. Phil The Thrill held control around the final turn while undergoing pressure from Declan Seelster, passing three-quarters in 1:24.2.
Both Phil The Thrill and Declan Seelster stalled in their duel through the stretch. Pedro Hanover edged towards the center of the track and grabbed the lead into the eighth pole, kicking clear of Springsteen, who weaved his way into second, and closers Odds On Lauderdale and St Lads Neptune, who finished third in a dead heat.
Owned by Brad Gray and Denise Guerriero, Pedro Hanover, by Somebeachsomewhere out of the Pro Bono Best mare Paulas Best, won for the fifth time in seven starts this season, earning $260,656. Trained by Andrew Harris and driven by Andrew McCarthy, he paid $2.60 to win.
"I got very lucky [when] Tim Tetrick couldn't make it up here for the Nassagaweya, and he mentioned my name, so I got to come up and race him up here," McCarthy said. "They went [fast] enough in the first quarter, so I knew that'd take a bit of the sting out of them. As long as I was handy enough at the head of the stretch, I know he's going to kick home in 26-and-change; he can really fly."
Twin B Tuffenuff pulled off a minor upset in the final Metro elimination, winning in 1:51.1 at odds of 7-1.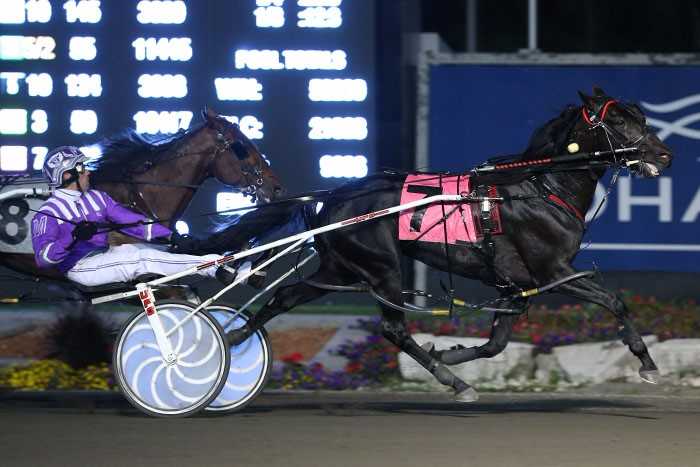 Settling into fourth through a :26.3 quarter, Twin B Tuffenuff moved first over towards Babes Dig Me, who circled by Trump That to take the lead into the backstretch. Following a :55.3 half, Twin B Tuffenuff crept closer into contention, matching strides with the pacesetter after a 1:23.3 third quarter and soon sweeping to the lead in the stretch. Taste Of History rallied up the rail to take second, while Nutcracker Sweet tipped off cover from second over to finish third.
Owned by Marvin Rounick, Twin B Tuffenuff, by Rock N Roll Heaven out of the Dragon Again mare In The Pink, won his first race in eight starts, earning $35,830. Trained by Steve Elliot and driven by Brett Miller, he paid $16.30 to win.
"This is a very nice colt," Brett Miller said. "As you can see on his lines, at the quarter, at the half, he's been 15 lengths off – 15 lengths off at the half and pacing unreal back halves. He has troubles steering, so I knew, if I could ever get him close from the half on, he'd be tough to beat.
"[Elliot] did change his equipment tonight – helped a little bit. But still, from the last turn to the wire, I was pulling on the right line pretty hard. If I could ever let him go straight, he'd be even faster. He's going to have to show his 'A'-game [next week]; I know he can go with those colts, but it's just a matter of getting the right trip and how he's steering."
The draw for the $816,000 Metro Pace final took place following the eliminations.
Here is the field for next Saturday's (September 23) final.
1. St Lads Neptune
2. Stay Hungry
3. Twin B Tuffenuff
4. Pedro Hanover
5. Lost In Time
6. Nutcracker Sweet
7. Taste Of History
8. Odds On Lauderdale
9. Springsteen
10. Hayden Hanover
AE: This Is The Plan