MILTON, December 16, 2021 – Shawn Steacy will be represented by a pair of hopefuls, Take A Gamble, and Southbeach Hanover, in the opening legs of the Valedictory Pacing Series, Saturday night at Woodbine Mohawk Park.
A son of Bettors Delight-Big Sister, Take A Gamble, in rein to Trevor Henry, will take on six rivals in the first division of the $17,000 Valedictory.
The bay arrives at the race for three-year-old colts and geldings off a fourth-place effort on December 4 at the Milton oval.
Steacy, in his third season as a trainer, is looking for his consistent sophomore – Take A Gamble is 3-7-3 from 19 starts – to shed his silver medal ways and go one better in the third race on Saturday.
"That seems to be his forte for the most part," said Steacy, of the gelding's multiple runner-up results. "Leading up to last week's race, especially, and into this one, I've been really impressed with the last two months. I think he's turned the corner. He's a late bloomer. He's always had speed, but when he was young, he had a lot of colt soreness issues and things that hindered him, nothing major, just little things. I don't know if he learned to put that all behind him or he just learned to go with what he's got, but he's just getting better and better like a lot of the Bettors Delight horses do."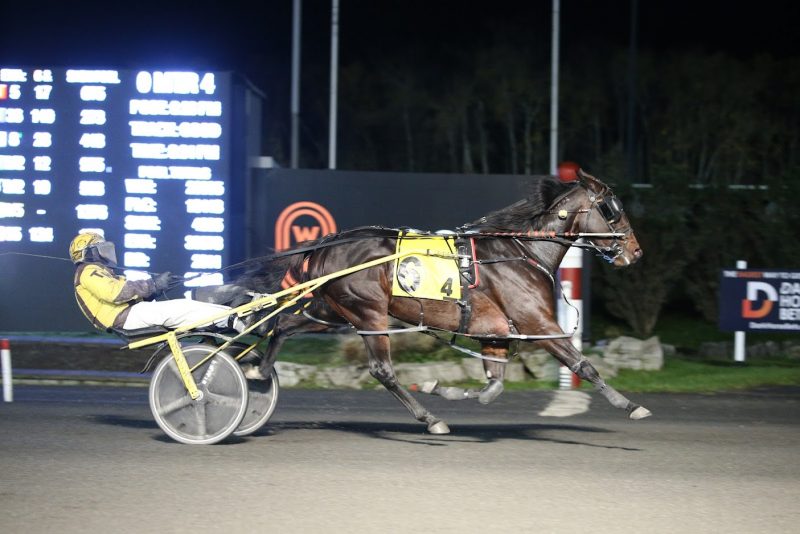 Unraced at two, the $40,000 Lexington Select Sale purchase posted back-to-back scores in the opening legs of the Harvest Series in November before settling for second in the final.
Steacy believes Take A Gamble, owned by Stephen Klunowski and bred by Winbak Farm, is set to take a step forward.
"I think with him, since Trevor [Henry] started driving him, he's really developed gate speed. Having the gate speed that he has puts him in the right spot to do well all the time. I think that's why he's always been knocking one, two, three, for the past two months or so."
Take A Gamble is the 7-2 second choice in the morning line.
Southbeach Hanover, a son of Somebeachsomewhere-So Perfect, is Steacy's other Valedictory starter.
The bay, sporting a record of 2-3-4 from 30 starts, heads into his latest engagement off a narrow neck loss at Mohawk on December 4.
With Austin Sorrie in the race bike, the gelding relinquished the lead, but fought back to just miss taking all the spoils.
The Hanover Shoe Farms-bred sophomore last won in August, a half-length score in a career-best 1:51.1.
Steacy is hoping Southbeach Hanover can recapture that form and duplicate the winning performance.
"He was kind of a victim in his past few starts, where the class we entered him in just didn't fill properly and it got opened up, so it made it a little tougher class than what he was supposed to be racing in. Last time, he got in the same class as himself and he came up with a really good effort. He's kind of a funny horse. You have to get him motivated. He'll cheat on you a little bit and won't give you his full effort a lot. If he can be forwardly placed and in the hunt it's night and day for him."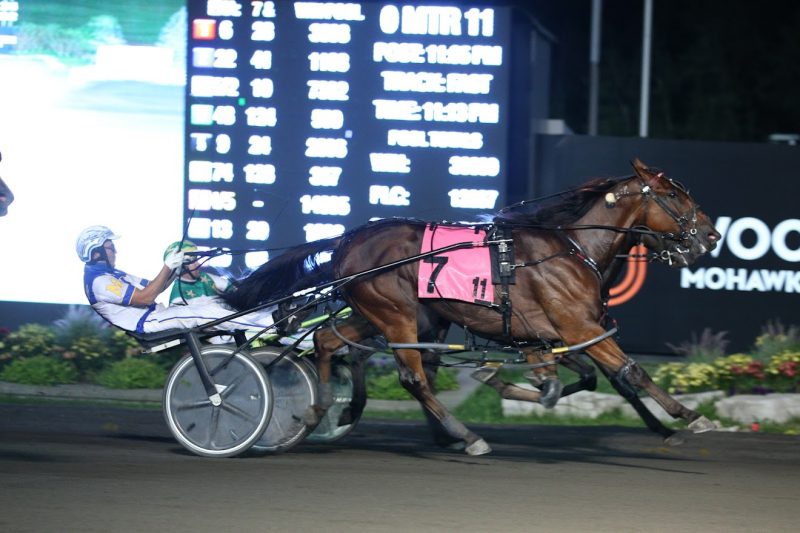 Owned by Hudson Standardbred Stable Inc., David McDonald and Nancy Malik, Southbeach Hanover, a $90,000 Harrisburg Sale purchase, went 1-0-1 from seven starts in his two-year-old season.
His milestone win came in his second start, a 2 ½-length triumph on August 20, 2020, at Mohawk.
"He's not going to be the type of horse to close from off the pace and pick off horses late. He's got to be roughing it throughout the mile. Most of the bad starts that he shows, he draws poorly to go along with it too."
Steacy doesn't see any similarities between his Valedictory three-year-olds.
"Not really. They're polar-opposite horses. One, Southbeach Hanover, has the ability but you have to squeeze it out of him and the other guy, he's not perfect overall, but he'll give you everything he's got."
Southbeach Hanover is 6-1 in the morning line.
First post for Saturday's 12-race card is 7:00 p.m. The Valedictory opening legs go as race three and 10, respectively. Fans can watch and wager on all the action through HPIbet.com and the Dark Horse Bets app.
VALEDICTORY – Race 3 Post – Horse – Driver – Trainer
1 – Jts Jet – Chris Christoforou – Dustin Jones
2 – Take A Gamble – Trevor Henry – Shawn Steacy
3 – Great Somewhere – Sylvain Filion – Francis Dumouchel
4 – Mayhem Like Me – Doug McNair – Duane Marfisi
5 – Yourtheone – Travis Cullen – Jodie Cullen
6 – Royal Tang – Austin Sorrie – Dean Nixon
7 – Chantee – Louis-Philippe Roy – Richard Moreau
VALEDICTORY – Race 10 Post – Horse – Driver – Trainer
1 – Bettorbeflyin – Jody Jamieson – Dale Fritz
2 – Texas Miki – Sylvain Filion – Benoit Baillargeon
3 – Silver Maple – Louis-Philippe Roy – Richard Moreau
4 – Kount Blaster – Jonathan Drury – Carmen Auciello
5 – Century Hannibal – James MacDonald – James Ritchie
6 – Vp Rockin – Doug McNair – Ron Waples Jr.
7 – Southbeach Hanover – Shawn Steacy – Austin Sorrie
Woodbine Communications