MILTON, September 24, 2022 – After tasting defeat for the first time in his career one week ago, rookie Stockade Seelster started a new win streak courtesy of an impressive performance in the $900,000 Metro Pace, Saturday night at Woodbine Mohawk Park.
A bay son of State Treasurer-Soiree Seelster, Stockade Seelster arrived at the Metro off a third-place finish in his elim race on September 17, ending six straight trips to the winner's circle.
On this night, he went two better and found himself in a familiar spot.
Lining up from post two, Stockade Seelster, in rein to Jody Jamieson got away fourth as Tickertape Hanover floated up to the front and led the early parade, reaching the quarter in :27.4.
Save America, the 3-5 choice, got away fourth, but Yannick Gingras had the Nancy Takter trainee quickly on the move after the quarter, and the duo struck front. Stockade Seelster and Jamieson were also in motion, powering into second, slipping through on the inside while Save America drifted off the rail momentarily.
Completing three-quarters in 1:23.0, Save America, unbeaten in his previous four starts, soon had company, as Stockade Seelster came calling in early stretch, eventually getting the measure of his rival to notch a three-quarter length score in a time of 1:50.1. Save America stayed on for second, Aces of Aces was third and Tickertape Hanover finished fourth.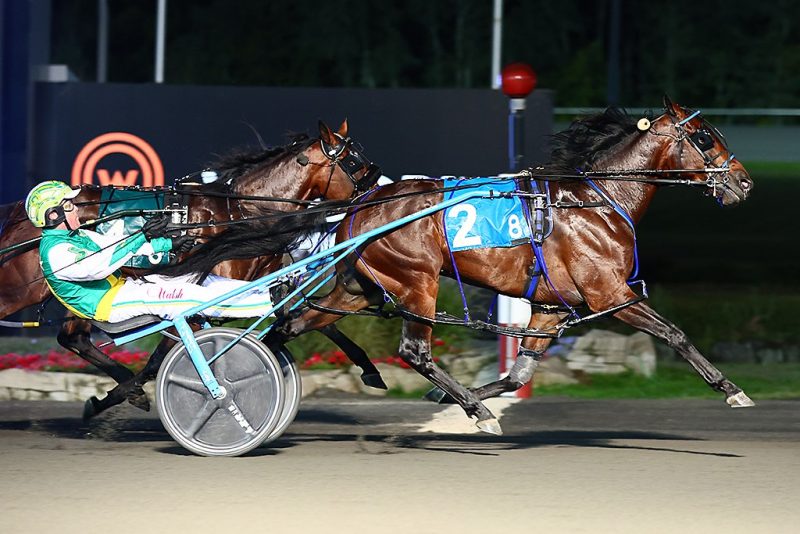 "Well, Yannick was looking to let me go and I knew that when I moved him," noted Jamieson, who notched his third Metro triumph. "He's a tough horse to drive right now. He's green and he wants to go fast all the time. There was a gap there and I took it, it's as simple as that. At the head of the lane, I thought I did have him. I was kind of shocked a bit that I had him, but I thought I had him, and he just dug in and paced right to the wire."
Trained by Dr. Ian Moore, celebrating his first Metro crown, the bay colt is owned by Paul MacDonald and his aunt, Sally MacDonald.
"This is a pretty nice colt, and I should've made the change with the bridle long before this," said Moore, who also trained State Treasurer. "He was obviously a lot more manageable tonight, and we got a full performance from him tonight. And Jody did a heck of a job, no doubt about that."
A $45,000 purchase at the 2021 London Virtual Yearling Sale, Stockade Seelster wasted no time in making an impression, winning first time out and following it up with several head-turning efforts, including pacing the fastest mile in Ontario Sires Stakes history by a freshman, 1:49.3 on September 3 at Woodbine Mohawk Park.
Now, he can add a Metro Pace title to his growing list of accomplishments.
"I was very happy," said Moore. "I figured that our luck may have changed when he drew the two-hole. I was expecting the 10-hole, so that was a surprise. The week before in the elimination, I was not happy here on a Saturday night. The horse and I were having a battle all week long and he just wasn't in top shape for me. This week, I was very pleased. I warmed him up, he was two fingers tonight. I could've gone another lap, but I was pleased."
Stockade Seelster paid $10.30 for the win.
Chris Lomon, Woodbine Communications / @WoodbineComms