MILTON, October 28, 2022 – Sylvia Hanover, with Bob McClure at the controls, was at the top of her game down the lane to take Friday's $810,000 Breeders Crown final for two-year-old pacing fillies at Woodbine Mohawk Park.
It was a pair of longshots, Bellisima Hanover and Sweet Amira, who got away sharply from the outside with the former leading the field into the first turn, as Sylvia Hanover, riding a six-race win streak, also got away smartly, tucking into third.
Bellissima Hanover, at 46-1, called the shots through an opening quarter in :27.3, but McClure had the daughter of Always B Miki-Shyaway on the march and on top through a half in :57.0. But the lead was short-lived as Charleston and Strong Poison then traded shots and placing on the front end.
As the field rounded the turn for home, Sylvia Hanover, after three-quarters in 1:23.4, found herself hemmed in along the rail as Charleston and Strong Poison continued their up-front battle. McClure was able to find daylight in mid-stretch and popped the bay filly out to take aim at her rivals.
Once they cleared to the outside it was game over, as the Hudson Standardbred Stable (Quebec) miss poured it on late to notch a 1 ¼-length triumph in a time of 1:51.1. Charleston was second, Strong Poison was third and Sweet Amira fourth.
"Actually, I fully intended to just come from off cover with her, I figured second over, third over, with the inside forward leave," said McClure. "I knew there would be a couple leavers from the outside, but I got up on the gate and then some of the outside horses were pushing out and I couldn't get away seventh or eighth and give them that advantage, so I decided to try my luck at that trip again and she got caught again. And luckily, we got really lucky. I wouldn't call it any skill, I just got extremely lucky to get out.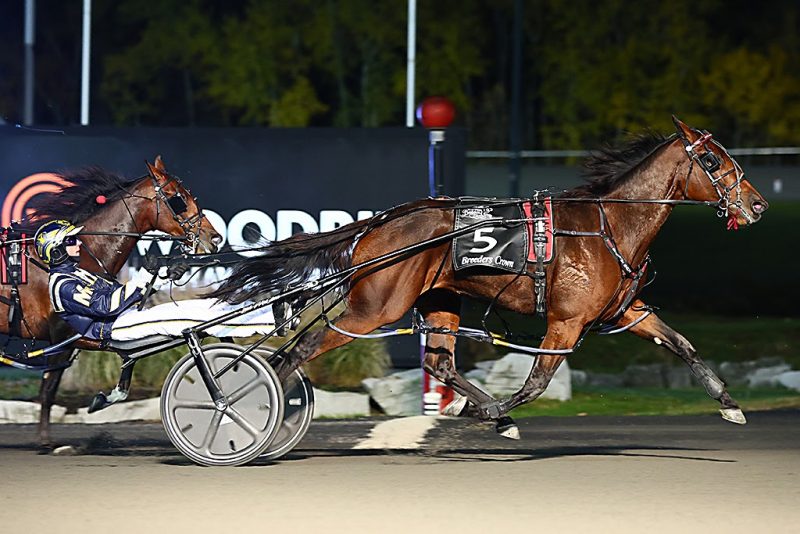 "From the three-quarter pole on, there's no driving her. She gives you everything she's got. She's great leaving the gate, it's just that middle half. You can sit there and knock her down for that trait and the odd trait – she is finicky, she is lazy – but man, she definitely knows how to get her nose to the wire first. And she's proving it. If it weren't for the 11-hole one week, she would've been undefeated this year. I'm just extremely lucky to be along for the ride with her."
It was the latest top-shelf performance from the Shawn Steacy trainee, who now sports a record of 8-1-0 from nine starts.
Bred by Hanover Shoe Farms, Sylvia Hanover was a $135,000 purchase at the 2021 Harrisburg Sale. She made her debut a winning one, taking the first leg of the Whenyouwishuponastar at Woodbine Mohawk Park on July 26, returning $20.70 for the win.
"It's very, very special after all those decades of being in this," said owner Tony Infilise. "It's a fabulous business. It gives not as many highs as lows, but they're really worthwhile when they happen and this is a phenomenal one, probably our best in the business so far."
A multiple stakes winner, Sylvia Hanover, who now has in excess of $900,000 in career earnings, paid $3 for her Breeders Crown victory.
Chris Lomon, Woodbine Communications / @WoodbineComms