MILTON, October 22, 2022 – Test Of Faith and driver David Miller made it interesting but got the job done for the 33rd time in her brilliant career capturing the first of two $33,750 eliminations for the Breeders Crown Mare Pace at Woodbine Mohawk Park on Saturday night. The 4-year-old daughter of Art Major held off local favourite So Much More by a nose in a 1:50 1/5 mile.
Test Of Faith had the outside draw in the seven mare field and Miller waited patiently in the early stages allowing first Amazing Dream and then So Much More exchange the lead before moving Test Of Faith with purpose. Following an opening quarter in :26 4/5 Miller and Test Of Faith gained control and from that point set fractions of :55 1/5 and 1:22 4/5 for the middle half with little change in the order as the competition awaited the stretch to tackle the 2021 Horse of the Year.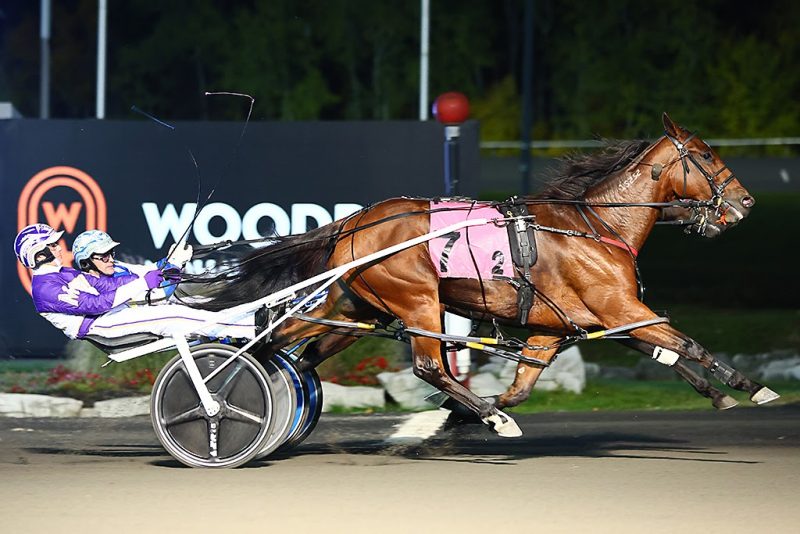 Amazing Dream and Yannick Gingras pulled first with Chase Lounge second over and Mikala coming up third over while off the leader.
Miller didn't move a muscle in the stretch but Test Of Faith bore out a bit allowing So Much More and James MacDonald ample room to make a challenge.
So Much More was able to gain ground but Miller confidently nudged Test Of Faith and the brilliant mare responded just enough to keep her nose in front for the win. So Much More would settle for second. Mikala made up good ground for George Brennan to finish third followed by Amazing Dream N and Chase Lounge. The top five will return for the final on October 29.
Trained by Brett Pelling for owners Melvin Segal, Kentuckiana Racing Stable and Eddie Gran, Test Of Faith won for the fifth straight time this season as she looks for her second straight Breeders Crown trophy. Sent off as the heavy favourite Test Of Faith returned $2.40 to win.
"She dug in and was pacing pretty hard to the wire," Miller said following the victory. "She has a tendency to wait on them when she's on the lead."
The second $33,750 Breeders Crown elimination saw driver Doug McNair move from last to first in the homestretch as the 9-5 favourite to get up in a three-mare photo on the wire of a 1:51 2/5 mile. The 4-year-old by Always B Miki found a seam between horses in the final eighth and was airborne crossing the wire for her sixth win of the year.
Easy To Please and Racine Bell both left with purpose with the former grabbing the front into the first turn and the latter taking over as the :27 4/5 first quarter was passed. Brian Sears guided Racine Bell through a pedestrian half of :56 4/5 before Gias Surreal went on the offensive for driver Bob McClure at the half. No Win No Feed A and Dabarndawgswatchin followed second and third over as Racine Bell managed three quarters in 1:24 2/5 and started her sprint home for Sears.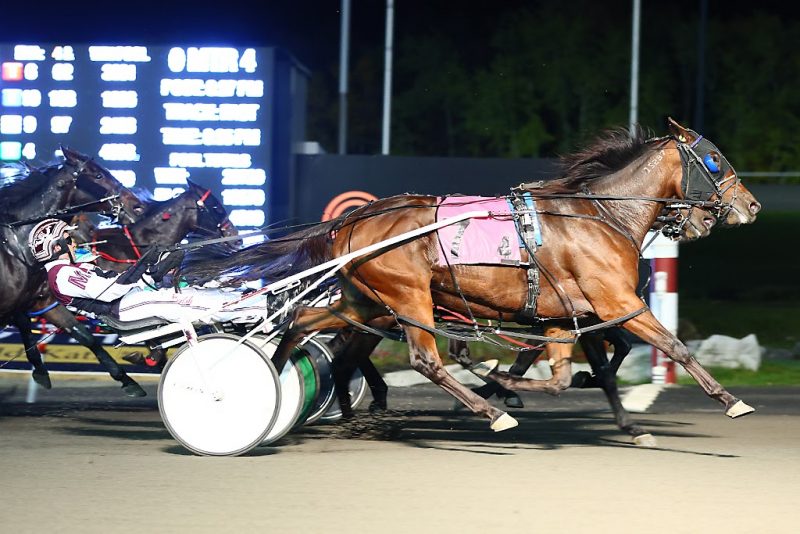 In the homestretch Gias Surreal backed off but No Win No Feed A was closing in steadily on the leader. Easy To Please in the pocket struggled to find racing room as did Fire Start Hanover. In midstretch Grace Hill was able to clear off the pylons and slide into the four path where McNair asked her to pace, and she accelerated instantly.
Grace Hill finished on the far outside just ahead of No Win No Feed A with Racine Bell not far behind in third. Easy To Please cleared late to finish fourth with Gias Surreal holding the final qualifying berth.
Grace Hill is owned by Tom Hill of Hamilton and trained by Virgil Morgan Jr.
"We got room when we needed it," said McNair following the victory. "She dug in."
Grace Hill returned $5.80 as the betting choice.
Jay Bergman, for Woodbine Communications