MILTON, September 18, 2021 – Prohibition Legal and Niki Hill both remain unbeaten in their young careers as they captured the two $35,000 eliminations for the Shes A Great Lady stake for two-year-old pacing fillies tonight which kicked off a stakes laden card at Woodbine Mohawk Park. The top five finishers from each elimination earned a berth into next weekend's rich final.
In the first test Joyride Hanover grabbed early control for Tim Tetrick and was by the opening quarter in :26.3. Queen Of Success popped out just past that point and she took over the lead only to be quickly covered up by Prohibition Legal with James MacDonald at the lines hitting the half in :55.4.
The three-quarters was tripped in 1:25.1 and it looked like Prohibition Legal was going to win by open lengths but flying late was Joyride Hanover who came within a half length of the winner at the wire reached in 1:52.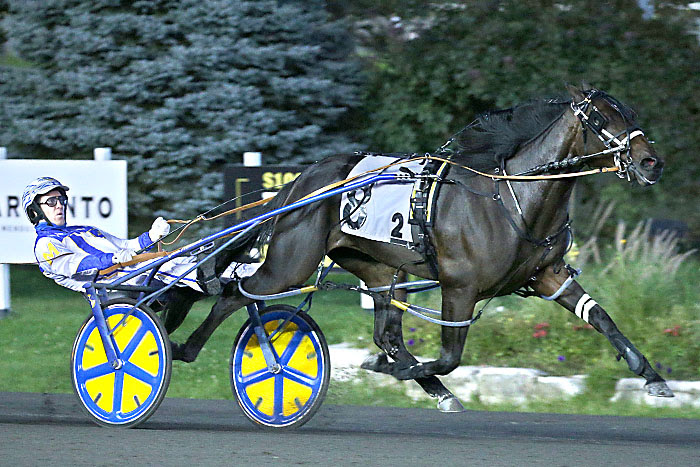 Queen Of Success, who came into tonight's contest undefeated in four starts, had to settle for third this night while Treacherous Kiss was fourth and I Love Ongait collected the final ticket into next week's final.
Prohibition Legal extended her unbeaten record to six in a row for owner/breeder Millar Farms of Stouffville, Ontario, and trainer Nick Gallucci. A daughter of the Ontario sire, Big Jim, she is the 10th foal from the good pacing mare Catch A Wish who earned over $260,000 during her racing career in Ontario.
"I had a great night last night and it's a great start again tonight," noted MacDonald who picked up four wins on Mohawk's Friday night card. "We're on the right page."
When asked by Monique Vag what makes this filly so special, he said: "She's just a beautiful horse. You move her to the front and you think she's just gone and then she'll come right back to you, that's the key. She goes wherever you want."
"I called on her at the top of the stretch and she just opened up. She'll always wait on them but when I asked her at the wire she still had more in the tank. Hopefully next week we'll get a good trip and I'll talk to you after."
As to being able to pick his post in the final he said: "It eliminates the bad posts, you get to pick where you want to start. She really wants to win, that's a great trait in a young horse and hopefully she keeps her winning streak going."
In the second elimination Scott Zeron stick handled Balance around an early breaker and grabbed the top from there and was at the opening quarter in :28. Boudoir Hanover came calling and took the lead just after that point and then came Niki Hill up to challenge, getting by the leader before the :56.3 half.
Favourite Niki Hill, with Dexter Dunn at the controls, was by the third panel in 1:23.4. Boudoir Hanover popped out and tried to haul down the leader, but Niki Hill won comfortably in 1:50.2. Boudoir Hanover took second while Balance was third, Just Divine fourth and the last one to head to the final is Smuggle Tina.
The win extended the daughter of Always B Miki's unbeaten streak to four and this was her first win north of the border. A $155,000 yearling at the Lexington Select Sale, she is a half-sister to $1.1 million winner Cattlewash. Chris Ryder trains for owner Tom Hill of Hamilton, Ontario. Stephen Dey of New Jersey bred Niki Hill who is the third foal from $380,000 winner Road Bet.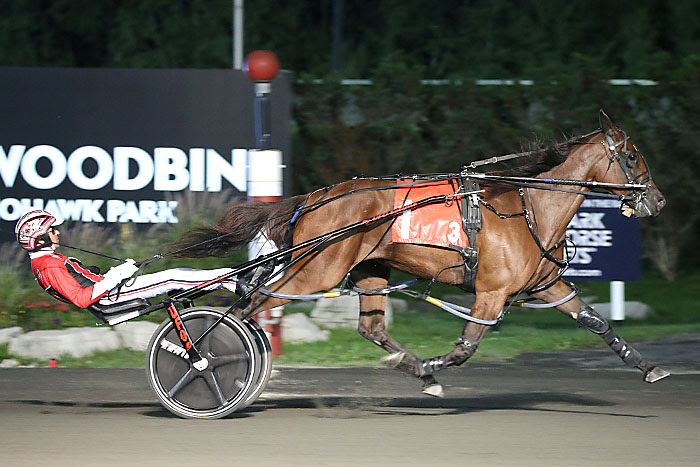 "I got away closer than I thought (in third) and was in a good spot," said Dunn. "After we got the lead the rest of trip I was a passenger really."
The Shes A Great Lady is named in honour of the talented Ontario-sired pacing mare who was an O'Brien Award winner in 1996 and established more than one world record. The stake was introduced in 2000 and Shes A Great Lady's first foal, Lady MacBeach won her elimination that year and was fifth in the final.
Now 29 Shes A Great Lady is enjoying her well earned retirement at Diamond Creek Farm in Kentucky where she is part of an exclusive group of Golden Girls.
"She is happily retired and continues to be a great lady in her retirement. Since her last foal in 2012 she has been spoiled rotten by the farm manager Gina Dailey," noted Adam Bowden Diamond Creek's General Manager and owner.
Diamond Creek owns tonight's entrant Balance who earned her way into the final with a third place effort. "I have always wanted to win the race since we own the mare. Bringing the trophy back to the farm and getting a selfie with the mare and trophy would be 'great'," he added.
The draw for the final shows the two winners lining up in posts 3 and 5. The complete field for next Saturday's event is as follows:
Boudoir Hanover (T. McCarthy)
Balance (S. Zeron)
Prohibition Legal (J. MacDonald
Just Divine (Y. Gingras)
Niki Hill (D. Dunn)
Queen Of Success (A. McCarthy)
Joyride Hanover (T. Tetrick)
I Love Ongait (T. Henry)
Smuggle Tina (D. Miller
Treacherous Kiss (Y. Gingras)
Heather MacKay Roberts for Woodbine Communications