MILTON, April 17, 2018 – A new era has begun at Woodbine Mohawk Park in Campbellville, Ontario.
The 2018 racing season began Thursday and the opening week festivities didn't exactly have Mother Nature on their side. A brutal ice storm forced Saturday's card to be cancelled and left some messy conditions for Monday's action.
The awful weather didn't put a damper on the atmosphere around Woodbine Mohawk Park. Fans, horsepeople and employees showed plenty of enthusiasm for opening week and we can't wait to see what's in store for the 2018 season.
Woodbine Mohawk Park received millions of dollars in upgrades over the Winter and the track is feeling fresh.
Now it's time to look back at the first-week at the new permanent home for Canada's premier harness racing in "The Weekly Roundup"!
LEADING DRIVER OF THE WEEK – Louis Philippe Roy (6 wins)
Louis Philippe Roy will go down as the final leading driver at Woodbine after posting the most wins during the Winter meet. The Mont-Joli, Quebec native carried that momentum over to Woodbine Mohawk Park and started things off with a bang by posting four wins on opening night.
Roy has now been the top driver for five consecutive weeks.
CLOSE BEHIND: Jonathan Drury (4 wins), Doug McNair (4 wins)
NOTE: 15 different drivers won races over the last week (30 races)
DRIVER OF THE WEEK STANDINGS: (After 14 weeks)
Roy – 8.5
McNair – 3
Jamieson – 1.5
Henry – 1
LEADING TRAINER OF THE WEEK – Carmen Auciello (4 wins)
Richard Moreau's streak of eight consecutive leading weeks came to an end during the opening week of the Woodbine Mohawk Park season.
Trainer Carmen Auciello sent out four winners, including three on Monday's card, to lead the way. It's the second time this season Auciello has been the top trainer during a week.
Auciello went 4 for 17 during the most recent week for a 23.5% winning percentage.
CLOSE BEHIND: Patrick Shepherd (3 wins), Richard Moreau (3 wins)
NOTE: 21 different trainers won races over the last week (30 races)
TRAINER OF THE WEEK STANDINGS: (After 14 weeks)
Moreau – 12
Auciello – 2
MOMENT OF SILENCE FOR HUMBOLDT – Thursday, April 12
The 2018 racing season at Woodbine Mohawk Park started with horsepeople coming together to honour the victims of the Humboldt Broncos bus crash. The entire nation has been affected by the tragic accident in Saskatchewan and last Thursday saw Canadians take part in "Jersey Day". The idea of "Jersey Day" was for everyone to wear their favourite sports jersey to honour the Humboldt Broncos.
"Jersey Day" took over Woodbine Mohawk Park all day Thursday. With many horsepeople wearing their favourite jersey, a large group gathered on the racetrack before Thursday's opening-race and formed a circle to take part in a moment of silence.
Tonight we honour the Humboldt Broncos. Proud of our nation for all the support sent the way of Humboldt! They continue to stay in our thoughts and prayers. #HumboltdStrong pic.twitter.com/wrrE0q0NcN

— Mark McKelvie (@MohawkMarkM) April 12, 2018
GRANT STEPS UP FOR SJHL – Friday, April 13
Leading owner Brad Grant is doing his part to help raise funds for the Saskatchewan Junior Hockey League's (SJHL) Player Assistance Program following the tragic Humboldt Broncos bus crash.
Grant owns a horse named Humboldt and he is going to use the four-year-old pacer to earn money for the SJHL's program. Grant announced last Friday that all purse money earned by Humboldt during the next month will be donated to the Player Assistance Program.
Grant, who is the chairman of the Ontario Hockey Association, knows Bill Chow, Commissioner of the SJHL, and wants to do his part to help their initiative.
"I'm a firm believer in health and well-being," said Grant. "I thought it was quite ironic with me being involved in hockey, knowing the people and owning this horse, so I thought why not see if we can do it this way and get some other people on board and do some more good."
Due to Saturday's cancellation, Humboldt "the pacer" did not get to race over the weekend, but we can expect to see the four-year-old back "in to go" for this Saturday.
To read the entire article about Grant's generosity, please click here.
VAN CAMP'S BLACK JACK PAT COMES THROUGH FOR HUMBOLDT – Friday, April 13
Dave Van Camp is another individual stepping up for Humboldt, as he announced prior to Friday's card that he would donate 100% of the earnings from his trotter Black Jack Pat's start towards the Broncos.
As many hoped, Black Jack Pat came through to win the $18,000 event. Trainer Nick Gallucci also donated his 5% from the trotter's triumph.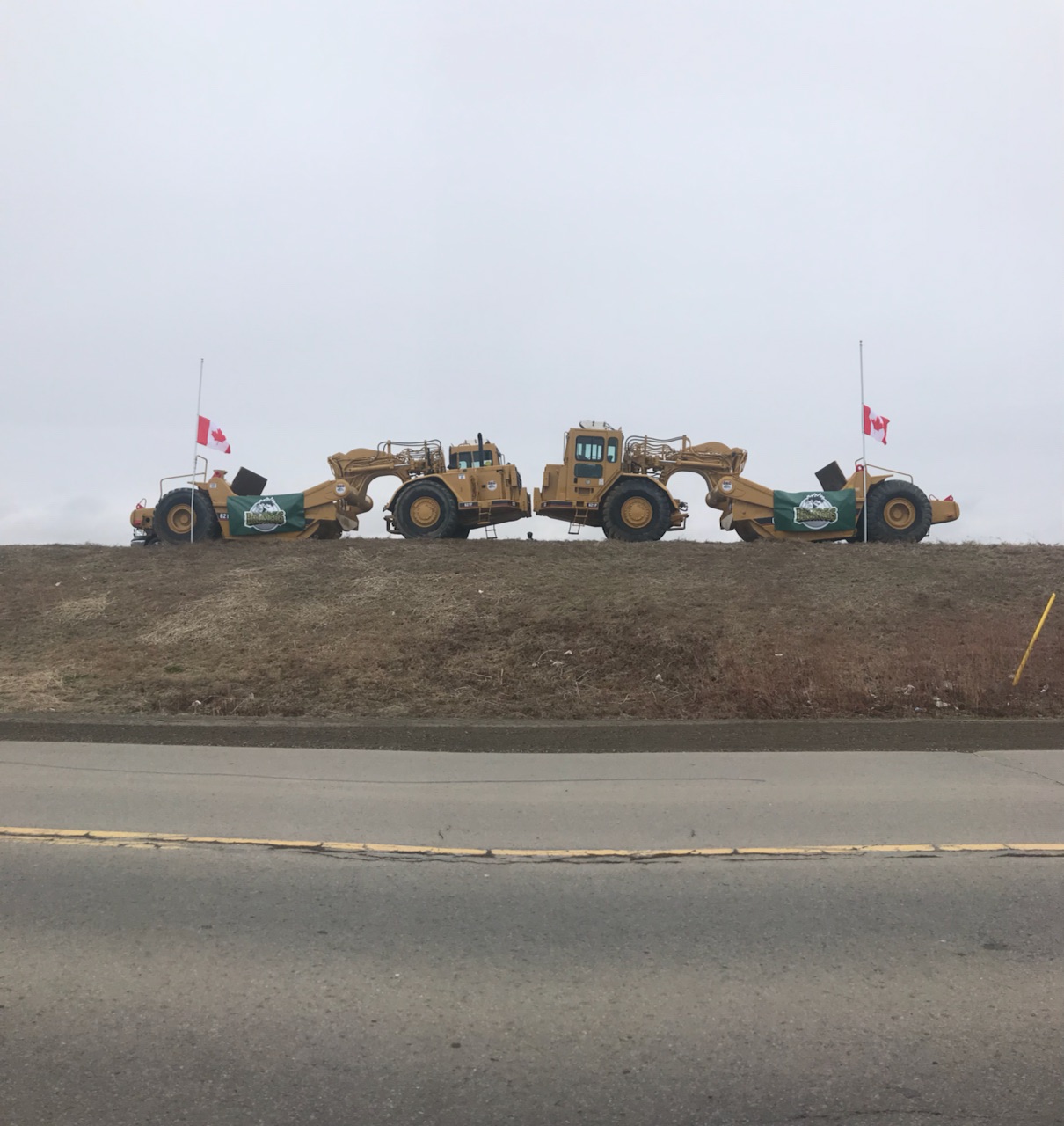 Just like most Canadians, Van Camp wanted to do his part to step up and honour the Humboldt Broncos. Van Camp Construction created a tribute to the Broncos on one of their work sites just off the Queen Elizabeth Way.
Van Camp visited the Woodbine Mohawk Park Bookkeeper Friday evening and informed that his donation would also go towards the SJHL Player Assistance Program.
ICE STORM HAMMERS MOHAWK PARK – Saturday, April 14
A significant ice storm took a toll on Woodbine Mohawk Park and the surrounding area on Saturday, forcing the cancellation of that evening's card.
Check out the scene from Saturday afternoon at Woodbine Mohawk Park.
The #icestorm is intense and hitting Woodbine Mohawk Park (@WoodbineSB)! pic.twitter.com/Fu1ZnHs2gW

— Mark McKelvie (@MohawkMarkM) April 14, 2018
BREEDERS CROWN COMING IN 2019 – Monday, April 16
Woodbine Entertainment and The Hambletonian Society announced Monday afternoon that the 2019 Breeders Crown will take place at Woodbine Mohawk Park.
We are thrilled to announce that Woodbine Mohawk Park will host the 2019 @Breeders_Crown.

12 Championship Races, $6 million, One Night! https://t.co/hayyOITQzB

— Woodbine – Mohawk Park (@WoodbineSB) April 16, 2018
It will be the first-time Woodbine Mohawk Park has hosted all 12 championship races. The last Crown events to take place at the Campbellville track were the Open Division events in 2008.
The $6 million Breeders Crown will take place in October 2019.
Woodbine Entertainment has hosted more Crown events than any other organization between Greenwood, Woodbine and Woodbine Mohawk Park. Woodbine Mohawk Park hosted an event in the Breeders Crown inaugural year (1984) and will host all 12 championship races 35 years later.
The last time the Breeders Crown visited Woodbine Entertainment was in 2015 at Woodbine Racetrack.
To read all the details about this exciting announcement, click here.
OPENING WEEK SPECIALS EXTENDED – Monday, April 16
The opening-week of racing at Woodbine Mohawk Park was flowing smoothly until Saturday's cancellation.
To say "Thank You" to all the fans that joined us on track over the opening two nights, Woodbine Mohawk Park has extended all food and drinks specials through the entire second-week of racing (April 16-21).
The following offers will be available all week:
Concessions:
$3.99 Domestic Cans
$0.99 Fountain Pop
$0.99 Large Popcorn
$1.99 Pepperoni Pizza Slice
Trackside Bar/MHK:
$4.99 Domestic Pints
$15.99 Bottles of House Wine
$3.99 Bar Rail Shots
Terrace Dining Room:
Friday – $17.95 "Kids Eat Free" Italian Buffet
Saturday – $24.95 "All-You-Can-Eat Prime Rib" Country Style Buffet