MILTON, May 1, 2018 – The month of May has arrived and we've now completed a quarter of 2018.
It feels like we paced a sizzling :25 opener! January wasn't that long ago, but I guess it's no secret, time flies.
Now that April is in the books, stakes season is ready to get rolling. Although we are still a few weeks away from our first stakes of the season, recent qualifiers have been adding to the hype of what we can expect in the coming months.
Several top performers returned to the track this week, plus Pepsi North America Cup eligible sophomores have been prepping all over the place (Woodbine Mohawk Park, Meadowlands, Hoosier).
It's that fun time of the year and we hope you're ready for the ride.
However, before we look too far ahead, let's focus on what transpired over the last week. It's time for "The Weekly Roundup".
LEADING DRIVER OF THE WEEK – Doug McNair (7 wins)
O'Brien Award winner Doug McNair led all reinsmen in wins last week for the first-time since tying for the top spot during March 22-26.
The Guelph, Ontario resident had a busy week. Not only did McNair compete on all four-cards and Friday's qualifying session, he also flew down to The Meadowlands on Saturday morning to qualify Pepsi North America Cup Winter-Book favourite Stay Hungry and several others for trainer Tony Alagna.
It might be fair to say that keeping busy keeps a driver locked in.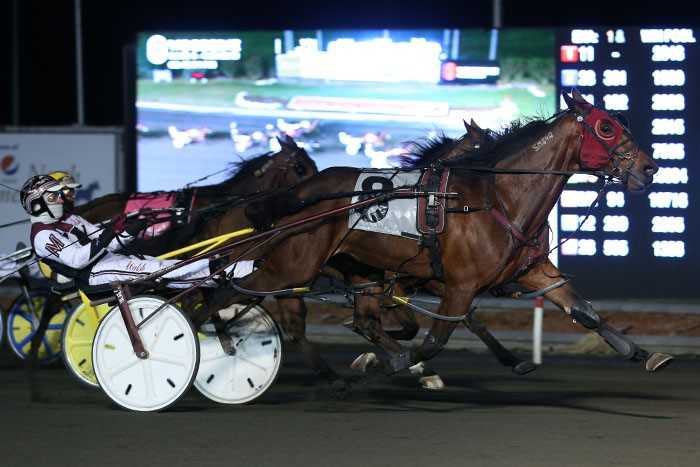 McNair won seven of his 33 drives last week and hit the board in 15 of the 33. His most notable victory of the week came with five-year-old pacer Easy Lover Hanover in the $34,000 Preferred Pace.
You can expect McNair will again have a prominent role in the upcoming stakes this season.
CLOSE BEHIND: Jody Jamieson (5 wins), Jonathan Drury (4 wins)
NOTE: 18 different drivers won races over the last week (41 races)
DRIVER OF THE WEEK STANDINGS: (After 16 weeks)
Roy – 8.5
McNair – 4.5
Henry – 1.5
Jamieson – 1.5
Drury – 0.5
J. MacDonald – 0.5
LEADING TRAINER OF THE WEEK – Carmen Auciello (4 wins)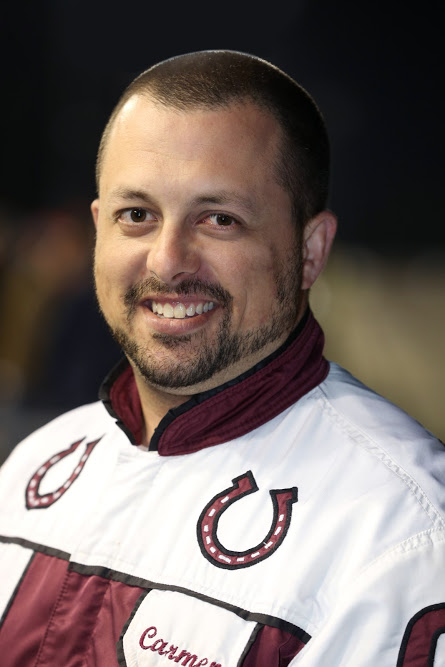 After three weeks of the Woodbine Mohawk Park season, it's safe to assume that no one has been happier about the move than trainer Carmen Auciello. The Stouffville, Ontario resident has been the top trainer in all three-weeks and he currently leads the track Trainer Standings with 11 wins (6 more than his nearest rival).
The most recent week of racing saw Auciello pick up four wins from 23 starts (up a win from his 4 for 23 stretch the week prior). His most notable victory of the week came in Friday night's $30,000 Mares Preferred with seven-year-old pacer Exhilarated.
CLOSE BEHIND: Rob Fellows (3 wins), Ben Baillargeon (2 wins), Dagfin Henriksen (2 wins), Ben Wallace (2 wins)
NOTE: 32 different trainers won races over the last week (41 races)
TRAINER OF THE WEEK STANDINGS: (After 16 weeks)
Moreau – 12
Auciello – 3.5
P. Henriksen – 0.5
MacIntosh – 0.5
UPSET OF THE WEEK – Freddy Bear, $122.20 (Saturday, April 30)
A new leader for biggest upset of the season was established on Saturday evening, as four-year-old pacer Freddy Bear stunned at odds of 60-1.
The Kyle Fellows trainee was competing in an $18,000 Non-Winners of 3 or $60,500 lifetime event. It was the first start in a little over a month for Freddy Bear.
Driven by Chris Christoforou, Freddy Bear rallied from eighth at three-quarters to pull off the stunner. He paced his final-quarter in :27.3 to shoot by rivals and pick up his second win of the season and fifth overall.
Freddy Bear paid $122.20 to win. The previous largest Win payout of the season was Koultons Rocket ($111.30) on March 1 at Woodbine.
BIG SATURDAY FOR GRANT/WALLACE/MCNAIR – Saturday, April 28
The trio of owner Brad Grant, trainer Ben Wallace and driver Doug McNair are no strangers to winning.
Saturday evening saw the trio pick up a pair of wins, but it wasn't just a typical night.
Four-year-old pacer Humboldt captured a $20,000 event for the trio and also for the Saskatchewan Junior Hockey League (SJHL). Owner Grant announced earlier in April that he would donate all of Humboldt's earnings for a month to the SJHL Player Assistance Program in the wake of the tragic Humboldt Broncos bus crash.
The pacer did his part to step up and has now picked up a win and runner-up finish in two starts since his owner's pledge. For more on how Grant and Humboldt "the horse" are helping #HumboldtStrong, click here.
The feel good victory wasn't the only notable win Saturday for Grant, Wallace and McNair.
The trio also teamed up for the second consecutive week to capture the $34,000 Preferred Pace with Easy Lover Hanover. The five-year-old is now two for two to start his campaign and overall is on an eight-race win streak.
'Easy Lover', who is now up to 27 wins and over $600,000 in career earnings, appears ready to be a big time player in some of the sport's top events for older pacers.
#NACUP ELIGIBLES QUALIFYING ALL OVER – April 27/28
As mentioned earlier, time doesn't slow down. The Pepsi North America Cup will be here before we know it and it's that time of the year where the three-year-olds are back on the track after the long Winter and ready to try and fulfill the dreams of their connections.
On Friday morning, a quartet of Pepsi North America Cup eligible sophomores took to the track at Woodbine Mohawk Park. Blake MacIntosh trainee Courtly Choice turned many heads with a strong 1:53.2 victory in his season debut qualifier.
The son of Art Major, who set a Track Record last season at Saratoga, paced home in :26 with driver James MacDonald at the controls.
To read the recap from Friday's qualifiers, click here.
Saturday morning at The Meadowlands in New Jersey saw 14 Pepsi North America Cup eligible three-year-old pacers take to the track, including the Winter favourites Stay Hungry and Lost In Time.
Breeders Crown champion Stay Hungry captured his first qualifier of the season in a sizzling 1:50.4. The Tony Alagna trainee sat the two-hole with driver Doug McNair and eventually angled out in the lane to charge home in :27 for the win.
Stay Hungry baby raced and made the first four starts of his career at Mohawk Park.
Metro Pace champion Lost In Time's first qualifier of the season went quite differently than his rival. The Jimmy Takter trainee sat mid-pack with driver Scott Zeron in a dash that saw much slower fractions.
Lost In Time was charted six-lengths from the lead at three-quarters, which meant his individual three-quarter time was 1:27.2. The Takter trainee proceeded to unleash a :25.4 kicker to finish up very strong and cross the line third, pacing his mile in 1:53.1. #NACup eligible Hayden Hanover won the qualifier.
#NACup eligible Captain Deo was also victorious during The Meadowlands qualifiers. The Alagna trainee put up a 1:51.2 mile for his second consecutive qualifying win.
Hoosier Park also was the site of an #NACup eligible qualifying.
Always Bet De Grey posted a sizzling qualifying mile of 1:51.2 (last-quarter :26.1) for his second consecutive "morning score". The son of Always A Virgin is a homebred for Emerald Highlands Farm, who won last year's Cup with Fear The Dragon.
The Pepsi North America Cup eliminations will take place on Saturday June 9, with the $1 million final set for Saturday, June 16.
MARION MARAUDER IS BACK – Monday, April 30
2016 Triple Crown champion Marion Marauder resurfaced Monday morning at Woodbine Mohawk Park.
The now five-year-old turned in his first qualifier of the season for trainers Mike Keeling and Paula Wellwood. Veteran driver Roger Mayotte was at the controls and guided the winner of $2.6 million to a calm-looking 1:56.4 victory (last-quarter :28.2).
Marion Marauder won three of 10 starts last season during his first campaign against older horses. The superstar son of Muscle Hill won the Dan Patch Award as U.S. Older Trotter of the Year for 2017.
UP NEXT: May 3-7
Live racing resumes Thursday evening at Woodbine Mohawk Park and continues Friday, Saturday and Monday. A special Post Time of 7:05 p.m. will be in effect for Saturday's card. Fans are encouraged to come out early on Saturday and watch/wager on the Kentucky Derby.