TORONTO, December 12, 2017 – Another week of racing is in the books and the start of Winter Series action highlighted last week's Standardbred racing at Woodbine Racetrack. The week also featured charitable donations, a millionaire going out a winner, snowy conditions and much more.
It's time for "The Weekly Roundup".
LEADING DRIVER OF THE WEEK – Doug McNair (7 wins)
Just like last week, Doug McNair led all drivers in victories by finding the winner's circle seven-times during the most recent segment of racing. Surprisingly, McNair was held winless on Saturday's card, which was coming off the heels of a Friday night Hat-Trick (see below). He posted driving doubles on Thursday and Monday to round out his seven scores.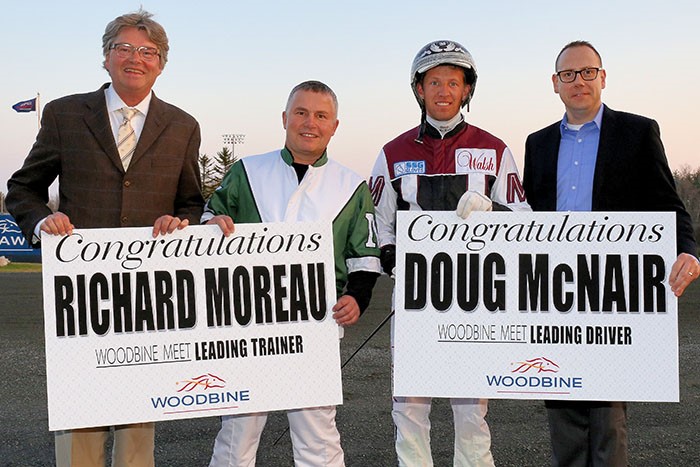 Close Behind: Trevor Henry (6 wins), Louis Philippe Roy (5 wins)
NOTE: 18 different drivers won races during the most recent week (40 races total) 
LEADING TRAINER OF THE WEEK – Richard Moreau (4 wins)
It really is no surprise that the top driver and top trainer on the circuit continue to rack up the most victories each week. Richard Moreau added to his massive lead atop the Woodbine Trainer Standings (156 wins) by sending out four winners last week. It was a busy stretch for the Moreau barn, as they raced 19 horses during the week. Their most notable victory came on Friday evening with Teachers Vet (see below) in a division of the Niagara Series.
Close Behind: Carmen Auciello (3 wins), Ben Baillargeon (2 wins), Tony O'Sullivan (2 wins), Rick Zeron (2 wins)
NOTE: 31 different trainers won races during the most recent week (40 races total)
UPSET OF THE WEEK – Friday, December 8 (Race 6: Maximuscle, $70.20)
Six-year-old gelding Maximuscle (#8) went coast to coast to score a 34-1 upset last Friday at Woodbine. The Carmen Auciello trained trotter has had some tough times this season, with numerous breaks and a trio of qualifiers where he was pulled up. Maximuscle finally got things back together for a clean qualifier on November 30th and he built off that by surprising many in an $11,000 overnight on Friday. Jonathan Drury got the veteran trotter to dig in down the lane and fight off Cue Hall (#1) for the victory.
ROY GIVES BACK – Thursday, December 7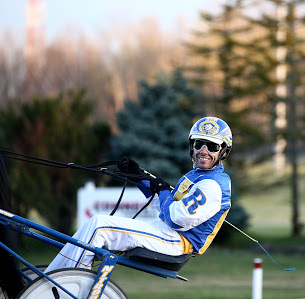 The season of giving is upon us and driver Louis Philippe Roy was doing his part to give back to a charity in his hometown.
Roy announced last week, via Facebook, that he would be donating his earnings from last Thursday's card to Moisson Mitis in Mont-Joli, Quebec. Moisson Mitis helps those who are less fortunate and struggling in different aspects of life. Roy drove in eight-races and while he was unable to find the winner's circle, he finished in the runner-up spot five-times!
Kudos to driver Louis Philippe Roy, who is driving for a great cause tonight! Roy will be donating all his earnings from tonight's races to Moisson Mitis (https://t.co/g1n09fru1y) in his hometown of Mont-Joli, Quebec.

Here is a post from his Facebook page. pic.twitter.com/bA6AnL8JP1

— Mark McKelvie (@MohawkMarkM) December 8, 2017
MCNAIR SWEEPS ROUND ONE OF NIAGARA – Friday, December 8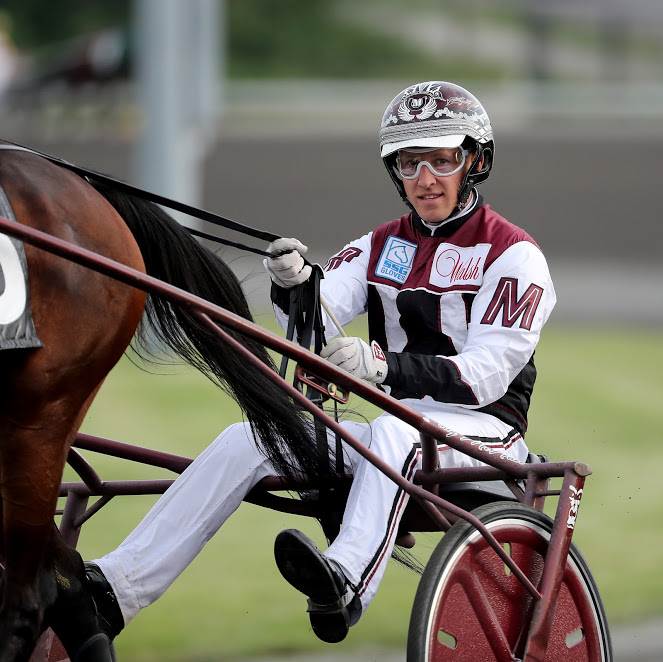 Woodbine's leading driver Doug McNair has been winning everything this year, so it should come as no surprise that his winning ways carried over to the start of Winter Series action. The Guelph, Ontario reinsman guided Aaron Lambert trainee Jazzy Image (1:53.1) and Richard Moreau pupil Teachers Vet (1:54) to victories in Friday's opening leg of the Niagara for three-year-old pacing fillies.
Jazzy Image was the second-choice at 3-1, while Teachers Vet was the heavy-favourite in her division, returning $3.80 to win. Both fillies have now punched their ticket to the series final on Boxing Day, but if their connections opt to race in this week's second leg, McNair will be hoping they draw into opposites splits for a chance at another sweep.
STRONG EFFORTS IN ROUND ONE OF VALEDICTORY – Saturday, December 9
Over the years, the Valedictory has been used as a launching pad for late-developing three-year-old pacers. Just one leg is complete in this year's series, but it appears this year's group has plenty of promise and several competitors could be future "Saturday night warriors" in the circuit's higher-classes.
Tony O'Sullivan trainee Windsun Gotham took Saturday's first division in a career-best 1:51.2. The American Ideal gelding was making just his second start since the end of July. It's been a long year for Windsun Gotham, who made his career debut on December 22, 2016 at Woodbine, broke his maiden on January 23, 2017 at Woodbine and now is up to five wins in 17 starts thanks to his Valedictory score on December 9, 2017.
Better B Rolling captured the second split in a career-best equaling 1:52.1. The Roll With Joe gelding is now two for two at Woodbine after making the first nine starts of his career in New York. Louis Philippe Roy has guided Better B Rolling to both his Woodbine scores and both times the Ciaran Morrison trainee has been the public's choice.
"JITTERBUG" GOES OUT A WINNER – Saturday, December 9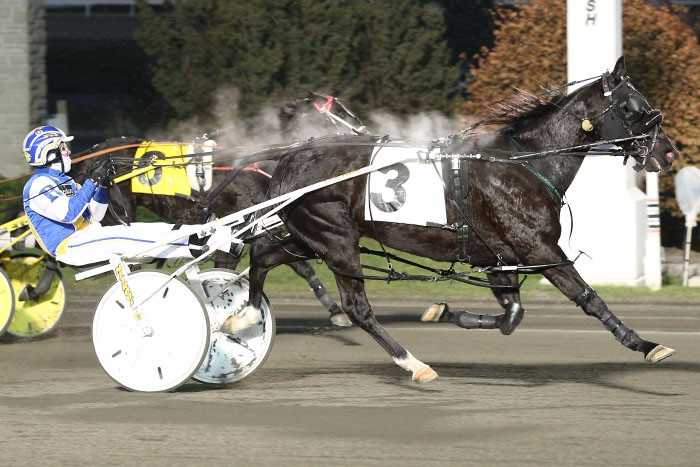 It's always fitting to go out a winner and that's exactly what Casimir Jitterbug did last Saturday. The 10-year-old gelding made his 238th and final career start Saturday and went out a winner with a 1:50.4 score in a $22,000 overnight.
Trained by Andrew Harris for F Bellino And Sons LLC, Casimir Jitterbug earned his 60th career victory on Saturday. The winner of over $1 million lifetime posted eight victories in his final season.
Casimir Jitterbug started his career in 2010 with trainer Mario Rivest at Sudbury Downs. "Jitterbug"eventually moved into the Tony O'Sullivan barn and would race there from October 2012 to June 2016 before moving into the care of Harris. While "Jitterbug" raced south of the border from April 2014 to November 2017, Harris sent the veteran back to Woodbine last month for two final starts.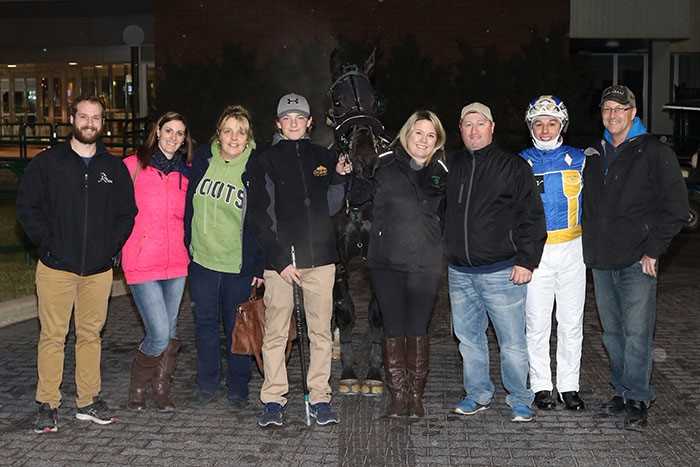 Casimir Jitterbug will now reunite with original trainer Rivest and enjoy retirement. Congratulations to Casimir Jitterbug and all of his connections over the years!
WINTER HAS ARRIVED – Monday, December 11
The first blast of Winter hit Woodbine on Monday afternoon just in time for live racing. Snow covered the grounds and turned the Toronto oval into a Winter Wonderland. The track crew, trainers, drivers and equine athletes braved the elements to put on an exciting evening of racing.
Winter is back at #BetWoodbine, but that doesn't stop the Standardbreds from going to work! pic.twitter.com/byNfi8DLZr

— Mark McKelvie (@MohawkMarkM) December 11, 2017
UPSET CITY! – Monday, December 11
While the storyline going into Monday's card was the snow, the weather was an afterthought once racing began.
Upset after upset got the night rolling and led to a gigantic Pick-5 payoff (Pool: $92,523) of $60,965.20 for a $0.20 winning ticket. The shortest price winner in the Pick-5 sequence was 7-1.
Here were the Win Prices from the opening-five races Monday.
Race 1: #8 Stormont Manpower ($23.40)
Race 2: #3 E R Rhonda ($27.40)
Race 3: #3 The Power Of Many ($25)
Race 4: #5 Play It Again Sam ($18.60)
Race 5: #3 Jack Rackham ($17)
MACDONALD BACK FROM AUSTRALIA – Monday, December 11
James MacDonald, the 2017 World Driving Champion and Woodbine regular reinsman, returned Monday evening from a trip to Australia to take part in an International Drivers Series.
MacDonald took time to chat about his experience with Woodbine's Mark McKelvie
Click Here for the Interview.
LOOKING AHEAD – December 14 – December 18
The Niagara Series (Friday) and Valedictory Series (Saturday) highlight the upcoming week of racing. Plus a group of special guests will be stopping by Woodbine on Friday (Check back later this week for details). Post time Thursday, Friday, Saturday and Monday is 7:30 p.m.