TORONTO, February 6, 2018 – It seems there is never a lack of talking points following a week of Woodbine Standardbred racing.
That is certainly the case for what was an intriguing first-week of February at the Toronto oval.
The finals of the Snowshoe and Blizzard Series highlighted the action on the track, while off the track many members of the Woodbine racing scene were in their finest attire for the 2017 O'Brien Awards.
We take no weeks off, so grab a snack and start scrolling through "The Weekly Roundup" – Edition #4.
LEADING DRIVER OF THE WEEK – Trevor Henry (7 wins)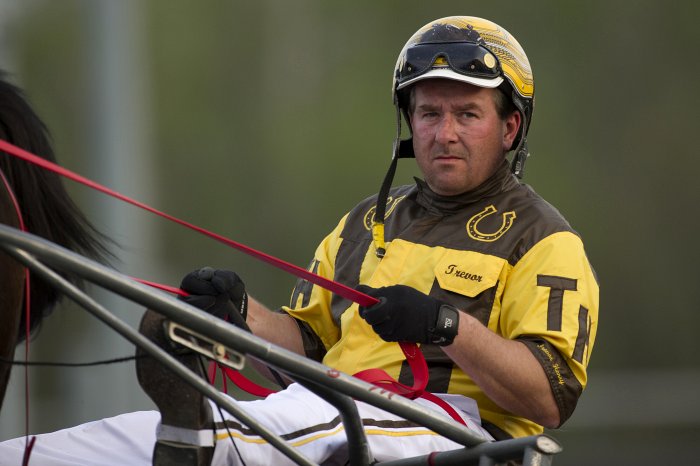 Doug McNair and Louis Philippe Roy's run as Driver of the Week came to end, thanks in large part to the O'Brien Awards. With both reinsmen at the Black Tie Gala on Saturday evening (and McNair also taking Monday's card off), Trevor Henry came through as the leading driver with a seven-win week.
Henry took advantage of his rivals missing Saturday's card by scoring a "Hat-Trick", which included a pair of wins for trainer Bill Budd. Henry had singles on the first two-cards of the week and concluded the stretch with a Monday evening double.
Although he didn't attend the O'Brien Awards, Henry was the main pilot behind three of Saturday evening's winners (Alarm Detector, Percy Bluechip and Classic Pro). The Arthur, Ontario reinsman is looking to build off a career year in 2017, which saw him drive the winners of nearly $6 million.
Henry wasn't the only driver to take advantage of some missing rivals on Saturday. Jody Jamieson led the way on the 10-race card with a "Grand-Slam", while Bob McClure had a three-win night.
CLOSE BEHIND: McClure (6 wins), McNair (6 wins), Jamieson (5 wins), Roy (5 wins)
NOTE: 11 different drivers won races over the last week (40 races)
DRIVER OF THE WEEK STANDINGS: (After 4 weeks)
McNair – 1.5
Roy – 1.5
Henry – 1
LEADING TRAINER OF THE WEEK – Richard Moreau (5 wins)
No surprise to see Richard Moreau lead all trainers last week, so we'll focus on his fifth-consecutive O'Brien Award.
The Puslinch, Ontario resident was named Canada's Trainer of the Year this past Saturday. It was the fifth straight year that Moreau has taken home the title. No trainer since 1989 (the inaugural O'Brien Awards) had ever won more than two in a row and Moreau has blown that out of the water by capturing the crown in 2013 and having yet to relinquish it.
Moreau's final 2017 numbers came in at 277 wins, a .325 UTRS and $3.7 million in earnings. His trainee Sandbetweenurtoes also captured an O'Brien Award Saturday for Top Older Pacing Mare.
CTV Kitchener did a feature on Moreau leading up to last Saturday's O'Brien Awards. The piece can be viewed through the Tweet below or by clicking here.
Great piece by @randysteinman for @CTVKitchener on Richard Moreau's bid for a fifth straight Trainer of the Year title at tonight's O'Brien Awards. #obrien17 https://t.co/n0J50AQWQp

— Ontario Sires Stakes (@ONTSSNews) February 3, 2018
CLOSE BEHIND: Gregg McNair (3 wins)
NOTE: 28 different trainers won races over the last week (40 races)
TRAINER OF THE WEEK STANDINGS: (After 4 weeks)
Moreau – 4
BEST FINISH OF THE WEEK – Friday, February 2 (Race 1: #5 Ten Carat)
Friday evening's card featured a pair of Winter Series finals and it got underway with a thrilling finish in the opener.
Rounding the final turn, #7 Reys N A Rocket, #5 Ten Carat and #8 Always A Vision sat second, third and fourth-over. The three claiming pacers would all turn in a strong stretch rally to create a fantastic finish. #5 Ten Carat didn't appear to pull out the victory at first-glance, but the Photo Finish camera proved otherwise with the slimmest of margins denying #8 Always A Vision a victory.
BROOMS NEEDED IN WINTER SERIES FINALS – Friday, February 6
The $41,400 Snowshoe Series and $39,400 Blizzard Series concluded on Friday evening with a pair of intriguing contests.
JK Pridenjoy was the lone horse from 32 that competed in the preliminary legs to have an opportunity to sweep the Snowshoe, while Circle The Page was the lone lady in the Blizzard with a shot at the sweep.
The Blizzard Series final saw Circle The Page come through with the sweep, but it took a gritty effort to capture the series finale. The public's choice was used hard on the backstretch to rush from fifth to first and take the lead from Bettim Jackie. Those two would hook up agan in the lane, with Circle The Page fighting off Bettim Jackie to win by a neck.
Jonathan Drury steered Circle The Page to the victory for trainer Victor Puddy. The four-year-old pacing mare had been red-hot at The Meadows for trainer/co-owner John Sullivan before coming to Woodbine and sweeping the Blizzard.
Despite having won two-weeks in a row, JK Pridenjoy did not go off as the favourite in the Snowshoe Series final. The Nick Surick trainee was the second-choice behind the winless Gerardo, who was entering off back-to-back runner-up finishes.
Driver Doug McNair sent JK Pridenjoy to the lead, allowed Gerardo to take over in the second-quarter and eventually found room to get off the pylons at the top of the lane and pace to a half-length score in 1:54.4 over a rallying Abbeydorney.
A four-year-old son of Rock N Roll Heaven, JK Pridenjoy has already made five starts in 2018 and has posted four victories. The Snowshoe victory was some redemption for the Surick trainee, who finished tenth in the Valedictory Series finale on Boxing Day.
MCNAIR CAPTURES FIRST O'BRIEN AWARD – Saturday, February 3
Doug McNair's outstanding season in 2017 was recognized Saturday, as he won his first O'Brien Award as Canada's Driver of the Year. McNair took the award over fellow finalist Louis Philippe Roy.
Guelph's Doug McNair named Driver of the Year https://t.co/vmwnFTtrok

— GuelphMercuryTribune (@MercuryTribune) February 4, 2018
The 28-year-old Guelph, Ontario driver had a career-year in 2018, which included his first Breeders Crown victory and his first Woodbine Circuit driving title. McNair finished 2017 with 325 victories and $6.5 million in earnings.
McNair was the regular driver behind three O'Brien Award winners (Stay Hungry, Bettors Up, Sandbetweenurtoes) all owned or co-owned by Brad Grant.
The success in 2017 has quickly carried over to 2018, as McNair has quickly racked up 28 wins and $340,000 in earnings through the first-month of the season.
THE BEST RACE AT WOODBINE – Saturday, February 3
The O'Brien Awards recognize the best of the best from each season in Canadian harness racing and once again Canada's best race at Woodbine. Finding success in one of Woodbine's major stakes usually lands you an invitation to the O'Brien Awards.
Of this year's O'Brien Award winners, six of the 12 horses won a Woodbine signature stakes event. Of course all 12 were notable performers at Woodbine/Mohawk.
Here are the six O'Brien Award winners to win a signature event at Woodbine/Mohawk:
3YO Filly Pacer: Bettors Up ($440,000 Fan Hanover)
Older Pacer: Sintra ($615,000 Canadian Pacing Derby)
2YO Colt Trotter: Alarm Detector ($400,000 Wellwood Memorial)
3YO Filly Trotter: Ariana G ($385,000 Elegantimage)
3YO Colt Trotter: International Moni ($251,000 Goodtimes)
Older Mare Trotter: Hannelore Hanover ($593,000 Maple Leaf Trot, $253,000 Armbro Flight)
WOODBINE BROADCAST DEPARTMENT WINS MEDIA EXCELLENCE AWARD – Saturday, February 3
The Woodbine Broadcast Department's feature "Hope and Resilience" won the Outstanding Broadcast Media Excellence Award on Saturday at the O'Brien Awards. It was the seventh-time Woodbine's Broadcast Department, led by Rob Platts, has won the award.
"Hope and Resilience" aired during the Pepsi North America Cup broadcast on TSN3 and TSN5 on Saturday, June 17.
WILL TAKE CHARGE REPEATS IN PREFERRED – Monday, February 5
Will Take Charge has been nothing but outstanding since being acquired by owner Mac Nichol and trainer Jeff Gillis in November.
The now five-year-old gelding captured Monday evening's $34,000 Preferred Trot in dominating fashion to pick up his fifth win in seven starts for his new connections. It was the second consecutive Preferred score for Will Take Charge, who was once again driven by Jody Jamieson.
Will Take Charge has banked $82,700 for Nichol in seven starts.
UP NEXT: February 8-12
Live racing resumes Thursday evening at Woodbine with a 10-race program and continues Friday, Saturday and Monday. Post time is 7:10 p.m.