TORONTO, January 23, 2018 – The return of Winter Series action highlighted an abbreviated second week of the 2018 season at Woodbine Racetrack.
The arrival of above freezing temperatures and steady rain wreaked havoc on the Woodbine racing surface Monday, forcing the cancellation of that evening's 10-race card.
Despite the cancellation, the second week of the 2018 season featured some great action and saw the usual suspects racking up victories.
It's time for "The Weekly Roundup"!
LEADING DRIVER(S) OF THE WEEK – Doug McNair/Louis Philippe Roy (6 wins)
The top-two drivers from the 2017 season each picked up six wins over the last three cards of racing.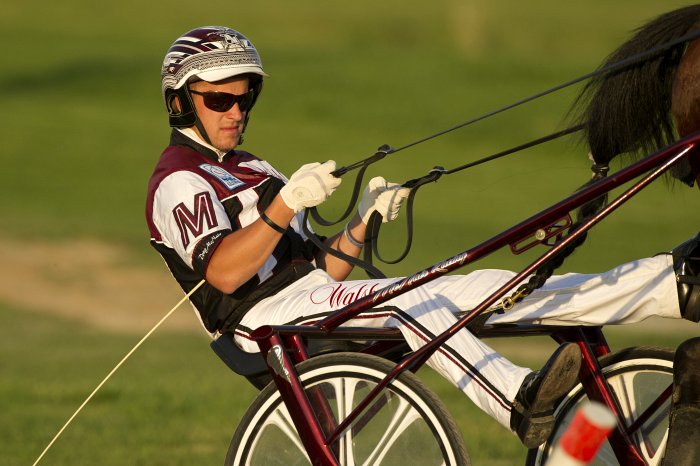 Doug McNair started the week strong with a Thursday evening "Hat-Trick" before picking up two wins on Friday and a single victory Saturday. Meanwhile, Roy was the opposite by posting single victories Thursday and Friday before posting a Saturday evening "Grand-Slam".
McNair's six victories came behind the horses of five different trainers (two wins for Duane Marfisi), while Roy teamed up with leading trainer Richard Moreau for half of his wins.
Now eight cards into the season, Roy leads McNair 14-12 in the Woodbine Driver Standings.
CLOSE BEHIND: Sylvain Filion (3 wins), James MacDonald (3 wins)
NOTE: 11 different drivers won races over the last week (30 races)
LEADING TRAINER OF THE WEEK – Richard Moreau (3 wins)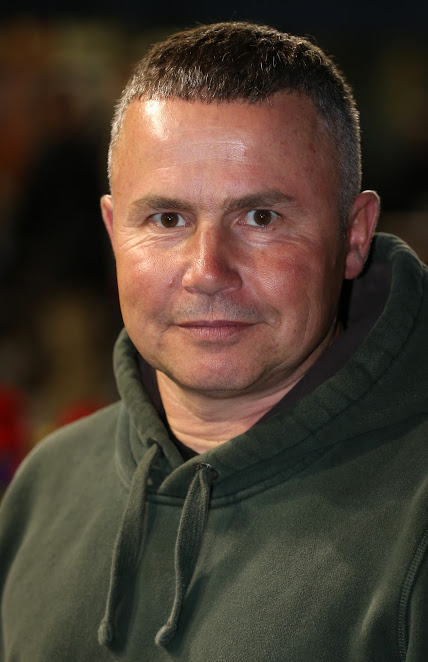 After going eight for 28 during the opening five-cards of the season, Richard Moreau once again led all trainers in victories by going three for 19 last week.
The four-time defending O'Brien Award Trainer of the Year won a single-race on each of the three cards.
All but two of Moreau's 18 starters earned a cheque last week, while nine of 18 hit the board.
All three of Moreau's victories came in Claiming events (Regil Tiger, Docs Sausalito, Class Me Nice)
CLOSE BEHIND: Carmen Auciello (2 wins), Ben Baillargeon (2 wins), Nick Gallucci (2 wins), Duane Marfisi (2 wins), Julie Walker (2 wins)
NOTE: 22 different trainers won races over the last week (3o wins)
UPSET OF THE WEEK – Saturday, January 20 (Race 1: #8 Dontbruisecarrie, $40)
BEST FINISH OF THE WEEK – Saturday, January 20 (Race 1: #8 Dontbruisecarrie)
It's a two for one this week, as Saturday evening's opening-race saw a thrilling finish and big upset.
Six-year-old pacing mare Dontbruisecarrie and driver Louis Philippe Roy flew home to split rivals in the final strides to create a three-horse "Win Photo". Those with tickets on the 19-1 shot were pumped when #8 was posted as the winner.
Coming off a fifth-place effort at 40-1 in the same class, Dontbruisecarrie was making her second start since returning to the Woodbine circuit. The Louie Eftimiadis trainee's victory in Saturday's $11,000 conditioned event was her first of 2018 and ninth overall (60 career starts).
Fantastic finish and biggest upset of the week.
MEADOWS INVADER WINS BLIZZARD SPLIT – Thursday, January 18
Winter Series action resumed Thursday with two $17,000 divisions of the Blizzard Series for three and four-year-old pacing ladies.
The first division saw Circle The Page and driver Jonathan Drury convert off a two-hole trip for a 1:54.2 victory. The four-year-old pacing mare was making her Woodbine debut and the public was immediately on board making her the race-favourite.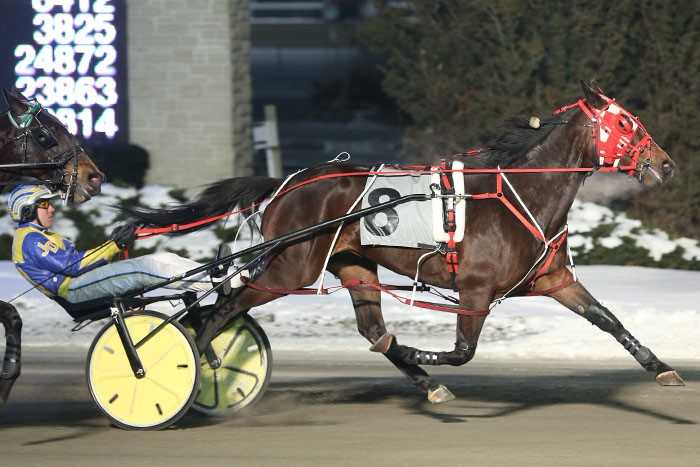 Circle The Page was shipped up to trainer Victor Puddy from the Meadows (Pennsylvania) for the Blizzard by owner/regular-trainer John Sullivan. She has now won three of her last four starts and has finished top-two in nine consecutive starts.
The second division went to a familiar face, as Franschoek ($13.80, 1:55.2) came through for driver Mike Saftic and trainer Eric Adams. The four-year-old pacing mare is starting to find her stride as she has now won two of her last three starts. Notable considering she was just one for 24 last season, with her lone victory coming on December 22.
SNOWSHOE-MANIA – Friday, January 19
Friday evening's card was highlighted by four $17,000 divisions of the Snowshoe Series for three and four-year-old pacers.
A total of 33 pacers were entered into round one, up from 19 in 2017.
Here were the first round winners:
Division #1: Abbeydorney (J. MacDonald/Friend) – 1:55, 4 lengths, $10.50
– Won two of last four starts
Division #2: Burn Out Hanover (Jamieson/Darling) – 1:56.2, length, $5.90
– 3YO defeating several older rivals, fourth consecutive victory
Division #3: Tremendous Play (M. Baillargeon/B. Baillargeon) – 1:53.3, length, $22.20
– Established a new career-mark with the victory
Division #4: JK Pridenjoy (McNair/Surick) – 1:55.3, half-length, $3
– Two wins in last three starts, Raced on short-rest after a start four-days earlier at Yonkers
**For a full recap (including replays) of the Snowshoe Series – 1st Leg – click here**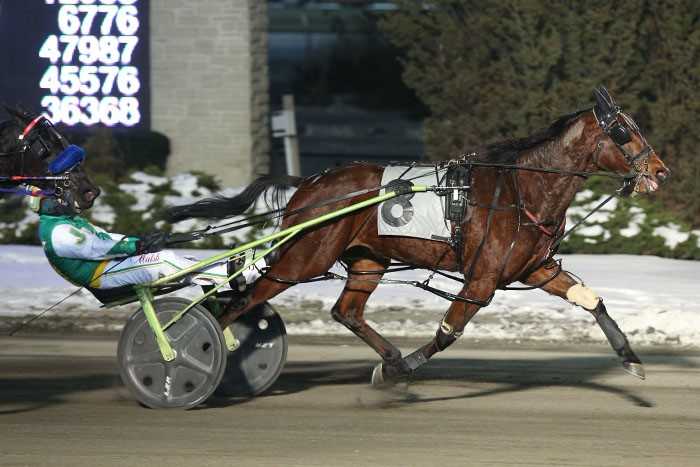 The large turnout for the opening round puts more importance on the second leg to qualify for the series final. The top-10 earners from rounds one and two to enter the final will compete on Friday, February 2.
JINS SHARK IN 1:50 – Saturday, January 20
The first $34,000 Preferred Pace of 2018 headlined Saturday's 10-race card.
Easy Lover Hanover beat up on his rivals to cap off 2017, but the Ben Wallace trainee wasn't around this week, opening the door for one of six older pacers to step up and score a big victory.
Issac Waxman trainee Jins Shark went from last to first for a 5-1 mild upset in a snazzy 1:50.
Physicallyinclined went to the lead and hung up solid fractions of :26.1, :54.2 and 1:22.2 to lead into the lane. Jins Shark and driver James MacDonald were sixth and third-over (five-lengths) turning for home. The Waxman trainee paced up a storm on the far outside to surge by all his rivals and win by two-lengths.
Now seven-years-old, Jins Shark made a name for himself in the Preferred last season by scoring six-victories in Woodbine's top-class. The winner of nearly $400,000 lifetime was making career start 102 Saturday and now has 22 victories.
HORSEPLAYER SPENDS $2.40 TO WIN $56,495 JACKPOT HI-5 – Saturday, January 20
A horseplayer wagering on Saturday's Woodbine card at London's Western Fair walked away with the score of a lifetime. The London horseplayer spent $2.40 wagering on the Jackpot Hi-5 and was the only person to correctly select the top-five finishers in order to win $56,495.71.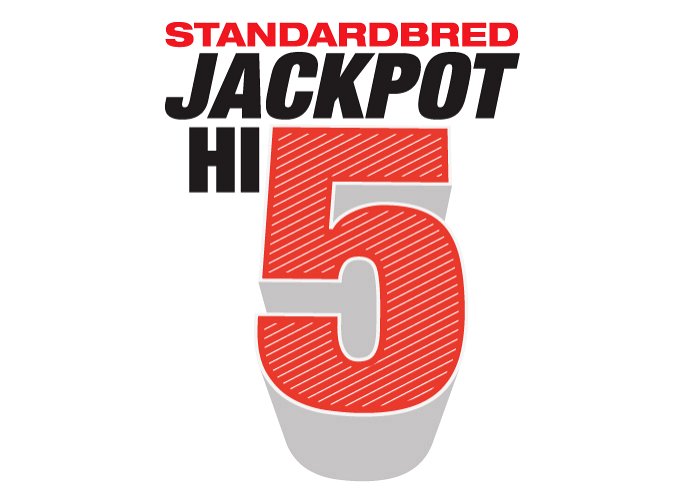 Here were the top-five finishers in order (with Win Odds):
1st: #1 Fancourt (Randy Waples) 8-1
2nd: #2 Blatantly Best (Doug McNair) 3-2
3rd: #7 Shadow Place (Chris Christoforou) 43-1
4th: #8 Rockin In Heaven (Phil Hudon) 19-1
5th: #5 Aslan (Sylvain Filion) 8-1
The carryover going into Saturday's card was $44,054.34. The Hi-5 will now start from scratch on Thursday's (January 25) program.
MIDDLETON AND PORTUONDO TO HOST O'BRIEN AWARDS – Thursday, January 19
The 2017 O'Brien Awards are quickly approaching, as Canada's top Standardbreds will be honoured on Saturday, February 3 at the Hilton Mississauga.
Ken Middleton, Woodbine Track Announcer, and Jason Portuondo, Woodbine Host/Analyst, will again be teaming up to co-host the O'Brien Awards. Middleton will be hosting his 15th consecutive O'Brien's, while Portuondo will be back for his second O'Brien's.
Returning as co-hosts for the 2017 O'Brien Awards, Ken Middleton and Jason Portuondo! #harnessracing #obriens17 https://t.co/vlZ4qoYAXp pic.twitter.com/rV495e0wTF

— Standardbred Canada (@StandardbredCAN) January 17, 2018
NEW LOOK AT MOHAWK PARK RENOVATIONS – Thursday, January 19
Renovations continue at Woodbine, Mohawk Park as the return of live racing inches slightly closer. Here's a new look at the glass installation for the Terrace Dining Room. Look out fore more updates from @MohawkMarkM and @WoodbineSB in the coming weeks.
The facelift continues at "The Hawk" @WoodbineSB. Chilly Thursday afternoon, but lots getting done! pic.twitter.com/zHXkRfsrN1

— Mark McKelvie (@MohawkMarkM) January 18, 2018
UP NEXT: January 25-29
Round two of the Blizzard Series goes Thursday (January 25), while the Snowshoe Series continues Friday (January 26). Live racing scheduled for Thursday, Friday, Saturday, Monday. Post Time 7:10 p.m.