TORONTO, January 30, 2018 – The ups and downs of January were on display over the last week of racing.
Temperatures went up, then down. Grass was green, then snow covered the ground. The month of January can be a rollar coaster, but the one constant is solid racing at Woodbine Racetrack.
The most recent week of racing saw 42 races contested over four nights. Winter Series action continued with the Snowshoe and Blizzard, the Circuit's top pacers and trotters were on display, several drivers had big weeks and a debuting three-year-old turned a lot of heads.
It's time for "The Weekly Roundup".
LEADING DRIVER OF THE WEEK – Doug McNair (8 wins)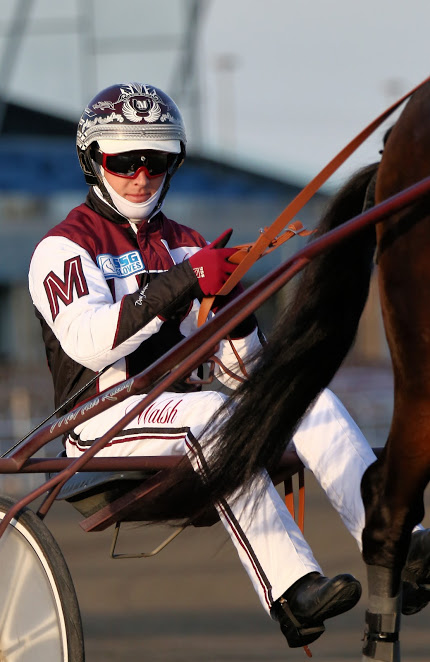 This coming Saturday is expected to be a career moment for Doug McNair, as the young reinsman is the favourite to take home "Driver of the Year" at the 2017 O'Brien Awards. His 2017 season was outstanding and he has quickly carried that momentum over to 2018.
McNair won eight of 32 drives last week to lead all reinsman. It was a consistent week for the Guelph, Ontario resident as he posted one win Thursday, two Friday, three Saturday and two Monday. Notable victories for McNair included a division of the Snowshoe with JK Pridenjoy and the $34,000 Preferred Pace with American Virgin.
CLOSE BEHIND: Louis Philippe Roy (7 wins), James MacDonald 5 wins)
NOTE: 13 different drivers won races over the last week (42 races)
DRIVER OF THE WEEK STANDINGS: (Through 3 weeks)
McNair – 1.5
Roy – 1.5
LEADING TRAINER OF THE WEEK – Richard Moreau (8 wins)
It was another strong week for Richard Moreau, as the Circuit's top trainer went eight for 31 over the last four cards of racing.
Moreau's barn picked up wins on all four cards, posting one win Thursday, two Friday, three Saturday and two Monday. His most notable victory was with American Virgin in Saturday's $34,000 Preferred Pace.
CLOSE BEHIND: Bill Budd (2 wins), Kyle Fellows (2 wins), Duane Marfisi (2 wins), Gregg McNair (2 wins), Dean Nixon (2 wins)
NOTE: 30 different trainers won races over the last week (42 races)
TRAINER OF THE WEEK STANDINGS: (Through 3 weeks)
Moreau – 3
UPSET OF THE WEEK – Monday, January 29 (Race 4: #5 Willey Bite, $37.50)
Seven-year-old gelded pacer Willey Bite came from eighth at the half to win Monday's Fourth-Race by a little over a length for driver Phil Hudon and trainer Tiffany Stein. Coming in off an eighth-place finish the week prior, the public didn't toss much support behind Willey Bite, but the Claiming Pacer did post a victory on January 8th at 5-1 and found that form once again Monday.
BEST FINISH OF THE WEEK – Saturday, January 27 (Race 8: #3 American Virgin)
The Circuit's top class ($34,000 Preferred Pace) provided an outstanding finish last week, as #3 American Virgin was able to fight off classy veteran #7 Nirvana Seelster to win by a head.
American Virgin (McNair) had to work hard in the second-quarter to take the lead from Nirvana Seelster (Trevor Henry). Sitting one-two turning for home, Nirvana Seelster angled out and tried his best to get by American Virgin with both pacers showing tremendous grit.
LARRYS PETROCK TURNS HEADS IN DEBUT – Thursday, January 25
It's not often we can get too excited about a debut in January, but that was the case last Thursday when Barry Bird trainee Larrys Petrock won his career debut.
A three-year-old gelded son of Pet Rock, Larrys Petrock rocketed home in :26.2 to come from from seventh and seven-lengths back at three-quarters to win by three and a half lengths in 1:54. It was a sensational debut for the Gerrie Tucker bred and owned sophomore.
Larrys Petrock never made it to the big dance at age two, but did qualify several times. He started at Rideau in May with Robert Robinson before shipping to Ohio and trainer Brian Brown. Under Brown, the Pet Rock gelding turned in a pair of qualifiers, including a 1:58 victory at Delaware.
Larrys Petrock was entered to make his debut on July 4th in an Ohio Sires Stakes, but was scratched sick. The Tucker pacer resurfaced in late-December at Woodbine for Bird and after two good qualifiers, captured his debut Thursday.
It'll be certainly intriguing to see what we get for an encore when Larrys Petrock makes his next start.
CIRCLE THE PAGE REPEATS IN BLIZZARD – Thursday, January 25
Four-year-old pacing mare Circle The Page returned to the winner's circle last Thursday and will now have an opportunity to sweep the Blizzard Series. Trained locally by Victor Puddy for regular trainer/co-owner John Sullivan, Circle The Page came first up to win one of two Blizzzrd second leg divisions.
Now seven for 26 lifetime, Circle The Page will be riding a three-race win streak into Friday's Blizzard Series final and is on an impressive run of nine consecutive top-two finishes (includes five victories).
Last Thursday's other split went to Richard Moreau trainee Bettim Jackie.
Here is a recap of the Blizzard Series – 2nd Leg.
JK PRIDENJOY WINS BATTLE OF ROUND 1 WINNERS – Friday, January 26
Last Friday's second leg of the Snowshoe Series featured an intriguing battle in the evening's opening division with three of the four first-round winners all meeting up.
JK Pridenjoy came out on top to put himself in a position to sweep the Snowshoe Series. The Nick Surick trainee capitalized off a two-hole trip behind fellow round-one winner Burn Out Hanover to win in a career-best 1:52.4.
Burn Out Hanover ultimately finished fifth, bringing an end to his four-race win streak. Tremendous Play, the other first-leg winner in the field, finished third.
JK Pridenjoy is now three for four in 2018 and is the likely favourite for Friday's final.
Meanwhile, two other divisions were contested Friday with Dean Nixon trainee Artofficial Flavor and Murray Brethour trainee Gillys Boy coming out on top.
A total of 32 three- and four-year-old pacers competed in the preliminary legs of the Snowshoe Series. Here are the full standings heading into Friday's $40,400 final.
Here are the STANDINGS for the SNOWSHOE SERIES following the 2nd Leg. The 10 horses with the highest earnings that are ENTERED will make up the field for next Friday's final. Box closes Tuesday at 10:30 a.m. pic.twitter.com/3wuhUOYljg

— Mark McKelvie (@MohawkMarkM) January 27, 2018
$10 MILLION-PLUS STAKES SCHEDULE UNVEILED- Friday, January 26
Woodbine, Mohawk Park will once again be the home of the sport's top pacers and trotters in 2018, as more than $10 million in stakes events are lined up for the season. All the signature events are back that will again attract the best in harness racing to Campbellville.
Our 2018 Stakes Schedule has been released. Over $10 million in Stakes Events, including the $1 million Pepsi #NACup set for Saturday, June 16. https://t.co/kXvfhBoQRS

— Woodbine – Mohawk Park (@WoodbineSB) January 26, 2018
The highlight of the season is the $1 million Pepsi North America Cup on Saturday, June 16. The month of September will be a can't miss month for harness racing fans, as more than $5.7 million in stakes events are lined up, including the Canadian Pacing Derby (September 1), Maple Leaf Trot (September 1), Canadian Trotting Classic (September 15) and Metro Pace (September 22).
Here is the full breakdown of the 2018 Stakes Schedule.
WILL TAKE CHARGE TAKES OVER – Monday, January 28
A steady snow fall throughout Monday left Woodbine's racing surface looking pretty white, but that didn't stop Will Take Charge from his mission in the $34,000 Preferred Trot. The Jeff Gillis trainee was sent to the lead by driver Jody Jamieson, stretched out rival Il Sogno Dream to the half and then came back around to retake command at three-quarters and trotted away to an impressive 1:53.4 score.
Will Take Charge is now four for six since joining the Gillis barn and two for four since moving up to the Preferred class. The now five-year-old could put together a big season racing at the top level in 2018.
UP NEXT: February 1-5
The series finals of the Blizzard and Snowshoe will highlight the upcoming week of racing. Both series conclude on Friday evening's card and an early look at the program pages can be viewed by clicking here.
Also on tap this week, the 2017 O'Brien Awards will take place Saturday evening at the Hilton Mississauga. Canada's best of 2017 will be honoured.