TORONTO, March 6, 2018 – A busy first "racing" week of March is in the books and while some things change, some just stay the same.
The top driver and trainer to this point in 2018 posted season-high numbers, handle was strong over four-nights of racing, the claiming game was active and we had a trio of Preferred events contested.
Mix in a little off-the-track news and we've got plenty to recap from another week of Woodbine Standardbred action.
It's time for "The Weekly Roundup".
LEADING DRIVER OF THE WEEK – Louis Philippe Roy (10 wins)
For the second consecutive week, Louis Philippe Roy led all Woodbine reinsmen in victories by posting the first double-digit win week of 2018. The Mont-Joli, Quebec native drove in 33 races over four-nights and made a total of 10 trips to the winner's circle.
Roy's week started slow by his standards with just a single win Thursday, but he then proceeded to post a "Grand-Slam" Friday, a two-win evening Saturday and a "Hat-Trick" Monday to lead the way.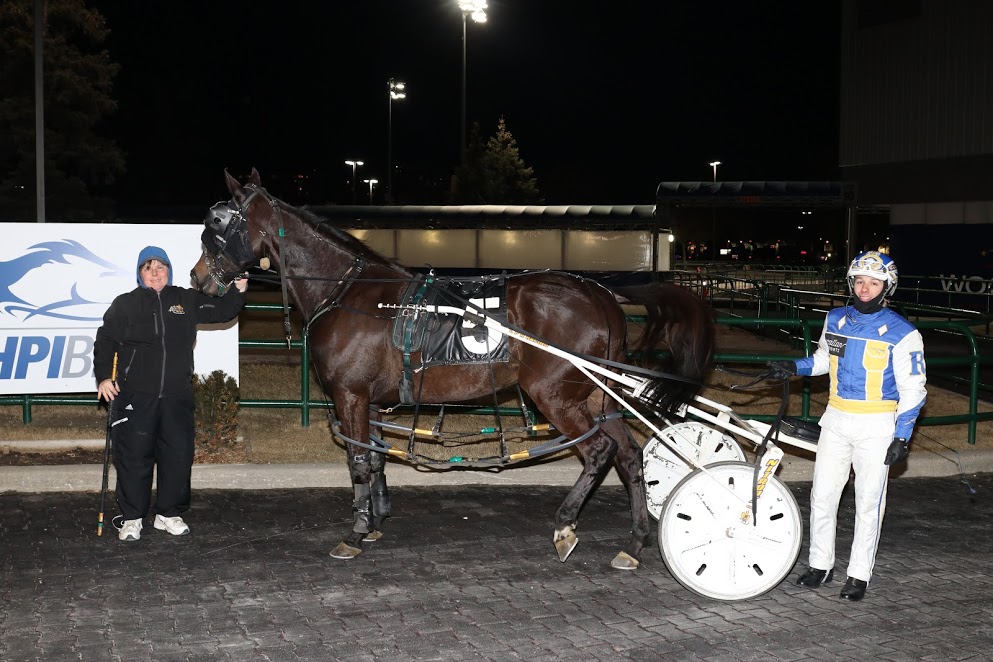 All but two of Roy's 10 wins came with Richard Moreau trainees.
Roy has now won 56 races this season at Woodbine and holds a 15-win lead over Doug McNair.
CLOSE BEHIND: Jody Jamieson (5 wins), Doug McNair (5 wins)
NOTE: 15 different drivers won races over the last week (40 races)
DRIVER OF THE WEEK STANDINGS: (After 8 weeks)
Roy – 4
Jamieson – 1.5
McNair – 1.5
Henry – 1
LEADING TRAINER OF THE WEEK – Richard Moreau (11 wins)
It was another stellar week for trainer Richard Moreau, as Canada's top trainer over the last several years sent out 11 winners over four-nights of racing. The 11 wins is the most in a single-week this season at Woodbine.
Moreau sent out a total of 29 starters, which converts to a winning percentage of 38% for the week.
The Moreau barn won two-races on Thursday before posting "Hat-Tricks" on Friday, Saturday and Monday.
The most notable victory for Moreau during the week came in Friday's $30,000 Mares Preferred, as his powerful duo of Witch Dali and Ms Mac N Cheese finished first and second in the feature event.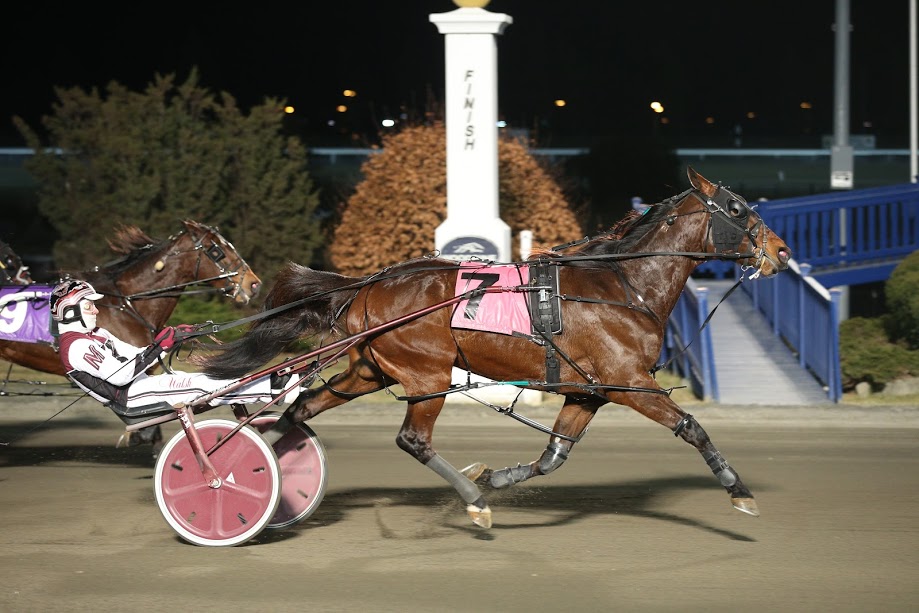 The strong start to March has pulled Moreau within reach of a career milestone, as the Puslinch, Ontario resident is now just over $20,000 shy of $50 million in career earnings.
CLOSE BEHIND: Jeff Gillis (2 wins), Victor Puddy (2 wins)
NOTE: 28 different trainers won races over the last week (4o races)
TRAINER OF THE WEEK STANDINGS: (After 8 weeks)
Moreau – 7
Auciello – 1
UPSET OF THE WEEK – Thursday, March 1 – Race 7: #1 Koultons Rocket, $111.30
Woodbine Standardbreds saw their first $100+ winner of the season on Thursday, as eight-year-old gelding Koultons Rocket and Mike Whelan capitalized off wild fractions to strike a 54-1 upset.
Race-favourite East End got parked to the half in :54.1, which set things up for an interesting back-half in the $11,000 event for Non-Winners of $2,900 last-five pacers.
Koultons Rocket was moved out from fifth at the half, worked his way up and was eventually three-wide around East End at three-quarters. In the stretch, Koultons Rocket secured the lead and paced on to win by a little more than a length in a career-best 1:53.1 for driver Mike Whelan and trainer Jim Whelan.
Koultons Rocket was the second driving win of the night for Mike Whelan, as he also scored a 16-1 upset in the evening's first race with the debuting three-year-old pacing filly One Chilly Night for trainer Chad Milner.
HORSEPLAYERS WAGER $2.1 MILLION – Friday, March 2
The first-week of March saw big wagering numbers for the Woodbine Standardbreds.
The biggest night of the week was Friday, as horseplayers wagered $2,178,709 on the 10-race card. Several tracks in the United States were cancelled on Friday, which brought some new eyes to the product, but it appears many came back for more on Saturday, as the handle was over $1.8 million.
The Woodbine Pick-5 has become North American harness racing's most popular multi-leg wager. The pool sizes throughout the week have been outstanding, including a massive pool of $104,861 on Monday's program. The Pick-5 features a $0.20 minimum wager and a low 15 per cent take out.
PREFERRED STARS – Friday, March 2 – Saturday, March 3 – Monday, March 5
A trio of Preferred events were offered over the week and familiar faces grabbed the spotlight in all three.
Friday's $30,000 Mares Preferred saw Moreau trainees Witch Dali and Ms Mac N Cheese finish one-two. The 1:52 score for Witch Dali snapped a five-race winless drought, while also snapping Ms Mac N Cheese's three-race win streak.
Witch Dali went over $500,000 in career earnings with her 24th career score. Doug McNair steered Witch Dali to victory.
Saturday evening saw a field of six compete in the $34,000 Preferred Pace. With no American Virgin or The Rev in the field, the gritty seven-year-old gelding Nirvana Seelster took advantage and scored a 1:52.3 victory for driver Trevor Henry and trainer Bill Budd.
Nirvana Seelster had finished second in each of the last two editions of the Preferred before prevailing on Saturday. The seven-year-old is now two for seven this season and has hit the board in six straight outings.
The Budd trainee is now a 34-time winner with $874,834 earned for owner Bruce Davy.
The track's top trotters had their chance to shine in Monday's $34,000 Preferred.
O'Brien Award winner Odds On Amethyst got back to business and picked up a solid 1:53.4 victory for driver/trainer Pat Hudon. The seven-year-old gelding had issues with switching to the wrong gait and going off-stride in recent starts, which led to a month between starts.
Odds On Amethyst qualified twice at Flamboro Downs between his February 5 outing and Monday's start. The Hudon trainee put it all back together and came first up to trot on to a 2-plus length score.
The seven-year-old gelding went over $500,000 in lifetime earnings with his 28th career win Monday.
CLAIMS ALL OVER THE PLACE –  Monday, March 5
The last week of racing saw 23 horses claimed. That number of 23 is up from 15 the week prior (February 22-26) and 10 during the week of February 15-19.
Here is the breakdown of total number of claims from last week.
Thursday: 8 horses claimed
Friday: 6 horses claimed
Monday: 9 horses claimed
(The nightly claims archive can be viewed by clicking here)
PEPSI NORTH AMERICA CUP NOMINATIONS RISE – Friday, March 2
The nomination numbers for this year's $1 million Pepsi North America Cup were announced on Friday.
O'Brien Award winner STAY HUNGRY & Dan Patch Award winner LOST IN TIME headline group of 79 three-year-old pacers nominated to this year's Pepsi #NACup.

79 is the highest number of nominees since 2011. https://t.co/bs3YYsoBP9

— Mark McKelvie (@MohawkMarkM) March 2, 2018
A total of 79 three-year-old pacers have been nominated to Canada's richest harness race, which is up by 19 from the 2016 total of 60.
O'Brien Award winner Stay Hungry and Dan Patch Award winner Lost In Time headline the group of 79 nominees. To view the full list and learn more about this year's nomination numbers, click here.
The 2018 Pepsi North America Cup will be the 35th edition of the event. The $1 million race is scheduled for Saturday, June 16 at Woodbine, Mohawk Park. Ticket and event details will be announced in the coming weeks.
UP NEXT: March 8-12
Live racing resumes Thursday evening and continues Friday, Saturday and Monday. Post Time is 7:10 p.m.
A FREE program for every card of Woodbine Standardbred Racing is available by clicking here.