TORONTO, March 27, 2018 – The final Standardbred meet at Woodbine Racetrack is down to just eight cards remaining following the most recent week of action.
Another four-card week at the Toronto oval saw familiar faces continue to the lead the way, a significant winning streak extended and the Preferred pacers (both male and female) step into the spotlight.
It's time for "The Weekly Roundup" (Edition #11)
LEADING DRIVER(S) OF THE WEEK – Doug McNair & Louis Philippe Roy (7 wins)
For the third time in 11 weeks, a pair of drivers finished in a tie for the week's most wins.
Doug McNair delivered a steady week by picking up a pair of wins on Thursday, Friday and Saturday's cards before capping off the week with a single on Monday. Louis Philippe Roy's biggest night of the week saw him score a "Hat-Trick" on Friday evening, while also posting a double on Monday and singles on Thursday and Saturday.
McNair and Roy finished one-two in Friday's $30,000 Mares Preferred, as McNair and Witch Dali defeated Roy and Ms Mac N Cheese by almost a length in the feature event. Both mares are trained by Richard Moreau.
McNair won seven of 25 drives for a 28% winning percentage, while Roy won seven of 29 drives for a 24.1% winning percentage.
CLOSE BEHIND: Sylvain Filion (5 wins), Trevor Henry (4 wins)
NOTE: 14 different drivers won races over the last week (40 races)
DRIVER OF THE WEEK STANDINGS: (After 11 weeks)
Roy – 5.5
McNair – 3
Jamieson – 1.5
Henry – 1
LEADING TRAINER OF THE WEEK – Richard Moreau (6 wins)
Richard Moreau's barn continued their winning ways this week by putting six-wins over four-cards of racing. It was the sixth consecutive week that Moreau has led all Trainers in wins.
The most recent week might be considered slow by Moreau's standards, as his stable was coming in off an outstanding 11-win week (March 15-19).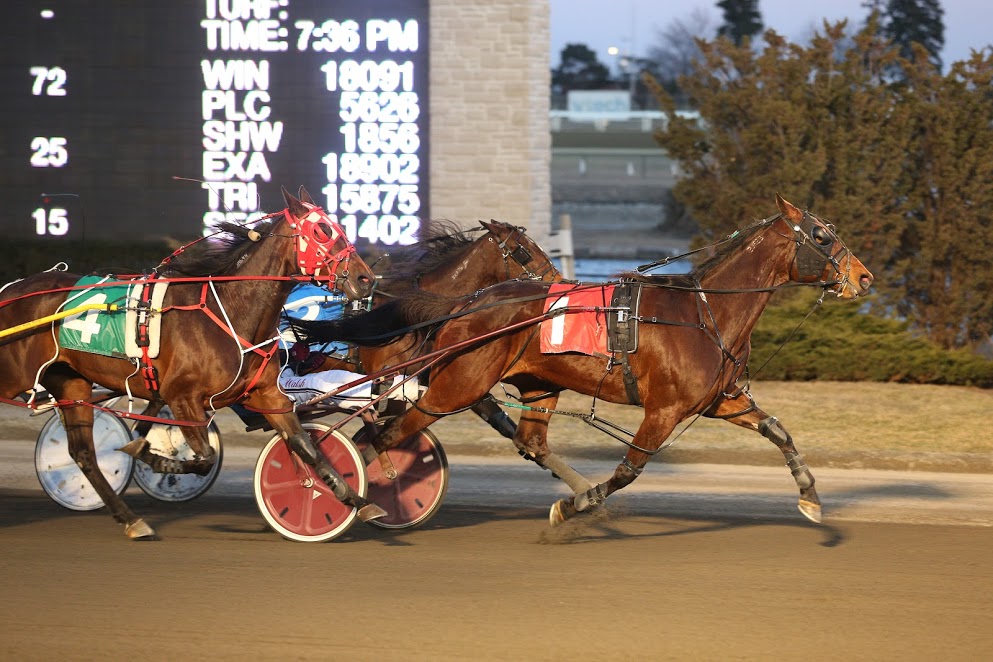 Moreau's leading ladies Witch Dali and Ms Mac N Cheese finished one-two in Friday's $30,000 Mares Preferred, while the red-hot Isitfridayyet won his fifth straight start for Moreau (and seventh overall, see below).
Moreau's barn sent out 26 starters over the last week for a 23% winning percentage.
CLOSE BEHIND: Carmen Auciello (3 wins), Nick Gallucci (3 wins), Dagfin Henriksen (3 wins)
NOTE: 28 different trainers won races over the last week
TRAINER OF THE WEEK STANDINGS: (After 11 weeks)
Richard Moreau – 10
Carmen Auciello – 1
ISITFRIDAYYET MAKES IT 7 IN A ROW – Saturday, March 24
Saturday night's at Woodbine Racetrack have been owned by "Friday"…
Five-year-old pacer Isitfridayyet has been racking up the wins and Saturday he stretched his current win streak to an impressive seven with a 1:51 score.
The journey to Saturday night star at Woodbine has been an interesting adventure for Isitfridayyet.
The gelded son of No Pan Intended was developed by Leon Mansfield and competed primarily at smaller tracks across Ontario during his two and three-year-old seasons. "Friday" was claimed last June for $6,500 at Sarnia's Hiawatha Horse Park and proceeded to win just one of his next 26 starts.
The one for 26 stretch feels like ages ago, as Isitfridayyet snapped out of that funk to jump on his current seven-race win streak.
Isitfridayyet started his win streak in the barn of Garry MacDonald on February 11 at Flamboro. The five-year-old was claimed that evening and moved to Colin Johnson's stable. Isitfridayyet won his lone start for Johnson on February 19 at Woodbine and was claimed that evening for $20,000.
Isitfridayyet moved into the Richard Moreau barn next and has remained there for five consecutive wins. The gelding did switch owners after his third start for Moreau, but remains with the circuit's top trainer.
Moreau took Isitfridayyet out of the claiming ranks and the pacer has risen to the challenge of facing some tougher rivals, including defeating Preferred-level types Shades Of Bay and Piston Broke on March 17 in a lifetime best 1:50.2.
Isitfridayyet's most recent start was in a Non-Winners of 7 races or $100,000 lifetime event. The Moreau trainee went over the $100,000 mark with the victory. Now we will wait and see who the red-hot gelding takes on next.
NIRVANA SEELSTER HITS $900,000 WITH PREFERRED WIN – Saturday, March 25
The always tough Nirvana Seelster has been outstanding in 2018 and he continued his strong run Saturday evening with a 1:52.3 score in the $34,000 Preferred Pace.
The Bill budd trained seven-year-old gelding went coast-to-coast with driver Trevor Henry for his third win of March (4 starts).
Nirvana Seelster has now won four of 10 starts in 2018 and has only missed the board once in those 10 starts. His victory Saturday (36th career) put him over $100,000 in earnings this season and $900,000 in lifetime earnings.
WOODBINE MEMORIES – Tuesday, March 27
The final Standardbred meet at Woodbine Racetrack is entering the final stages and Mark McKelvie continues to share classic races from the Toronto oval on Twitter.
Look out for more of these in the final two weeks of the Woodbine Standardbred meet.
12 cards of #harnessracing remain at #BetWoodbine

1996 – Arizona Jack (John Campbell) wins the #NACup by a nose over a flying Stout (Tony Kerwood). Huge trip by Arizona Jack for the win, but if Stout gets room a moment earlier, history might've be different. Fantastic race! pic.twitter.com/XJ9PGrVTXS

— Mark McKelvie (@MohawkMarkM) March 22, 2018
11 cards of #harnessracing remain at #BetWoodbine

1997 – Rustler Hanover & @MacdonellPaul come flying on the outside (after being 8th at 3/4's) to win the $601,400 Metro Pace in dramatic fashion by a head at odds of 44-1! Shotgun Scott was 2nd and Peace Of Art was 3rd. pic.twitter.com/qRmfTUd1WD

— Mark McKelvie (@MohawkMarkM) March 23, 2018
Only 9 cards of #harnessracing remain at #BetWoodbine

1999 – The legendary Goodtimes (50 wins, $2.2 million) & Dave Wall capture the Maple Leaf Trot, holding off Corn Cob Conch & Mike Saftic. The clocking of 1:53.2 would go down as the lifetime mark for the John Bax trainee. pic.twitter.com/fDtFeJ52g3

— Mark McKelvie (@MohawkMarkM) March 26, 2018
UP NEXT:
Live racing resumes Thursday evening at Woodbine and continues Friday, Saturday and Monday.
Post Time is 7:10 p.m.