TORONTO, December 5, 2017 – Welcome to our new feature "The Weekly Roundup" where we highlight the leaders for the past week, as well as close finishes, major upsets and any other unique information that deserves a spotlight.
The month of December is now underway and while Holiday cheer is in the air, leading driver Doug McNair and leading trainer Richard Moreau were not looking to give away any victories over the last week of racing. Meanwhile, the top pacer and trotter on the circuit were both victorious again, Thursday evening saw several tight finishes and Friday night's card featured a $106 winner.
NOTE: A total of 40 races were contested over the last four cards of racing at Woodbine Racetrack (Thursday, November 30 – Monday, December 4)
LEADING DRIVER OF THE WEEK – Doug McNair (9 wins)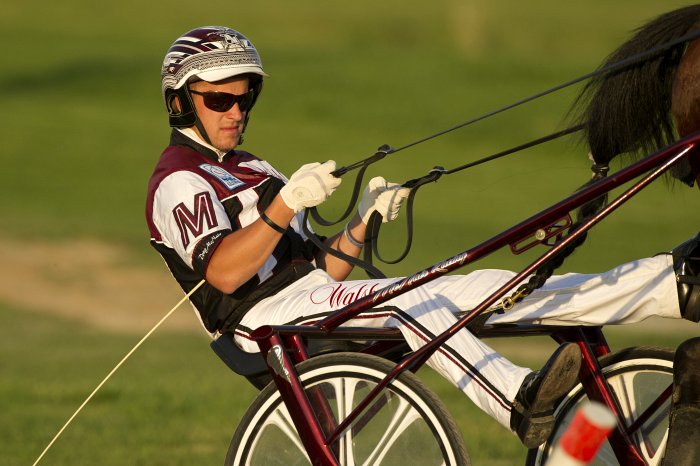 It has been a career year for Doug McNair and the top reinsman on the circuit continued to add to his sizable totals with a nine-win week. Surprisingly, McNair was held winless on Thursday's card, but he rebounded Friday with a Grand Slam and followed that with three wins on Saturday and two on Monday. The Guelph, Ontario resident drove in 30 races over the week and his most notable victories came in Friday's $30,000 Mares Preferred (Witch Dali) and Saturday's $34,000 Preferred (Easy Lover Hanover). McNair now has 281 wins on the season at Woodbine/Mohawk, 39 more than nearest rival Louis Philippe Roy.
Close Behind: Louis Philippe Roy (7 wins), Bob McClure (4 wins)
Note: 17 different drivers won races from the 40 races contested last week.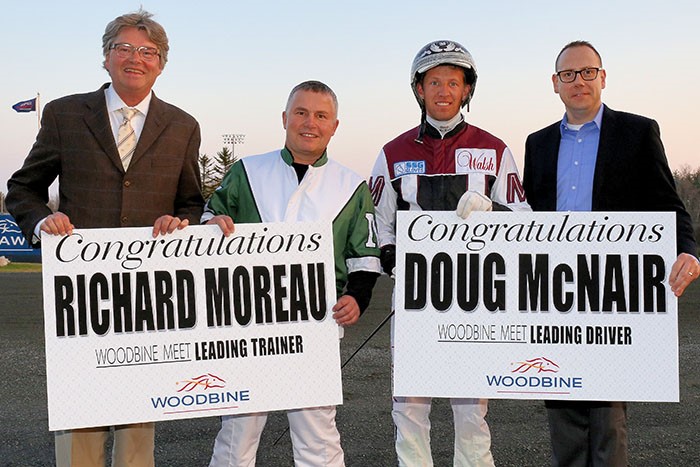 LEADING TRAINER OF THE WEEK – Richard Moreau (5 wins)
Friday night was alright for Richard Moreau, as the circuit's leading trainer sent out four winners on the 10-race program. Witch Dali led the way for the Moreau stable by capturing her second-consecutive $30,000 Mares Preferred. Moreau's barn added their fifth win on Saturday evening. Woodbine's leading trainer sent out a total of 18 starters over the last week. Moreau now has 152 wins this season at Woodbine/Mohawk, which is 69 more than Carmen Auciello, who is currently second in the standings.
Close Behind: Ben Baillargeon (3 wins), Murray Brethour (2 wins)
Note: 33 different trainers won races from the 40 races contested last week.
UPSET OF THE WEEK – Friday, December 1 (Race 6: #5 Ado Duharas, $106.50)
Ben Baillargeon trainee Ado Duharas and driver Mario Baillargeon pulled off a stunning 52-1 upset on Friday evening. The five-year-old gelded trotter was making just his second start from a five-month layoff and came into Friday's contest off a last-place finish the week prior at Flamboro Downs. Having a start under his belt worked wonders, as Ado Duharas enjoyed an inside trip in fourth, tipped out in the lane and trotted by the favourite to win the $11,000 overnight in 1:56.3. It was the second win in 17 starts this season for Ado Duharas, who is owned by Haras De L'Estrie Inc. of Dunham, Quebec.
FINISH OF THE WEEK: – Thursday, November 30 (Race 10 – #4 Bettor B Rolling wins by a nose)
Thursday evening's card brought the heat, as it pertains to exciting finishes this week. Three-races were decided by a neck or less on the 10-race program. The tightest finish coming in the finale when #4 Bettor B Rolling and Louis Philippe Roy just held on to win by the narrowest of margins over a flying #6 Artofficial Flavor and Bob McClure. The action was hot from start to finish.
THANK YOU! – Horseplayers wager a record $104,321 into Friday's Pick-5
A new Pick 5 record pool of $104,321 @WoodbineSB , thanks for playing along #BetWoodbine

— Chad Rozema (@MohawkChad) December 2, 2017
The Pick-5 wager has become Woodbine Standardbreds most popular wager in 2017 and Friday evening it reached new heights. Horseplayers wagered a non-stakes card record of $104,321 into the Pick-5 pool. The public's top choice captured four of the five legs, but a 23-1 upset winner in the evening's second-race made many horseplayers cheer. The Pick-5 paid $1,462.85 for a $1 ticket ($292.57 for a $0.20 ticket).
The large Pick-5 pool was part of a strong handle on Friday's program.
Outstanding handle of $1.9 million tonight! Thanks to those that wagered on this evening's program and we'll do it all again Saturday evening! #BetWoodbine

— Mark McKelvie (@MohawkMarkM) December 2, 2017
The Pick-5 wager starts every evening on Race 1 and features a $0.20 minimum wager and a 15 per cent takeout.
Here is the breakdown of last week's Pick-5 pool totals:
Thursday, November 30: $96,807
Friday, December 1: $104,321
Saturday, December 2: $77,860
Monday, December 4: $95,330
"WE'RE GOING STREAKING" – Preferred stars stay hot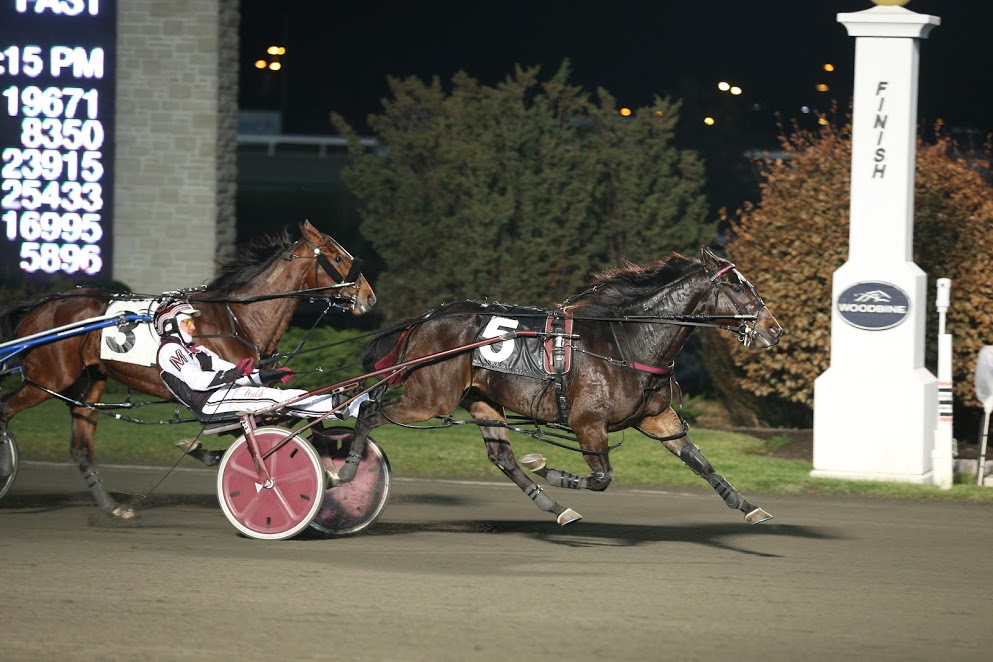 Winning the top level on any circuit isn't easy, but right now Easy Lover Hanover and Il Sogno Dream are making it look like a breeze. Four-year-old pacer Easy Lover Hanover captured his fourth consecutive $34,000 Preferred Pace on Saturday (1:50.3), while six-year-old trotter Il Sogno Dream captured his third straight $34,000 Preferred Trot on Monday (1:52.4).
Trained by Ben Wallace for owner Brad Grant, Easy Lover Hanover is putting together a memorable finish to his 2017 season. The four-year-old knocked heads with Grand Circuit foes many times throughout the season and while he never found the winner's circle, he proved he belongs. Getting strong as the season rolls on, "Easy Lover" used momentum from fourth-place finishes in the Dayton Pacing Derby and Allerage Farms to return to the Woodbine Preferred and rip off four straight victories. He is now seven for 22 this season with $181,487 earned.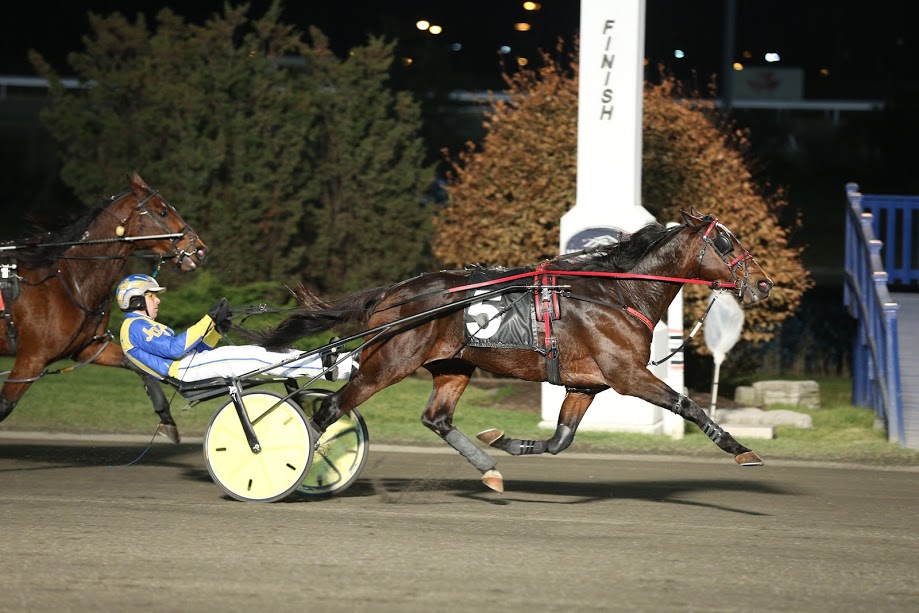 Victor Puddy trainee Il Sogno Dream has been a familiar face among the top trotters in the sport for several seasons. A winner of over $1.1 million, the six-year-old trotter has enjoyed the Woodbine air since returning from a seventh-place finish in the Breeders Crown in October. "The Dream" has now won three in a row to give him seven wins in 21 starts this season. The gritty veteran has banked $154,462 this season for owners Bill Manes, Dan Manes, Leonard Christopher and Randy Christopher.
UP NEXT: 
Live Standardbred racing resumes Thursday evening at Woodbine Racetrack. Post time is 7:30 p.m. Download your FREE Program and Journal right here!