CAMPBELLVILLE, September 11 – Rookie trotters stepped into the spotlight for the eliminations of the William Wellwood Memorial and Peaceful Way Stakes Monday night at Mohawk Racetrack.  
A total of four $30,000 eliminations were contested, two for each event, with 18 fillies in the Peaceful Way and 18 colts and geldings in the Wellwood. 
The Peaceful Way saw a pair of powerful performances from heavy-favourites Manchego and Phaetosive.
Jimmy Takter trainee Manchego is now a perfect seven for seven after taking the first elimination in 1:54.1. Driver Yannick Gingras took his time going into the first turn with the daughter of Muscle Hill, before letting her roll up from fourth to take the lead entering the backstretch.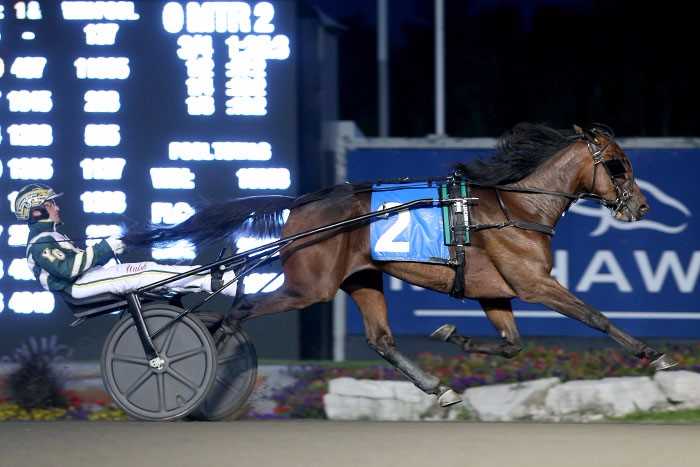 Manchego reached the half in :57.2 and then opened up an eight-length advantage at three-quarters in 1:25.3. The Takter student finished off her mile with a :28.3 final-quarter to win by 5 ½ lengths.
Courtney Hanover rallied to finish second, while Repentance edged out Jordan Blue Chip for third. Illusioneesta finished fifth to advance to the final.
Owned by Black Horse Racing, John Fielding and Herb Liverman, Manchego has earned an impressive $350,898 in seven starts. Her accomplishments include the Doherty Memorial and Pennsylvania Sires Stakes Championship.
Manchego is following in the footsteps of another talented Takter trainee, Ariana G, and the conditioner sees some similarities.
"She's the same type as Ariana G, she just loves to win," said Takter. "She's not a very big filly, but for her size she has an extremely effective gait. She covers much ground and she seems like she doesn't get tired."
Manchego, who was a $120,000 Lexington Selected Yearling Sale purchase, paid $2.20 to win.
Trainer Trond Smedshammer didn't mess around in the second elimination and steered his student Phaetosive to a 1:54.2 score.
The daughter of Explosive Matter left from the outside post-nine with Smedshammer and was parked in third around the first turn. Phaetosive kept marching on in the second-quarter and had to work to clear Bella Glos for the lead before a :57 half.
The Smedshammer trainee led to three-quarters in 1:26.1 before stepping home in :28.1 to win by 3 ¾ lengths.
Monday's start was the first charted line since August 5 for Phaetosive.
"She's been doing a lot of slow work (preparing for Monday), but I was a little bit worried that she was going to be short," said Smedshammer, who purposely spaced out the starts for his filly.
"When you have this kind of horse with this talent as a two-year-old, I don't want to race them more than I have to and when I found out it was a 45 day rule I didn't plan on racing anywhere (in) between."
Phaetosive is now three for four with $118,565 earned for owner Purple Haze Stables LLC. She was a $65,000 yearling purchase at Harrisburg.
The top-five finishers were rounded out by Tiffanys Flash, All Over Again, Bella Glos and Blonde Magic, who originally finished third, but was placed fifth for breaking at the wire.
A $2 win ticket on Phaetosive returned $3.50.
The Takter barn also found the winner's circle in the William Wellwood Memorial, as Maxus pulled off a mild 6-1 upset in the first split.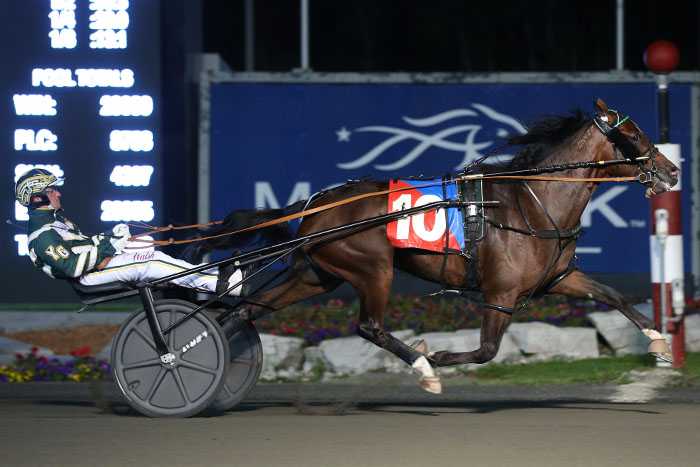 Driven by Gingras, Maxus left from post-nine and was able to get away in fourth moving around the first turn. Stablemate Samo Different Day, the 7/5 favourite, shot out to the lead and got things his own way, including a :31.3 second-quarter to lead by a :59.3 half.
Maxus stayed along the pylons in the three-hole around the far turn, as Samo Different Day led by three-quarters in 1:27.4 with Canale Hanover pressuring first-up.
Canale Hanover made a break at the top of the lane, which opened up room for Gingras to split between rivals and charge through to win in 1:56.2 by a length and three-quarters. Sweet Talkin Hall finished second after getting away last.
Kinda Lucky Lindy finished third, while Cruising In Style was fourth. Samo Different Day faded back to finish fifth.
"Around the last turn I was a little worried I was going to get through it, but when (Canale Hanover) made a break everything opened up in front of me," said Gingras about the trip.
"I think he would've won the (Pennsylvania) Sires Stakes final last week, I got shuffled back and he had plenty of trot finishing, so I knew he was sharp and he had a good trip tonight. It worked out."
A son of Muscle Hill, Maxus is owned by Christina Takter and Brixton Medical Inc. He is now two for eight with $92,325 earned.
Maxus paid $14.30 to win.
Local standout Alarm Detector made a big third-quarter move to go on and capture the second elimination in 1:54.4.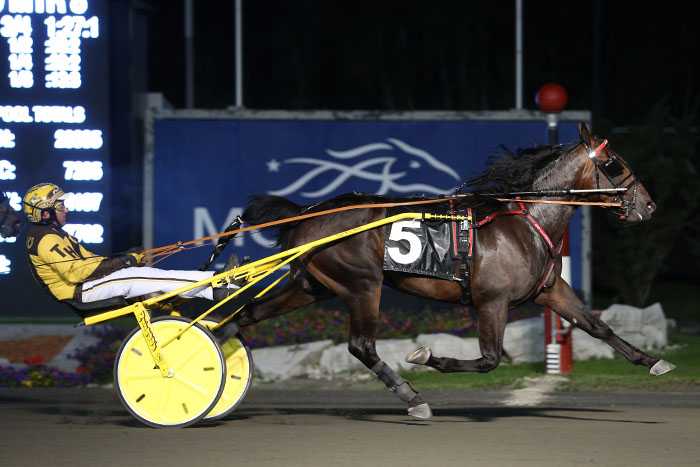 Driven by Trevor Henry, Alarm Detector trotted out hard to be in the early mix and was able to take a seat in the two-hole. Lawmaker cut an opening-quarter of :28.2, before giving way to a second-quarter moving You Know You Do, who was the 3/5 favourite.
You Know You Do led by the half in :58.2. Henry pulled on the right line entering the far turn and allowed Alarm Detector to rush up and engage in battle with the favourite. The colts were side by side at three-quarters in 1:27.1.
In the stretch, Alarm Detector carried his momentum and went right by You Know You Do and trotted home to win by a length and three-quarters. You Know You Do held second, while Lawmaker was third.
Clive Bigsby and Union Jack rounded out the top-five to advance to next week's final.
A son of Chapter Seven, Alarm Detector has impressed many since his debut. The Ben Baillargeon trainee was coming into Monday's race off his first loss, when he finished second to You Know You Do in a division of the Champlain Stakes.
Alarm Detector is now five for six in his career and continues to impress his trainer.
"He's got a beautiful gait and he's quick and he loves to do it," said Baillargeon. "When you bring him up here at night, he puts his game face on."
Alarm Detector is owned by Thomas & Elizabeth Rankin, Claude Hamel and Santo Vena. His elimination victory pushes his earnings up to $76,870.
The Baillargeon trainee paid $7.30 to win.
The post position draws for each final were held following the eliminations. Monday's winners earned the right to select their post for the final.
The $400,000 William Wellwood Memorial and $375,000 Peaceful Way will take place next Monday (September 18).
Here is how they will lineup for each final.
$375,000 Peaceful Way
1. Bella Glos
2. Blonde Magic
3. Phaetosive
4. Manchego
5. Jordan Blue Chip
6. Alloveragain
7. Tiffanys Flash
8. Illusioneesta
9. Repentance
10. Courtney Hanover
AE: Apprentice M
$400,000 William Wellwood Memorial
1. Cruising In Style
2. Clive Bigsby
3. Maxus
4. Alarm Detector
5. Samo Different Day
6. Sweet Talkin Hall
7. You Know You Do
8. Kinda Lucky Lindy
9. Lawmaker
10. Union Jack
AE: Bautista