​CAMPBELLVILLE, June 25 – Wheres The Beach, dam of the great Somebeachsomewhere, passed away on Friday, June 13.
 
The 16-year-old mare was humanely euthanized at Ohio State University Equine Hospital following colic surgery.
 
Owned by Stephanie Smith-Rothaug of West Jefferson, Oh, Wheres The Beach foaled a Well Said weanling earlier this year and was bred to A Rocknroll Dance prior to passing.
"It was certainly a sad day," Smith-Rothaug said. "'Beach' was like part of the family and she certainly has been a life changing mare for me and for that I'll forever be grateful. She had tremendous presence to her and took care of her babies very well.  She will be missed."
 
Although never stepping foot on the racetrack, Wheres The Beach, a $20,000 yearling, proved to be much more valuable in the breeding shed.
 
Her fourth foal, Somebeachsomewhere, is arguably the greatest pacer of all time as he suffered defeat once in 21 career starts and was inducted into the Canadian Horse Racing Hall of Fame just nine months after his final career start. His lone defeat came in the 2008 Meadowlands Pace to Art Official, which was arguably 'The Beach's' best race.
 
Somebeachsomewhere, trained and co-owned by Brent MacGrath, amassed over $3.2 million in career earnings. His sophomore earnings of $2,448,003 compiled in 2008 was a new record for single-season earnings.
 
Along the way, he set four world records, including the fastest mile in the history of the sport (1:46.4) and recorded sub-1:50 miles in exactly half of his 20 wins.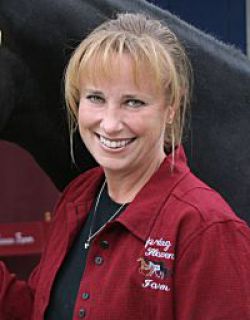 (Stephanie Smith-Rothaug)
The Ontario-bred son of Mach Three retired to a lucrative stallion deal at the famed Hanover Shoe Farms. 
He was the unanimous choice as Canada's horse of the year in 2008 and shared the honour in 2007 – as a two-year-old – with sophomore pacer Tell All. 
He has also become arguably the sport's top stallion. Commanding a $30,000 stud fee, Somebeachsomewhere has produced the likes of Captaintreacherous, Sunshine Beach, Somwherovrarainbow and Apprentice Hanover, just to name a few.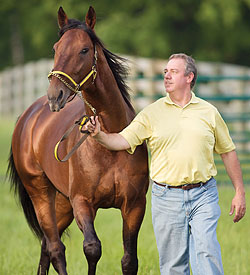 ('Beach' along with trainer and co-owner Brent MacGrath)
 
Wheres The Beach has stamped herself as one of the games top broodmares.
 
She has produced a number of $100,000+ yearlings, including Myrtle Beach (2006 -$100,000), Star On The Beach (2007 – $150,000), Someheartsomewhere (2008 – $210,000), Someofthebeach (2010 – $430,000) and Bring On The Beach (2012 – $155,000).
Smith-Rothaug confirmed that Wheres The Beach has been cremated.