TORONTO, November 21, 2017 – Woodbine Entertainment today relaunched its new websites for Woodbine and Woodbine – Mohawk Park as part of its re-branding rollout.  
The revamped websites, which showcase Woodbine's world-class racing and entertainment products, are available at www.WoodbineRacetrack.com and www.MohawkRacetrack.com.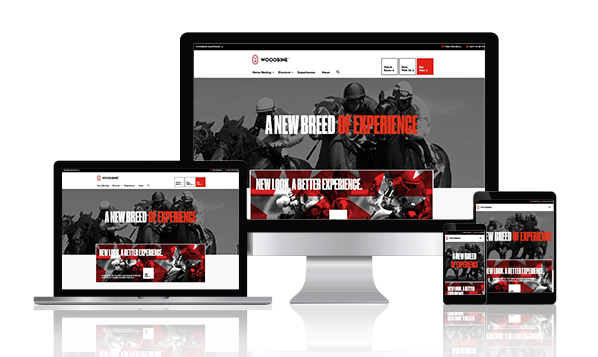 The websites offer the features previously available along with many new ones including interactive statistics and leaderboard pages. Familiar features include comprehensive race day information and live streaming, handicapping tools and selections, resources for horsepeople, on track experience and event details, as well as Woodbine news and video content.
"The new, mobile-friendly websites are designed to provide a more intuitive user experience to our guests, who will be able to access the pages and high-demand content they are looking for with less clicks," said John Siscos, Director of Communications. "In addition to being easier to navigate, the websites also reflect the new Woodbine branding and vision we have for the future."
Woodbine's new branding is fully integrated into the design of the websites with a modern logo, bold colours, eye-catching fonts and the tagline, "a new breed of experience." 
Horseplayers and fans can visit the websites, which will continue to be updated regularly with value-added content, including race previews, recaps, videos and original content celebrating all of Woodbine's on-track experiences.