MILTON, November 12, 2021 – Canadian owners that compete regularly at Woodbine Mohawk Park topped the buyers' list at the Standardbred Horse Sales Company yearling sale in Harrisburg, PA that concluded Wednesday (Nov. 10). That bodes well both for horse supply and attracting top-flight horses for next year and beyond.
Mohawk regulars Determination of Montreal and Steve Heimbecker of Waterloo, ON, were the top two buyers, respectively, in terms of total purchases and long-time leading owner Brad Grant of Milton, ON was sixth on the list and spent $750,000 (all figures U.S. dollars) to buy the sale topper In Italian, a full sister to his Hambletonian-winning superstar trotting filly Atlanta. All three owners were also Mohawk Million slot owners in 2021.
Serge Godin's Determination stable spent $1,695,000, total, to acquire six yearlings and also led all buyers in average expenditures with $282,500 apiece. The stable, trained by Luc Blais, also spent $155,000 to buy three yearlings at the Lexington Selected Yearling Sale held in October. In Harrisburg, Determination bought the third most expensive horse, a trotting colt named Craft Made, for $610,000. The colt is a son of red-hot stallion Walner.
"For the [Walners] I saw selling, it was the nicest one I saw," Blais told Harness Racing Update (HRU). "Nice-looking horse, good page. He was perfect. I know we paid lots of money, but it's tough to buy right now, this year."
Heimbecker, who was also the third leading buyer at the Lexington sale, paid $1,390,000 in Harrisburg to land 14 yearlings. He also paid more than $2.3 million in Lexington to acquire 32 yearlings, meaning he has spent some $3.7 million on yearlings this fall to restock.
Grant spent $850,000, total, to buy two yearlings in Harrisburg. In Lexington, he spent $450,000 to acquire four yearlings. That's not counting yearlings he owns in partnership with others who might have signed the sales slip. In Harrisburg, Atlanta's full sister was the chief attraction.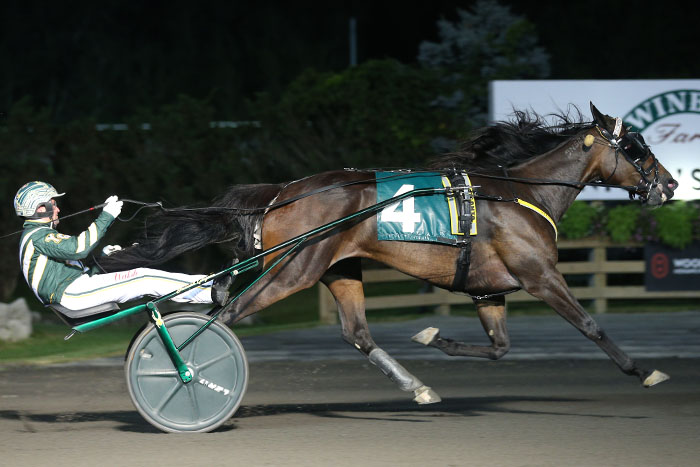 "Well, I know a little about Atlanta," Grant told HRU. "I think she's the best and that's what I came (to Harrisburg) to buy… we kind of put a number on her and luckily we didn't have to get here. Not a drop-dead number in our minds of $800,000, but at $800,000 you'd kind of get the feel for how it's going."
Woodbine Mohawk Park director of standardbred racing Bill McLinchey said, "it is beyond encouraging to see the local owners as active as they were this past week. It really shows their confidence in racing in Ontario, and we look forward to seeing their recent purchases race at Mohawk next summer and fall."
Canadians buyers were particularly strong in Harrisburg, especially with COVID-19 border restrictions easing the day the sale started on Monday (Nov. 1). In all, $8,743,000 was spent by Canadians to land 181 yearlings. Canadian buyers accounted for over 27 per cent of the total yearling purchases. Not all of those will race at Woodbine Mohawk Park, of course, but many likely will.
With increasing options to race young horses in U.S. jurisdictions, McLinchey said it's Woodbine's hope that Mohawk will, "be the racetrack where these owners, along with all other owners, can start their 2-year-olds' careers off in June and know with confidence that there will be stakes races starting in July running all the way through the Fall."
Dave Briggs, for Woodbine Communications