CAMPBELLVILLE, August 31 – The Rick Zeron stable stepped into the spotlight by sweeping Thursday evening's Champlain Stakes at Mohawk Racetrack.
A group of 17 rookie trotting fillies competed over the course of two $86,940 Champlain divisions to start Grand Circuit week. Rick Zeron sent out three starters in Thursday's stakes and came away with victories in both events. 
Cantab Hall filly Courtney Hanover extended her current win streak to three with a 1:56.4 score in the first division for trainer/driver Zeron.
Sent off as the 3/2 favourite, Courtney Hanover got away third heading into the first turn, but quickly inherited second due to a break and was moved to the lead at three-eighths. After taking over the lead from Miss Mimi, the Zeron trained filly led through middle-half panels of :58 and 1:28.1.
Poised to seal the deal in the lane, Courtney Hanover opened up a lead of at least three lengths with an eighth of a mile to go. Blonde Magic, who was 28-1, made things interesting by uncorking a strong stretch rally, but came up a head short at the line.
Bella Glos finished third, while Miss Mimi was fourth.
A $47,000 purchase at last November's Harrisburg Yearling Sale, Courtney Hanover is now three for six with $71,570 earned for owners Rick Zeron Stables, Paul Marion, Bruno Dipoce and Howard Taylor.
"This was the first time I moved her and raced her on the front," said Zeron. "She loves chasing horses…she's more of a fighter than a leader, so I was very happy that she trotted right home for me tonight."
A $2 win ticket on Courtney Hanover returned $4.90.
The Zeron barn went right back to the winner's circle in the second split, as Atlanta pulled off a 9-1 upset in 1:56.1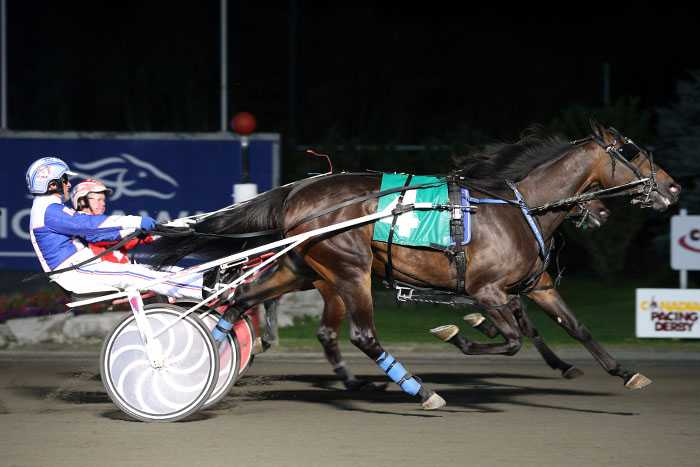 A Chapter Seven filly, Atlanta turned in a big final-quarter to nail race-favourite Jordan Blue Chip at the line for a career-best victory. The Zeron trained filly was trotting along fifth at the half, while Jordan Blue Chip had just secured the lead and proceeded to post fractions of :57.4 and 1:27.2.
In the stretch, Jordan Blue Chip turned aside challenger Apprentice M and looked to have victory in her sights, but Zeron tipped Atlanta off cover from third-over and the filly took off. Atlanta got up to win by a nose with a :27.4 final-quarter.
"When I moved her coming down the lane, I knew I needed a lot to come and catch Paul (MacDonell – Jordan Blue Chip)," said Zeron. "Paul heard me coming and I was barking at my filly pretty good and we went across the wire and Paul said 'You didn't beat me again' and I said 'I don't know if I did or not, but I'm pretty happy'.
"She raced really good. She dug right in where she had to and got the job done."
Atlanta was one for four coming into Thursday's contest. Zeron had initially tried the Chapter Seven filly in the New York Sires Stakes, but the small tracks weren't to her liking.
"She would get to the first turn and look at it and say 'I'm not going to do this', so she let me know 'I want to be on a big track', so here we are and she's doing her own thing."
A $60,000 purchase at last November's Harrisburg Yearling Sale, Atlanta is owned by Rick Zeron Stables, Holland Racing Stable, Howard Taylor and Brad Grant. The rookie trotting filly now has $55,025 earned in five starts.
The top four-finishers in the second Champlain division were rounded out by Swing It Cathy in third and Ciao Dolce in fourth. A $2 win ticket on Atlanta returned $20.90.
Courtney Hanover and Atlanta are both eligible to the upcoming Peaceful Way Stakes eliminations on Monday, September 11.
Grand Circuit action continues Friday night at Mohawk Racetrack with the $187,760 Champlain for two-year-old trotters (two divisions) and the $166,872 Simcoe Stakes for three-year-old trotting fillies. Post time is 7:30 p.m.
​