TORONTO, March 20 – Longtime racing fan and horse owner Giuseppe Bottoni turned a difficult day watching Toronto FC into a lucrative one for his family by taking down Woodbine's Jackpot Hi-5 wager on St. Patrick's Day.
The 75-year-old punter was at WEGZ Stadium Bar, located in Vaughan, Ontario, on Saturday to watch his beloved Toronto FC falter 1-0 to the Montreal Impact.  The disciplined horseplayer, with a number of famous scores to his name, first tried his luck at Gulfstream's Rainbow Pick 6 before turning his attention to the evening's harness card.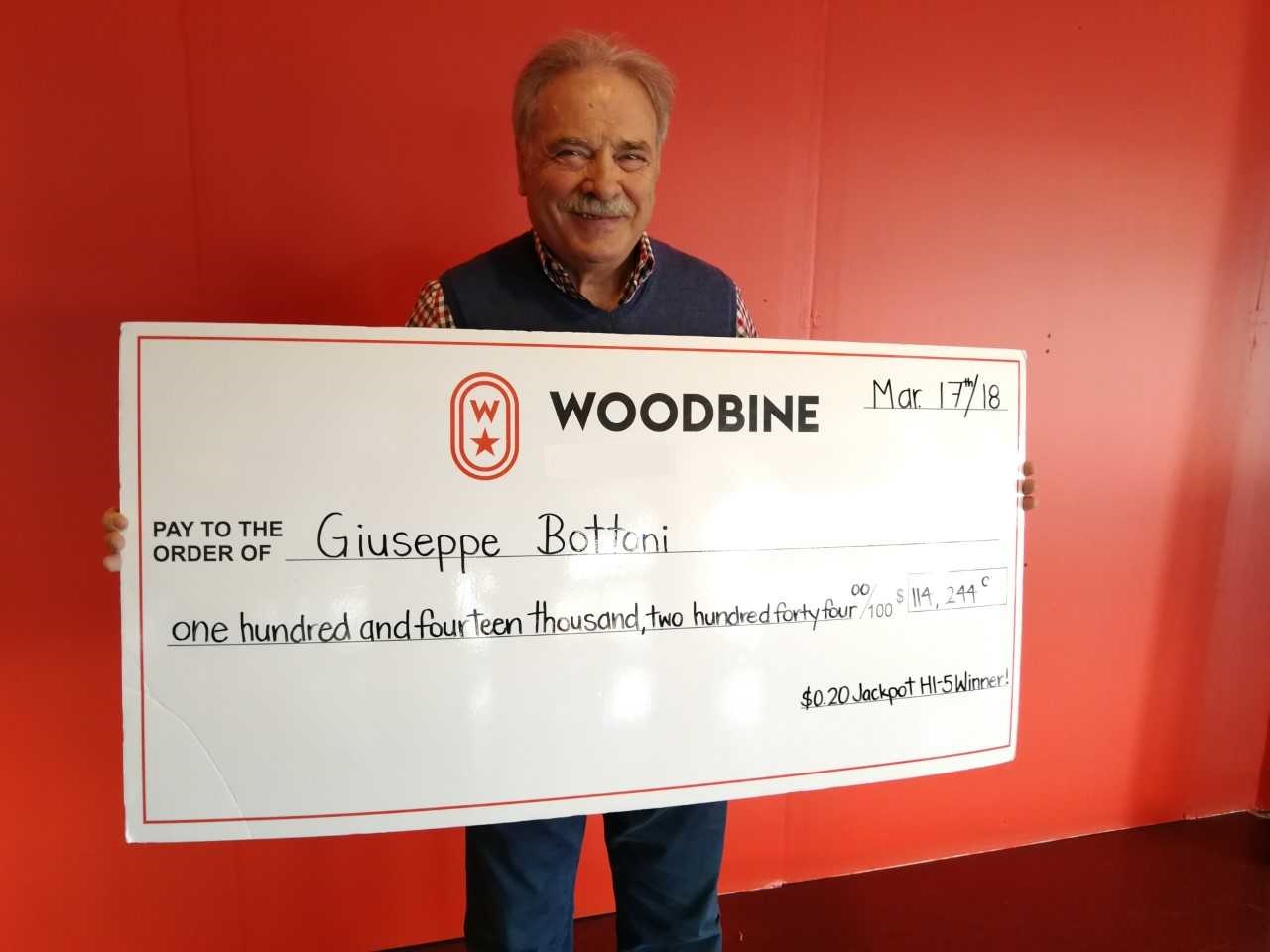 Bottoni landed on the Rheal Bourgeois trainee His Boy Elroy, piloted by Mike Saftic, as the most likely winner in the wide-open pace and played a $168 ticket of 9 / 23467 / 23467 / ALL / ALL that hit for $114,330.17.  His ticket was the only winning one in the unique JackPot Hi-5 wager, boasting a 15 percent takeout, which requires horseplayers to select the top-five finishers in order.
"I'm a handicapper. I like to find the winner. I don't play three horses on top, I always pick one to win. Win or lose," explained Bottoni of his winning strategy.  "And then I use three or four horses behind it with All /All. What I do is I look for a horse that had a problem last time because of the drive or some other reason."
After spending the early afternoon at WEGZ, Bottoni played his Hi-5 ticket and then went home to be with his wife and family. He didn't come to realize his winning score until the next day.
"On Sunday, I went to the gym first and then I came here (to Woodbine) to get the program," said Bottoni. "I checked my HPI account and I won. I had a good feeling! I really liked the horse I picked to win and I had a lot of horses behind it."
The victory was the second big score in recent months for Bottoni who also had a winning ticket in the December 23 mandatory payout of the JackPot Hi-5 that came back $49,437.10 for a $0.20 wager.
He only wishes he could have been at WEGZ late Saturday night to celebrate his famous win.
"It's a good feeling. It's happened a few times now. I would have been cheering for sure if I had stayed for the race and we could have opened some Dom Perignon," smiled Bottoni. "WEGZ is close to my work and the people are very nice to me there."
A mechanical contractor by trade, Bottoni oversees a busy operation that works mainly in plumbing, heating and fire protection. He was introduced to racing in the early 1990s by a friend.
"A friend brought me to Woodbine and we gambled on a triactor. He asked me for $10 and we won $1500.   He gave me back $750 and I thought that was a good deal, but I didn't come back until six months later," recalled Bottoni.
When he came back to the races, his interest expanded into Thoroughbred ownership and he soon became a partner in several horses with trainers Vito Armata and the late Audre Cappuccitti including such stalwarts as Time For The Sea and Play On the Ice.
"I had a lot of fun with the horses and we took a lot of pictures. My favourite racehorse that I had with Cappuccitti was Dangerous Current," recalled Bottoni of the hard-trying chestnut who, like his owner, enjoyed winning having had his picture snapped 10 times in a solid career at Woodbine.
Not only a bettor and owner, Bottoni is a big fan of the sport itself and looks back fondly on many great moments.
"One of my favourites was Thunder Regent. He beat Dance Smartly," noted Bottoni, regarding a particularly thrilling running of the 1992 King Edward Gold Cup Handicap when the 44-1 longshot nosed out the Triple Crown winning Hall of Fame horse.
"I should also say that I loved Izvestia. He was such a beautiful horse," offered Bottoni of the 1990 Canadian Triple Crown winner.
Bottoni admits his recent scores have him considering a return to horse ownership. Maybe even a foray into the Standardbred side of the game.
"I've never owned Standardbreds but I've made over $200,000 betting on them. I don't know if it's skill or luck. I think it's a good thing (to own Standardbreds.) You can make a lot of money because they race every week. But then I'd have to quit my job so I could come watch," he laughed.
For now, however, he's happy to keep his well-earned money in a safe spot.
"I'll share the money with family," nodded Bottoni. "The cheque goes into the bank but I give the money to my family so everybody wins."