MILTON, October 28, 2021 – But the man from Milton said he might be cheering hardest for super trotting mare Atlanta to earn her first Crown.
Brad Grant, one of Woodbine Mohawk Park's perennial leading owners, will send out six horses this weekend in Breeders Crown finals at The Meadowlands racetrack in New Jersey, but he will be rooting especially hard for his star six-year-old trotting mare Atlanta to earn her first Crown.
In fact, it's the reason Grant, from Milton, ON, and his U.S. ownership partners — Crawford Farms and Howard Taylor — along with trainer Ron Burke, opted to put Atlanta in Saturday's (Oct. 30) $300,000 Crown final for trotting mares (race 5, post 2). In both 2020 and 2019, Atlanta finished third racing against the boys in the more lucrative open trot.
"This is a mare that is one of the greatest and she deserves to have a Breeders Crown on her resume and she does not have one. So, we all believe the right spot for her was in with her own. Hopefully, she will get it done," Grant said of the 2018 Hambletonian winner who has earned just shy of $3 million (U.S.) in her career. "This is the last big race that I can think of that she hasn't won. It's not going to change her status if she doesn't, but, again, if there's anybody that deserves to have a Breeders Crown on her resume, it's her."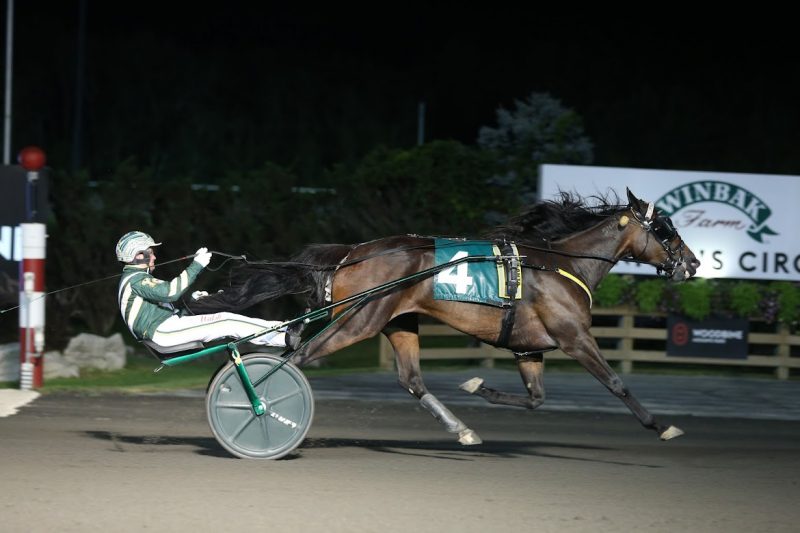 In that same mare trot, Grant, and partners will also send out his other Hambletonian-winning filly Ramona Hill, who was a Breeders Crown winner at age two. Now four, the mare has spent most of the year injured, but trainer Tony Alagna has her in good form lately.
"Tony has done a great job nursing Ramona (Hill) along… I thought she raced outstanding the other night coming three and four-wide off the turn and come from back in the field to finish fifth (in her Crown elimination)," Grant said. "I was really, really pleased with her. She's drawn a decent position (post 5). Hopefully, she can get spotted and we'll see what happens from there."
The Breeders Crown is being split between an evening card on Friday (Oct. 29) for the four freshman finals that starts at 6:20 p.m. (Eastern) and an afternoon card on Saturday for the remaining eight sophomore and older events that begins at noon.
Grant is the lone owner of two-year-old trotting colt Gigondas, who races Friday night (race 6, post 5).
"I bought him probably two starts in. Tony (Alagna) was pretty high on him. We didn't have a great start with him. I think we had three or four fifths in a row and then we won a race. Tony kept saying, 'Be patient, Brad,' and I used to say, 'I'm not a doctor. Doctors have patients.' We would laugh about it and he would say, 'He's getting better, he's getting better.' He continues to race better and better. He raced really well in his elimination. Again, he's in tough, but he finished second in his elimination, so I guess that gives him the opportunity," Grant said.
Grant's other five Crown finalists race Saturday. Apart from Atlanta and Ramona Hill, he is partners on sophomore pacing filly Notorious Pink and three-year-old pacing colt Rockyroad Hanover and owns open trot finalist It's Academic solo.
"It's Academic is probably in over his head," Grant said. "I bought him at the Lexington Mixed Sale a year ago and I bought him just to bring up (to Woodbine Mohawk Park) as a racehorse to race in the preferreds. If there's something good that came out of the pandemic, when Woodbine Mohawk Park shut down, I shipped him back to Ronnie (Burke) and the rest of the year has been history. He's just raced outstanding. He's probably raced over his head. Ron and his team have done a tremendous job in getting the most out of him this year, so Ron thought he deserved a shot, so we put him in."
Lifetime, Grant has three Breeders Crown victories. He won his first when Stay Hungry triumphed in 2017 at Harrah's Hoosier Park and took two more on his home turf at Woodbine Mohawk Park in 2019 when Ramona Hill and Reflect With Me both won.
Grant said he can't be in New Jersey for Friday's races, but he is planning to be there for the Saturday card.
"Winning a couple of times (this year) would be nice," he said.
Here are the other Woodbine Mohawk Park regulars with Breeders Crown finalists:
Drivers
James MacDonald (4)
Lyons Serenity (Friday, 2YOFP, Race 7, Post 8)
Amazone Duharas (Saturday, 3YOFT, Race 7, Post 1)
So Much More (Saturday, Mare Pace, Race 9, Post 3)
Logan Park (Saturday, 3YOCT, Race 8, Post 10)
Bob McClure (3)
Inaminute Hanover (Saturday, 3YOCT, Race 8, Post 1)
Forbidden Trade (Saturday, Open Trot, Race 10, Post 2)
Enavant (Saturday, Open Pace, Race 11, Post 3)
Paul MacDonell (2)
Duly Resolved (Friday, 2YOCT, Race 6, Post 8)
Beach Glass (Friday, 2YOCP, Race 9, Post 7)
Trevor Henry (1)
Warrawee Vital (Saturday, Open Pace, Race 11, Post 1)
Trainers
Luc Blais (4)
Inaminute Hanover (Saturday, 3YOCT, Race 8, Post 1)
Warrawee Roo (Saturday, Open Trot, Race 10, Post 1)
Forbidden Trade (Saturday, Open Trot, Race 10, Post 2)
Enavant (Saturday, Open Pace, Race 11, Post 3)
Robert Fellows (2)
Logan Park (Saturday, 3YOCT, Race 8, Post 10)
Warrawee Vital (Saturday, Open Pace, Race 11, Post 1)
John Bax (1)
Duly Resolved (Friday, 2YOCT, Race 6, Post 8)
Denis Gueriel (1)
Amazone Duharas (Saturday, 3YOFT, Race 7, Post 1)
Brent MacGrath (1)
Beach Glass (Friday, 2YOCP, Race 9, Post 7)
Shawn Steacy (1)
Ritson (Saturday, 3YOCT, Race 8, Post 3)
WEG-based owners (besides Grant) with more than one Crown finalist are:
Determination Stable (4)
Inaminute Hanover (Saturday, 3YOCT, Race 8, Post 1)
Warrawee Roo (Saturday, Open Trot, Race 10, Post 1)
Forbidden Trade (Saturday, Open Trot, Race 10, Post 2)
Enavant (Saturday, Open Pace, Race 11, Post 3)
Robert LeBlanc (4)
Fast As The Wind (Friday, 2YOCT, Race 6, Post 10)
Queen Of Success (Friday, 2YOFP, Race 7, Post 5)
Selfie Queen (Friday, 2YOFT, Race 8, Post 2)
Ramona Hill (Saturday, Mare Trot, Race 5, Post 5)
John Fielding (2)
Selfie Queen (Friday, 2YOFT, Race 8, Post 2)
Ready For Moni (Saturday, Open Trot, Race 10, Post 8)
Threelyonsracing (2)
Lyons Serenity (Friday, 2YOFP, Race 7, Post 8)
Lyons Sentinel (Saturday, Mare Pace, Race 9, Post 4)
Dave Briggs, for Woodbine Communications