By Dave Briggs
May 27, 2021 – There has been no easing into the 2021 season for Forbidden Trade.
On Sunday at Harrah's Philadelphia, the 2019 Hambletonian winner and Canadian Horse of the Year will tackle a star-studded lineup of older trotters in Sunday's $100,000 Maxie Lee Invitational (Race 13, first race post time of 12:40 p.m. (Eastern). The field also includes superstar trotting mare Manchego, the reigning Older Trotting Mare of the Year in the U.S., the 2020 U.S. 3-year-old Trotting Colt of the Year Amigo Volo and top older trotters It's Academic, Guaradian Angel As, Lindy The Great and Majestic Player A.
"That's not an easy race, but at that level it's like that. It's a nice group of horses right now," said Forbidden Trade's trainer Luc Blais, who conditions the trotter for Determination Stable of Montreal.
Sunday will mark the second pari-mutuel start for Forbidden Trade since suffering a coffin bone injury in early August of 2020 that ended his 4-year-old season after just five races.
"It was just a hairline on the coffin bone," said Blais. "He raced in the Hambletonian Maturity (on July 18) and after that he just raced so-so and we didn't know what was going on. So, we took an x-ray and that's why we turned him out early."
The 5-year-old son of Kadabra—Pure Ivory has qualified three times in 2021 and finished fourth on May 15 in the $141,250 Arthur Cutler Memorial at The Meadowlands won impressively by Manchego. Prior to the Cutler, Forbidden Trade and regular pilot Bob McClure won their qualifier at The Meadowlands in 1:54.4. On Tuesday (May 25), Forbidden Trade posted a qualifier victory in 1:58.1 at Philly as a prep for Sunday's race.
"I'm very pleased with his qualifier. It was like a workout. It was good to qualify. Bob (McClure) liked him and said he had a good feeling. After the qualifier, he looked alright. He looked better. I think he's getting on his game now," Blais said. "I think he needed a few races and qualifiers to get there. It's a high-level race (on Sunday).
"I know it's the beginning of the season and it's tough to say, but I'm very pleased with how he's feeling right now. He's feeling good."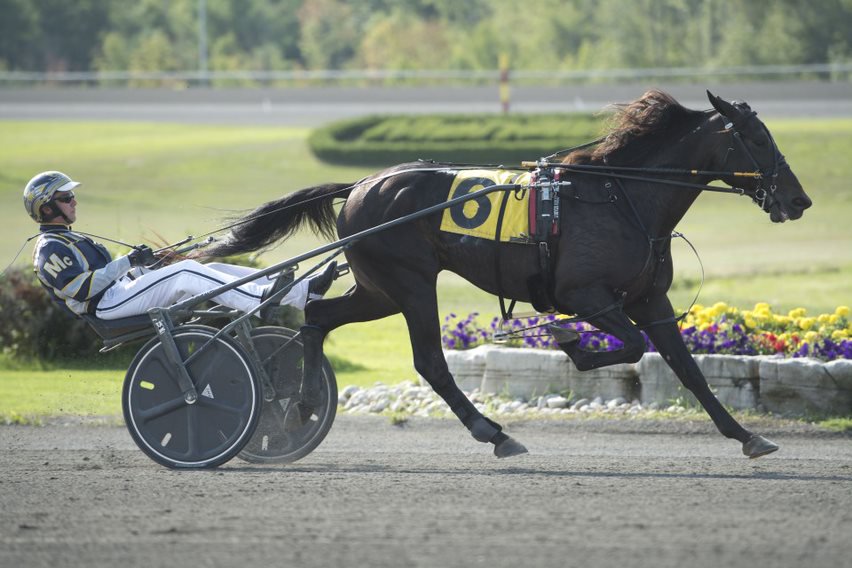 Blais, a Quebec native that in recent years has been based in Ontario, has temporarily moved his U.S.-bred horses to the Hot Lead Training Centre in New Jersey (formerly White Birch Farm) while racing is still in lockdown in Ontario.
"That's a nice spot. Beautiful spot. I'm very happy about that place," Blais said. "Lots of paddocks, lots of good tracks, sand track, a strip. More conveniences to fit the horses and I love that."
With racing scheduled to return to Ontario on June 14, Blais said he will likely keep the U.S. horses in New Jersey in the short-term.
"The horses that I have (in New Jersey) have a big month in July. I can go back and forth, I think," Blais said. "Now they pushed all the Grand Circuit events from June at Mohawk to September. I've got all the New Jersey and PA and New York-sired horses here. I still have a few Ontario-sired in Toronto.
"My horses, I'm very happy with how they feel right now. In the beginning it was an adjustment, but now I like it. Competition is very tough because there are tracks everywhere. At this time of year, it's the same thing at home. May, June there's no more easy races. But I like that. I like the competition here."
Sunday's stellar card at Harrah's Philadelphia is a testament to that. Besides the Maxie Lee Invitational, the card also boasts the $100,000 Commodore Barry Invitational for older pacers, the $100,000 Betsy Ross Invitational for older pacing mares, two $76,329 Pennsylvania Sires Stakes divisions for the glamour boys in the 3-year-old pacing colts' division, and eight $20,000 Pennsylvania Stallion Series tests for sophomore male pacers.
Watch and wager on Sunday's card from Harrah's Philadelphia through HPIbet.com.