MILTON, October 21, 2022 – A quartet of Breeders Crown finalists took to the track Friday morning at Woodbine Mohawk Park for qualifying action.
World champion Bulldog Hanover turned in a 1:51.2 qualifying mile in preparation for next Saturday's Breeders Crown Open Pace. Dexter Dunn came into town early to guide the Jack Darling trainee.
Facing three rivals, Bulldog Hanover paced out to the lead and posted fractions of :28.4, :56.4 and 1:24.3 before storming home in :26.4. The nearest rival to 'Bulldog' finished 29 lengths back.
"He looked awesome. I've never seen him look any better," said Darling. "Dexter couldn't get him pulled up after the wire. He went a full lap after (the qualifier) and he still had trouble on the backside. So, he's as good as he could be going into the final.
The four-year-old Bulldog Hanover will be entering the Breeders Crown off a rare defeat. The Darling trainee was upset by Allywag Hanover in the Allerage at The Red Mile on October 29. The star pacers are set for a rematch on October 29 and are part of an 11-horse field for the Breeders Crown Open Pace.
"I was looking to get a race. I was actually hoping there would be elims, and I would have raced him in the open too, but nothing filled," said Darling. "He just likes to mix it up a little, and have some fun. He loves to race. I'm glad I brought him. It was a good tightener for him. He's in good shape."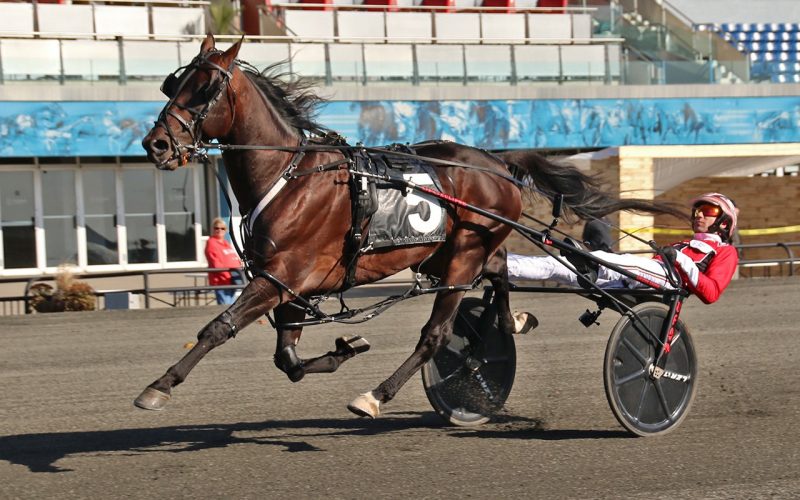 The Breeders Crown Open Pace will be drawn at a special press conference and dinner on Tuesday (October 25) at Country Heritage Park.
Star three-year-old pacing fillies Treacherous Dragon and Niki Hill finished one-two in another qualifier on Friday morning.
Niki Hill did the road work, cutting out fractions of :29.3, :58.1 and 1:25.2, while Treacherous Dragon sat on her back. In the stretch, Treacherous Dragon and driver Scott Zeron were able to reach up and edge Niki Hill and driver Dunn by a neck in 1:52.1.
Trained by Nancy Takter, Treacherous Dragon has won eight of 13 starts this season including the Fan Hanover in mid-June at Mohawk Park. The daughter of Captaintreacherous was making her first appearance Friday since winning the Jugette on September 21.
The Chris Ryder trained Niki Hill has had a roller coaster of a season. The Always B Miki filly was sidelined through most of the summer, but returned in September in fine form by posting back-to-back Grand Circuit wins at The Red Mile.
Sporting a record of two for four this season, Niki Hill will be looking for a second Crown title after capturing last year's Breeders Crown 2-Year-Old Filly Pace.
The Breeders Crown 3-Year-Old Filly Pace will be drawn on Saturday evening.
Double-millionaire Forbidden Trade tuned up for the Breeders Crown Open Trot with a 1:54.4 qualifying victory. The Luc Blais trainee and driver Bob McClure went coast-to-coast on the front, posting fractions of :29, :57.2 and 1:26.1 before a well in hand :28.3 last-quarter.
The six-year-old Forbidden Trade has won four of 15 starts this season to increase his career numbers to 25 wins. The 2019 Hambletonian champion will be hoping third times a charm after having little luck in two previous Crown appearances.
The draw for the Breeders Crown Open Trot will be part of Tuesday's press conference and dinner.
The Breeders Crown elimination weekend kicks off tonight at Woodbine Mohawk Park with two-year-olds on display. Post time is 7 p.m.
To download free program pages and view Woodbine's live stream, visit www.WoodbineMohawkPark.com.