MILTON, September 14, 2021 – A September to remember at Woodbine Mohawk Park continues this Saturday with the $606,500 Canadian Trotting Classic leading a $1.6 million card.
The stakes-filled program includes the $414,000 Elegantimage for three-year-old trotting fillies, $176,815 Simcoe for three-year-old pacers, $159,600 Ontario Sires Stakes Gold for two-year-old trotting colts and geldings, $100,000 Mohawk Gold Cup Invitational and a pair Shes A Great Lady eliminations for two-year-old pacing fillies.
The Metro Pace did not require eliminations, as the 12 two-year-old pacers move directly to the $824,000 final on September 25.
The Canadian Trotting Classic for three-year-old trotters attracted 16 entrants. The highest 10 lifetime money earners qualified for this Saturday's rich final.
Woodbine's marquee race for sophomore trotters will feature a battle between various state's and Ontario's finest, including New York's Ahundreddollarbill (PP1, Andrew McCarthy), Ontario's Fashion Frenzie (PP6, Louis Philippe Roy) and Ohio's Winning Ticket (PP10, David Miller).
The highest earner this season in the Canadian Trotting Classic field is Spy Booth (PP7, Dexter Dunn), who broke his maiden in style on August 28 by winning the Zweig Memorial at Vernon. The Nancy Takter acquired over half of his $405,692 season's earnings with a surprising runner-up finish in the Hambletonian on August 7 at The Meadowlands.
Fashion Frenzie enters with the hometown momentum after a dominating score in last Saturday's $240,000 Goodtimes. The Richard Moreau trainee is second to last year's Breeders Crown champion On A Streak ($913,600) for career earnings in the field, having banked $529,765.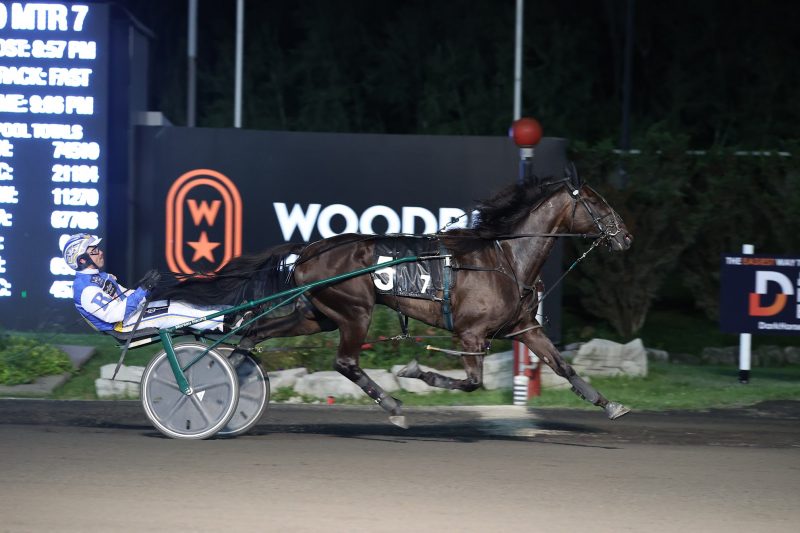 Ohio Sires Stakes champion Winning Ticket is a perfect 10 for 10 this season. The Chris Beaver trainee will be making his three-year-old Grand Circuit debut.
The $606,500 Canadian Trotting Classic is carded as Race 10 (10:45 p.m.)
The $414,000 Elegantimage for three-year-old trotting fillies follows the same format as the Canadian Trotting Classic. A total of 14 fillies were entered for the rich event before being scaled down to the top 10 lifetime earners.
Bella Bellini (PP7, Dunn), HP Mama B (PP9, Sylvain Filion) and Katies Lucky Day (PP10, Scott Zeron) were all supplemented to the Elegantimage.
Richard 'Nifty' Norman trainee Bella Bellini has made a complete 180-degree turn this season, earning over $500,000 in 13 starts after earning just over $4,000 in seven starts last year. The Hambletonian Oaks champion has won eight of 13 starts, including most recently the Pennsylvania Sires Stakes championship.
Ben Baillargeon trainee HP Mama B has three OSS Gold wins and a Grand Circuit victory as part of her six for nine 2021 campaign, while Katies Lucky Day has won eight of 16 this season and will make her first trip outside of Ohio for trainer Todd Luther.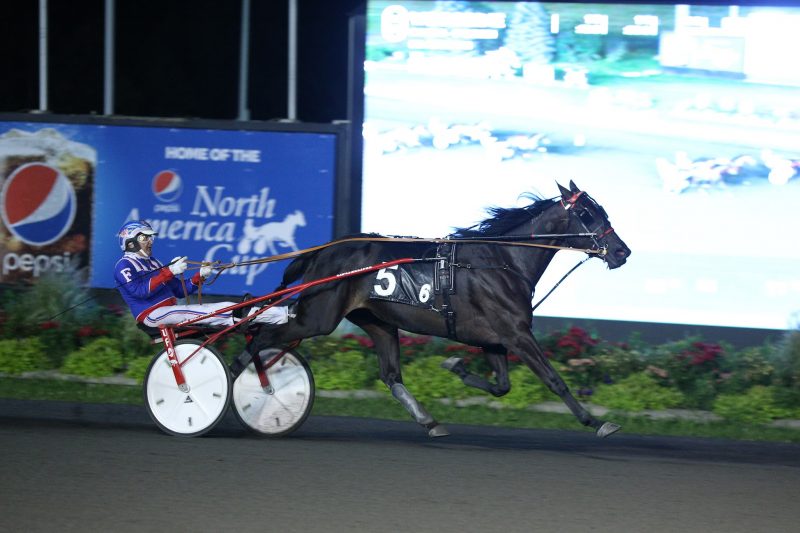 Trainer Luc Blais, who is represented by On A Streak and Macho Martinin in the Canadian Trotting Classic, will also send out Dicentra (PP2, Scott Young) and Donna Soprano (PP5, Bob McClure) in the Elegantimage.
The $414,000 Elegantimage is carded as Race 5 (8:40 p.m.).
Following last Saturday's Pepsi North America Cup, three-year-old pacers continue their Grand Circuit action with a field of nine competing in the $176,815 Simcoe Stakes. Abuckabett Hanover (PP7, A. McCarthy) and Bettor Sun (PP9, Doug McNair) are the only two in Saturday's field that competed in the Pepsi North America Cup final.
Alagna trainee Abuckabett Hanover finished sixth in the 'Cup', pacing a :53 back-half, while Bettor Sun for trainer Gregg McNair was seventh.
The Simcoe Stakes is carded as Race 9 (10:20 p.m.).
After being put on hold in 2020, the Mohawk Gold Cup Invitational returns with a field of 10 older squaring off for $100,000.
Canadian Pacing Derby champion Allywag Hanover (PP6, Todd McCarthy) leads the field for trainer Brett Pelling. Other notable heavyweights in the field include Century Farroh (PP3, Filion), Warrawee Vital (PP7, Trevor Henry) and Sintra (PP9, Jody Jamieson).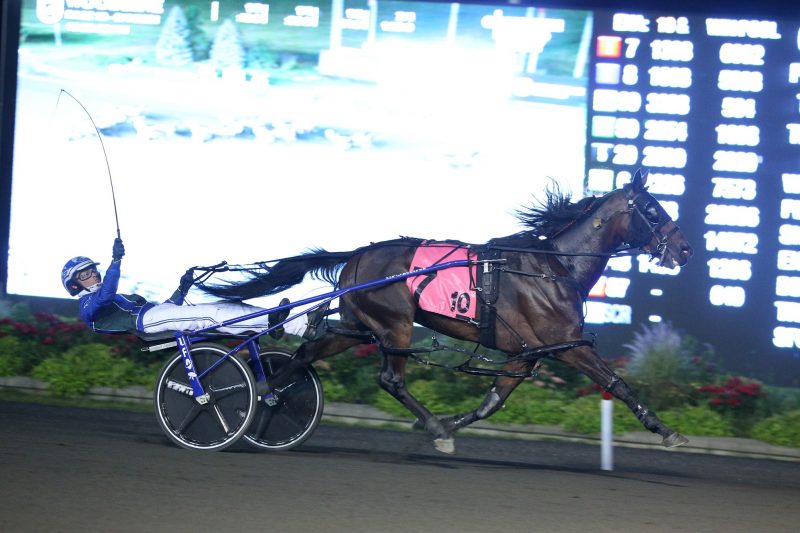 The Mohawk Gold Cup is carded as Race 8 (9:55 p.m.).
This Saturday's card will also include the Shes A Great Lady eliminations for two-year-old pacing fillies. A pair of eight-horse $35,000 splits will be contested to determine the field of 10 for the $500,500 final on September 25. Prohibition Legal for trainer Nick Gallucci and Niki Hill for trainer Chris Ryder are the expected favourites in their respective eliminations.
The Shes A Great Lady final will be part of Canada's richest night of racing on September 25, led by the $1 million Mohawk Million and $824,000 Metro Pace.
The Metro Pace did not require eliminations after 12 two-year-old pacers were entered. All 12 entrants advance directly to the $824,000 final. All starters in the Metro Pace final will receive money, with sixth through 12th receiving one per cent of the $824,000 purse.
The field for the $824,000 Metro Pace is listed below in alphabetical order:
Atlas Hanover (Tony Alagna)
Betterhavemymoney (Nick Gallucci)
Bob Loblaw (Ken Middleton Jr.)
Caviart Camden (Tony Alagna)
Fourever Boy (Tim Twaddle)
Many Moons (Anthony Beaton)
Market Based (Nancy Takter)
Monte Miki (Mark Evers)
Nautical Hanover (Tony Alagna)
Ridinlikeyastoleit (Anthony Beaton)
True Blue Lindy (Jeff Cullipher)
Wearinmysixshooter (Nancy Takter)
The entries and program proof for Saturday's entire card can be viewed by clicking here.
Post time for Saturday's $1.6 million program is 7 p.m.
Fans and horseplayers can watch and wager on every card of live racing from Woodbine Mohawk Park through HPIbet and the newly redesigned Dark Horse Bets App, available now on Apple and Android devices.