MILTON, December 2, 2019 – World champion Emoticon Hanover capped off her legendary career with a coast-to-coast 1:53.3 victory Monday evening at Woodbine Mohawk Park.
The six-year-old trotting mare was sent to the top by driver Bob McClure and got things her own way, trotting home in :27 for a three-quarter length victory in the $34,000 Preferred.
Trainer Luc Blais confirmed Monday morning that Emoticon Hanover, a two-time Breeders Crown champion, would be retired following that evening's start.
"I was very nervous before the race," said an emotional Blais following 'Emoticon's' final start. "She gave me an incredible thrill. She never (had) a bad race and always gave a 150 per cent of her."
A daughter of Kadabra, Emoticon Hanover was purchased for $165,000 at the 2014 Harrisburg Yearling Sale by Serge Godin's Determination and went on to become one of the greatest Ontario sired trotters of all-time.
"We (made) the decision in the last minute," said Blais. "We had a meeting in Montreal and it was not an easy decision, but she deserves that, she deserves to breed with the best stallion."
Blais noted that the connections first choice is to breed Emoticon Hanover to Muscle Hill.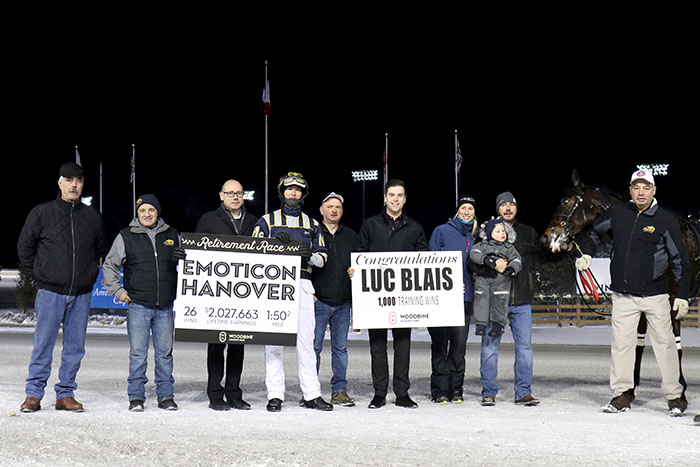 Emoticon Hanover spent the majority of her two and three-year-old campaigns battling with rival Caprice Hill for Ontario Sires Stakes glory. The talented ladies exchanged victories in the 2015 and 2016 OSS Super Finals.
The Blais trainee gained recognition across North America as a four-year-old with a dominating stretch of victories that included a pair of World Record performances, 1:50.2 at Tioga Downs in the Joie De Vie and 1:52 at the Delaware County Fair in the Miss Versatility. 'Emoticon' followed those dazzling performances with a score in the Allerage at The Red Mile and her first Breeders Crown title.
"Any kind of race we liked to watch her, she tries hard and I can't tell you what is the best (race)," said Blais. "I think the race at Tioga 1:50.2 was very impressive for me, it was a big race that afternoon."
The World Champion returned to the races as a five-year-old and finished off the 2018 campaign in style by winning her second-consecutive Breeders Crown and her first TVG Mares Trot.
Emoticon Hanover won the O'Brien Award as Canada's top older mare trotter in 2018.
Determination's superstar continued to compete at the highest level this season, racing against the boys in her second consecutive Maple Leaf Trot. The highlight of her six-year-old season came a little over a week ago when she reached up in the final strides to defeat Atlanta in the TVG Mare Trot, surpassing $2 million in career earnings.
The TVG victory was also the 1,000th career training victory for trainer Blais.
"I'm going to remember my 1,000th win," said Blais. "It's going to be easy to remember this one."
Emoticon Hanover finishes her career with 27 wins, 56 top-three finishes, $2,044,663 earned and a mark of 1:50.2 in 74 starts.
Woodbine Entertainment made a special presentation to Emoticon Hanover and Blais following Monday's race to recognize their accomplishments.
Live racing resumes Thursday evening at Woodbine Mohawk Park. Post time is 7:10 p.m.