MILTON, November 30, 2018 – Woodbine Mohawk Park is ready to bring Holiday cheer to the Halton Region with its inaugural Holidays at Mohawk Park starting Saturday, December 1.
Holidays at Mohawk Park festivities will take place during each of the four Saturdays in December leading up to Christmas. Visitors can enjoy a variety of holiday activities from 6 p.m.to 10 p.m. while also taking in live Standardbred racing beginning at 7:10 p.m.
"The holiday season is a special time of the year and we're excited to bring that special feeling to Mohawk Park," said Jessica Buckley, President, Woodbine Mohawk Park. "Our team has put together a great month of activities and we're eager for families in the community to come out and create memories with us."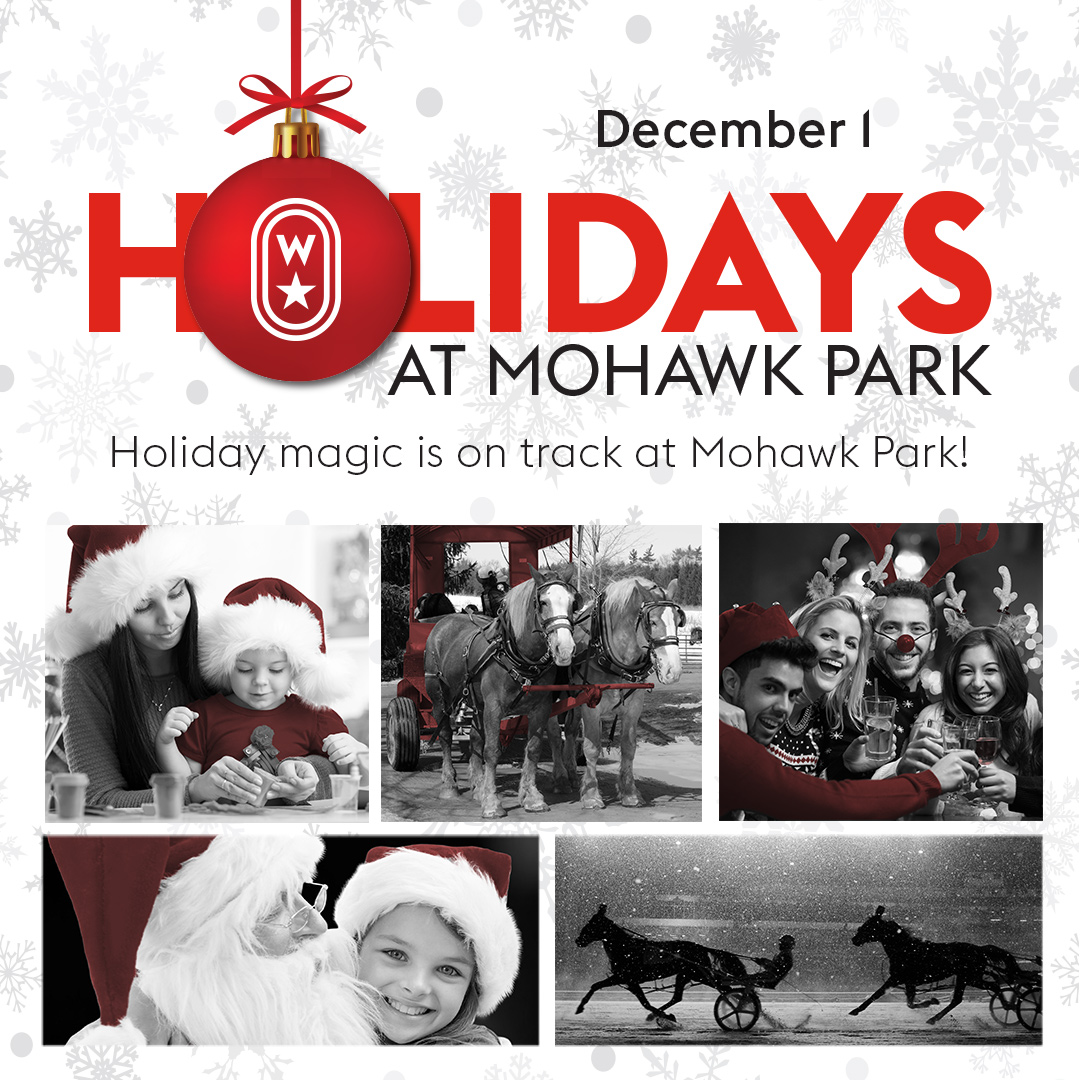 The inaugural Holidays at Mohawk Park will launch this Saturday (December 1) with a special tree lighting ceremony at 6:15 p.m. The first 50 guests to arrive for the ceremony will receive free hot chocolate and popcorn. Former professional wrestlers Tiger Jeet Singh and Tiger Ali Singh will be on hand to assist with the tree lighting.
Over the last nine years, the Tiger Jeet Singh Foundation has collected and distributed as many toys as possible to aid those less fortunate in the Halton Region through their Miracle on Main Street event in Milton.
The Tiger Jeet Singh Foundation, started by wrestling legends, humanitarians and philanthropists Tiger Jeet Singh and Tiger Jeet Singh Jr., has a core mandate of unifying diversity and bringing awareness and support to mental illness, anti-drugs, healthcare, education, literacy, breakfast programs and inclusive classrooms.
Halton Regional Police will also be on hand for the Tree Lighting Ceremony promoting their 'Stuff A Cruiser' unwrapped toy fundraiser.
The Holidays at Mohawk Park activities include free wagon rides through Mohawk Park's Christmas forest, photos with Santa Claus ($10), kid's Christmas crafts and live entertainment.
Special Holiday workshops are scheduled to begin December 8. Guests can try wreath building on December 8, a wine pairing on December 15 and gingerbread house decorating on December 22.
Spots are limited for each workshop and pre-registration is available by visiting www.WoodbineMohawkPark.com.
Woodbine Mohawk Park is the home of year-round World class Standardbred racing. The Campbellville oval hosts live racing every Monday, Thursday, Friday and Saturday beginning at 7:10 p.m.