MILTON– September 3, 2022. Twin B Archie managed to hold off a fast closing Duly Resolved to take the $165,725 Simcoe Stake for three-year-old trotting colts on Saturday night at Woodbine Mohawk Park. The race, contested by just five talented sophomores, kicked off a stakes laden card anchored by the legendary Canadian Pacing Derby and Maple Leaf Trot.
Last year's O'Brien Award winner Duly Resolved and Paul MacDonell got away well from fifth to quickly reach the front as the race got underway but he was covered up by Safe Conduct and Chris Christoforou well before the opening quarter reached in :27.3. Favourite Twin B Archie was sent to the top from third and was well settled on the lead by the half reached in :56.4.
With James MacDonald in the bike as usual, Archie trotted by the three-quarters in 1:25.1 looking strong but he had some competition late in the mile as Duly Resolved was closing hard as was Safe Conduct. Twin B Archie managed to hold on and hit the wire first in 1:53.2 a half length in front of Duly Resolved in second and Safe Conduct in third. Archery Seelster grabbed fourth while Chulo collected fifth despite making a break down the lane.
A son of Archangel, Twin B Archie put his 2022 summary at 6-3-0 in 10 starts and upped his earnings to $456,415. Career wise he's earned over $740,000 for trainer Scott McEneny who co-owns with Domenic Chiaravalle, Floyd Marshall and the Martwest Racing Stable, all of Ontario.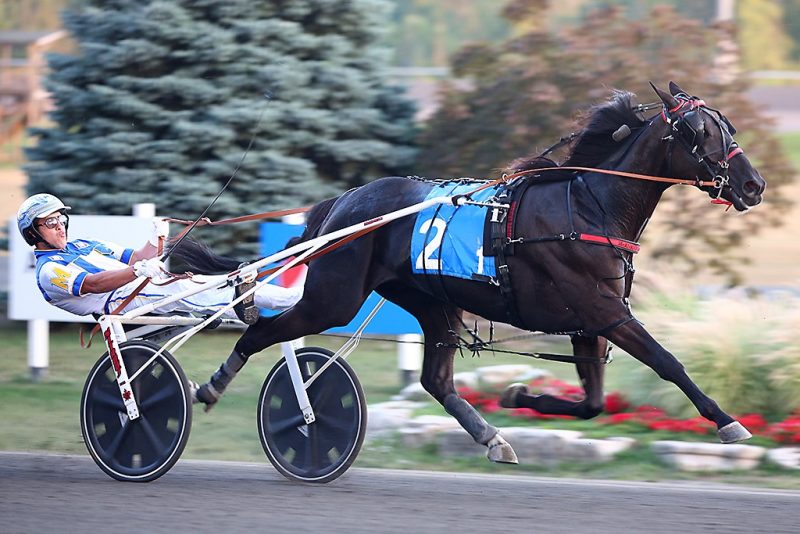 MacDonald noted after the race he was happy to see the draw with just five entered. "The horse has been racing great, all career he's been terrific, so when you see a short field going for that much money you definitely get a little excited. He got it all again tonight, he knows where the wire is and he knows how to get it done."
The trip went the way the driver envisioned. "I thought (Chris on Safe Conduct) would take a shot, I was a little worried about him on my back the last turn, but Archie finds a way every time."
Four of the colts in tonight's contest were Ontario-sired, including Twin B Archie. MacDonald feels he can certainly hold his own with the Grand Circuit calibre colts later this year.
"Early in the year he was so good, I would have put him up against anyone. After Ottawa (an OSS win at Rideau Carleton on July 10) he's been a little stale but still the results have been there so it's hard to knock him. I hope when the big ones come at the end of the year he can still figure it out."
Bred by Twinbrook Farms of Embro, Ontario, Archie sold at the Harrisburg sale for $52,000. His third dam is Amour Angus whose progeny, including former Canadian Horse of the Year Emilie Cas El as well as the talented trio of Andover Hall, Angus Hall and Conway Hall, had her inducted into the Canadian Horse Racing Hall of Fame two years ago.
Heather MacKay, for Woodbine Communications