TORONTO, December 19, 2017 – Another week of racing is in the books and once again Woodbine Standardbreds were very busy both on and off the track.
The last week has featured big performances, extended winning streaks, tight finishes and a visit by the Grey Cup champions.
It's time for "The Weekly Roundup".
LEADING DRIVER OF THE WEEK – Louis Philippe Roy (9 wins)
Louis Philippe Roy's debut season on the Woodbine Circuit can be summed up in one word…"Incredible". The young reinsman came onto the scene late last year and has made a huge impact. The Mont-Joli, Quebec native sits second in the 2017 Driver's Standings with 266 wins and is closing out his season in style. Roy captured five-races last Thursday and followed that up with four-more wins to finish the week with nine.
Close Behind: Trevor Henry (5 wins),  Jody Jamieson (4 wins)
Note: 17 different drivers won races last week (Total of 40 races)
LEADING TRAINER OF THE WEEK – Carmen Auciello & Richard Moreau (4 wins)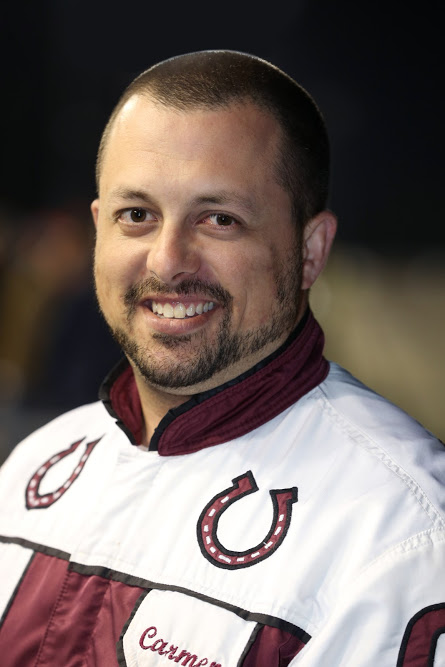 Richard Moreau has been running away with the 2017 Trainer's title for quite some time, but Carmen Auciello is a past leading trainer and continues to post solid numbers. The top-two conditioners on the circuit each posted four-wins during the last week. Ironically, Auciello and Moreau each sent out 22 starters during the last week.
Overall, Moreau leads Auciello 160 to 90 in the Woodbine Circuit Trainer Standings.
Note: 30 different trainers won races last week (Total of 40 races)
UPSET OF THE WEEK – Monday, December 18 (Race 8: #6 Domitian Hall, $23,20)
It wasn't a huge week for upsets, but that doesn't matter to those that back six-year-old trotter Domitian Hall in Monday's eighth-race. The Auciello trainee made a big move from fifth to first in the third-quarter and proceeded to win by 3 1/2 lengths in 1:55.3. It was the third win in 29 starts this season for Domitian Hall.
Note: Favourites won 17 of 40 races last week (42.5%)
Note: Favourites are winning at 38.1% from October 19 to December 18 at Woodbine
JACKPOT HI-5 MANDATORY PAYOUT ANNOUNCED
Christmas will come early for horseplayers on Saturday, December 23, as Woodbine Racetrack will offer a mandatory payout on the Jackpot Hi-5. The Hi-5 carryover will continue to grow leading up to the mandatory payout and following Monday's (December 18) card it now sits at $202,497.47.
The Jackpot Hi-5 mandatory payout will take place on Saturday's (December 23) final race. Wager through HPIBet.com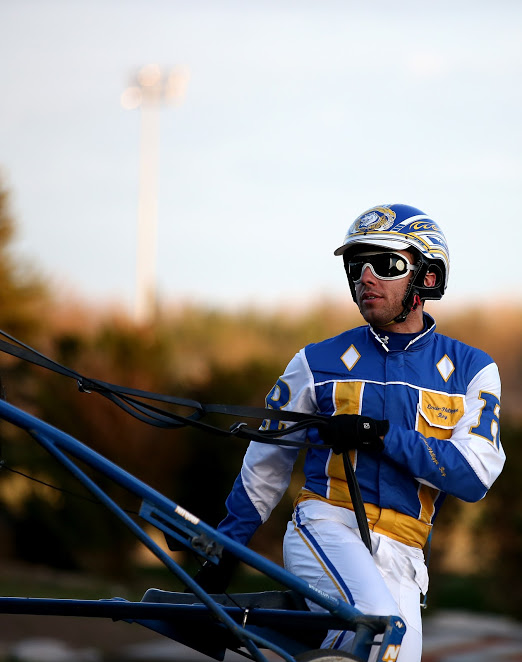 ROY WINS FIVE – Thursday, December 14
As noted in the Leading Driver recap, Louis Philippe Roy's rookie season on the Woodbine Circuit has been outstanding. The Quebec native has only been driving on a regular basis for a few years and this season his total number of starts has risen by 1,001. Committing to driving full-time has been a good move for Roy and Thursday evening he had himself a night!
Roy won five of seven races he competed in. He drove winners for four different trainers (Moreau, Tackoor, Bourassa x2 and Fine).
Roy was recently named a finalist for the Rising Star Award by the United States Harness Racing Writers Association (USHWA).
Overall, Roy has 732 wins and $5.6 million in earnings this season.
VISIT FROM THE CHAMPS – Friday, December 15
ARGOS! The Grey Cup champion Toronto Argonauts were special guests at Woodbine on Friday for an evening of live racing and dining. The champs brought with them the Grey Cup and made a visit to the Standardbred paddock.
Members of the Argonauts posed for photos with drivers, trainers, caretakers and paddock staff. Several players also had a chance to go for a ride in the Starting Gate. The Argonauts then gathered in the Woodbine Club for dinner.
ARRRRGOOOS! The @WoodbineSB paddock is catching #GreyCup fever with your @TorontoArgos! #BetWoodbine pic.twitter.com/xBFuPflW3F

— Woodbine – Mohawk Park (@WoodbineSB) December 16, 2017
Grey Cup Champs, Toronto Argonauts visited @WoodbineSB on Saturday night with trophy in hand. pic.twitter.com/Dw0uN8AOu2

— Clive Cohen (@woodbinephotos) December 16, 2017
The evening's sixth-race was named "The Toronto Argonauts – Grey Cup Champions – Trot". Sophomore trotter Kameran Hall and driver Chris Christoforou captured the event and received a special blanket and some carrots from the Argonauts, who brought the Grey Cup into the winner's circle.
I'm sure the Grey Cup has been filled with many things over the years, but tonight it's carrots going to Race 6 winner Kameran Hanover! pic.twitter.com/W9ABOh3CO5

— Mark McKelvie (@MohawkMarkM) December 16, 2017
Kameran Hanover & @TheRealCCjr1 take the sixth for the double blue, presented by the @TorontoArgos! #BetWoodbine #GreyCup pic.twitter.com/XJWjkq7gCL

— Woodbine – Mohawk Park (@WoodbineSB) December 16, 2017
Woodbine was honoured to host the champs and wishes them the best of luck next season.
HIGH-FIVE! – Saturday, December 16
Easy Lover Hanover has been cleaning up in recent months at Woodbine and last Saturday the Ben Wallace trainee captured his fifth consecutive Preferred Pace. The four-year-old pacer had to dig in to hold off a pair of rivals and prevailed by just a head over Prescotts Hope and Champagne Phil.
Owned by Brad Grant, Easy Lover Hanover is now eight for 23 this season and has earned $198,487. With regular driver Doug McNair not available, Jody Jamieson took the lines and steered 'Easy Lover' to victory.
'Easy Lover' is capping off 2017 in style and could be poised to have a major season against the sport's top older performers in 2018.
WINTER SERIES HEAT UP – Friday, December 15 & Saturday, December 16
The Niagara and Valedictory Series rolled on last week with some intriguing results.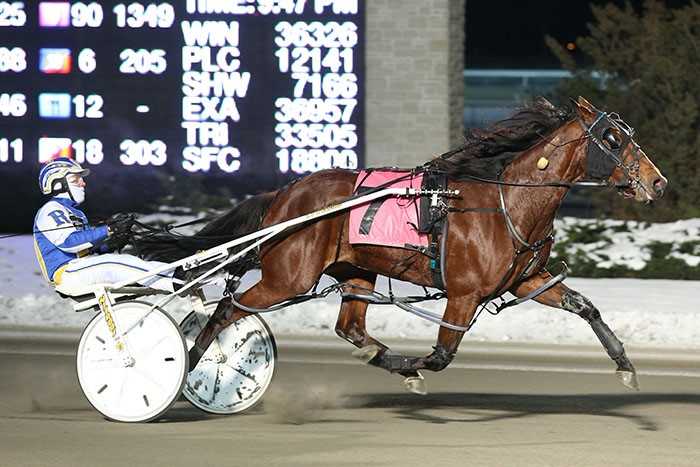 An overflow field of 12 competed in the second leg of the Niagara and Cloud Diva powered to victory for Louis Philippe Roy and Richard Moreau. The three-year-old daughter of Somebeachsomewhere finished second in her first leg division and now has momentum on her side heading into the final.
Owned by Robert Leblanc, Cloud Diva was shipped up from trainer Tony Alagna to Moreau to compete in the Niagara. She is now two for 15 on the season, with both wins coming on the Woodbine Circuit.
Note: First leg division winner Teachers Vet finished seventh, while the other division winner Jazzy Image did not race.
A pair of Valedictory second leg divisions were contested on Saturday with Brave World and Better B Rolling taking the splits.
Brave World scored a 5-1 upset in the opening division for Trevor Henry and Bill Budd. The three-year-old gelded son of Royal Mattjesty finished second in his first leg division to Windsun Gotham, who finished third in Saturday's first division.
Better B Rolling will have an opportunity to sweep the Valedictory after he took his second leg division on Saturday with driver Roy. The gelded son of Roll With Joe is an impressive nine for 12 in his career for owner-breeder W. Donovan. Ciaran Morrison took over the training duties of Better B Rolling ahead of the Valedictory and the sophomore is now three for three at Woodbine.
The finals of Niagara and Valedictory will highlight Woodbine's traditional Boxing Day matinee card (December 26).
THREE IN A ROW – Monday, December 18
Four-year-old trotter Will Take Charge has sure taken a liking to his new home. The former Ontario Sires Stakes star stepped up to the $34,000 Preferred on Monday and was victorious in 1:53.1 for his third win in three starts for trainr Jeff Gillis and owner Mac Nichol.
Will Take Charge won Monday's Preferred by nearly three-lengths for driver Jody Jamieson, who has driven the four-year-old to all three wins for Gillis.
Before being acquired by his new connections, Will Take Charge won nine of 46 starts and earned $520,000 for trainer John Bax and connections.
UP NEXT: December 21 – December 26
Just four-cards of racing remain in the 2017 season. Live racing will be offered Thursday, Friday and Saturday at 7:30 p.m. before Christmas. Live racing will then resume on Boxing Day (December 26) for a matinee card to cap off the 2017 season.
The Boxing Day card will feature the $34,400 Niagara Series and $34,000 Valedictory Series finals.
Merry Christmas and Happy Holidays!