TORONTO, March 20, 2018 – The final card of "Winter" took place Monday night at Woodbine Racetrack and capped off another exciting week of racing.
The days are now longer, which means everyone can enjoy the first-race each night (7:10 p.m.) in the remaining moments of daylight. The scenery for Monday's opening-race was gorgeous and it sure has everyone in a good mood entering "Spring".
Gorgeous view for tonight's opening race at #BetWoodbine. pic.twitter.com/oJwyraBlUc

— Mark McKelvie (@MohawkMarkM) March 19, 2018
However, no need to put away the Winter coat or boots just yet, because as we all know well, we're never out of the clear when it comes to a late March snowstorm.
Just 12 cards of racing remain in the Woodbine meet, so let's get caught up on final cards 16 to 13 in "The Weekly Roundup".
LEADING DRIVER OF THE WEEK – Louis Philippe Roy (15 wins)
Louis Philippe Roy was on fire during the last week, as the Mont-Joli, Quebec native scored a season-high 15 wins over four-cards of racing.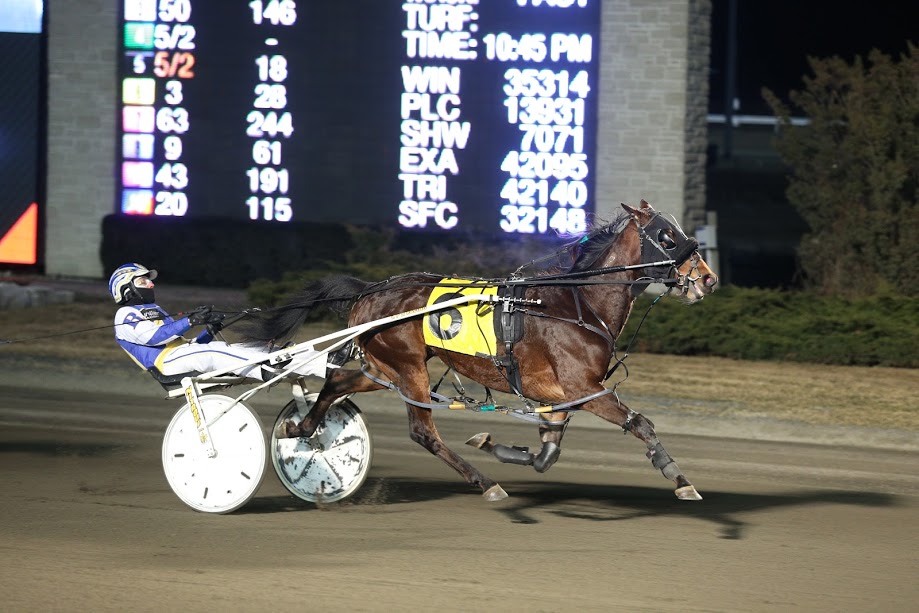 The 15-win week eclipsed Roy's previous mark of 10 wins from March 1 to 5. Roy posted at least a "Hat-Trick" on each of the four-cards. His biggest night was on Saturday when he won five of the 10 races.
Roy teamed up with trainer Richard Moreau for nine of his 15 wins. His winning percentage for the week was an incredible 46.8%.
The massive 15-win week gives Roy a comfortable lead in the 2018 Woodbine Entertainment Driver Standings. Roy is now up to 76 wins this year at Woodbine, 22 more than nearest rival Doug McNair.
CLOSE BEHIND: Trevor Henry (6 wins), Doug McNair (4 wins)
NOTE: 12 different drivers won races over the last week (40 races)
DRIVER OF THE WEEK STANDINGS: (After 10 weeks)
Roy – 5
McNair – 2.5
Jamieson – 1.5
Henry – 1
LEADING TRAINER OF THE WEEK – Richard Moreau (11 wins)
Richard Moreau led all trainers in wins for the fifth consecutive week by racking up 11 wins from March 15 to 19.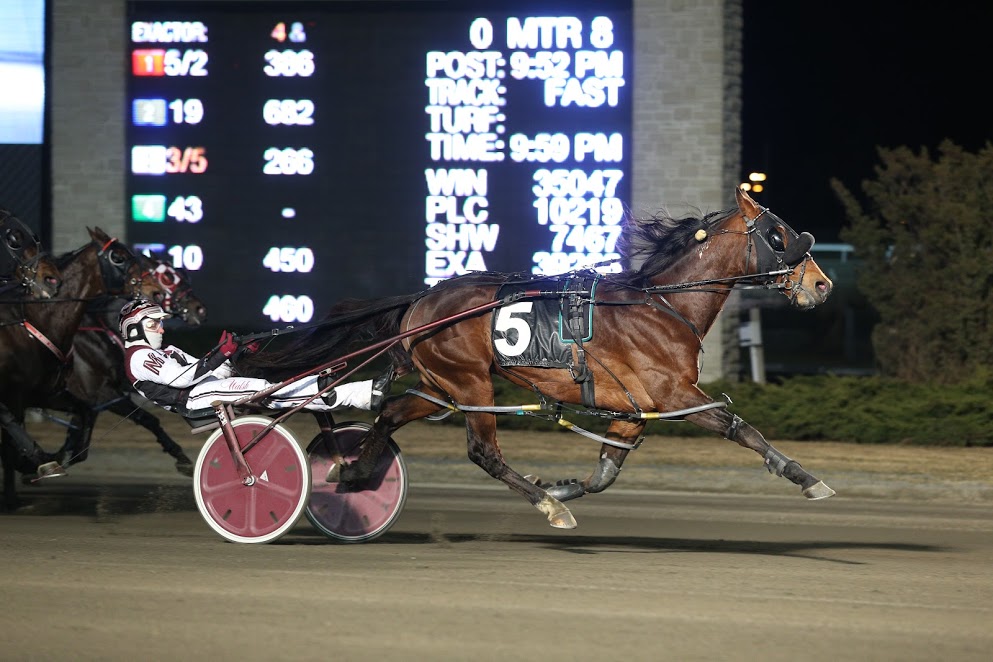 It was the second time in three weeks that Moreau won 11 races during a week at Woodbine. The Puslinch, Ontario resident had a huge weekend at the Toronto oval, as he posted four-wins on Friday and five-wins on Saturday.
Moreau's most notable win of the week came in Saturday's $34,000 Preferred Pace, as his trainee Fool Me Once pulled off a 10-1 upset in Woodbine's top-class. It was the second-win in a row for the eight-year-old.
Moreau sent out 26 starters over the last four-cards for an impressive 42.3% winning percentage.
Moreau now has a massive 50 win lead a top the Woodbine Trainer Standings, as his stable is up to 69 wins at Woodbine in 2018.
CLOSE BEHIND: Victor Puddy (3 wins)
NOTE: 27 different trainers won races over the last week (40 races)
TRAINER OF THE WEEK STANDINGS: (After 10 weeks)
Moreau – 9
Auciello – 1
UPSET OF THE WEEK – Monday, March 19 (Race 3) – #5 Wild And Crazy Guy, $88.30
This week's biggest upset took place in the $34,000 Preferred Trot on Monday evening.
The gritty veteran Wild And Crazy Guy capitalized off a good trip from driver Sylvain Filion to score a 43-1 upset in the Circuit's top-trot. Trained by Martin Lachance, Wild And Crazy Guy was returning to the Preferred level after a third-place finish in a $22,000 overnight the week prior.
A seven-year-old gelding, Wild And Crazy Guy had never won the Preferred-level at Woodbine/Mohawk in his career until pulling off the upset on Monday for his 29th career victory. The winner of over $435,000 lifetime is now two for nine this season.
WEGZ HORSEPLAYER CAPTURES JACKPOT HI-5 – Saturday, March 17
A 75-year-old horseplayer had the only winning ticket on Saturday's Jackpot Hi-5 to score a massive $114,330.17 pay day.
The longtime racing fan made the wager on Saturday afternoon at WEGZ Stadium Bar in Vaughan, Ontario. The horseplayer made the wager after watching Toronto FC play and trying his luck on the Gulfstream Park Rainbow Pick 6. He did not watch the race live on Saturday evening and instead got a fantastic surprise when he checked his account at Woodbine the following day.
The 75-year-old horseplayer spent $168 to win $114,330.17.
Check our website later this week for a feature with the winning horseplayer.
MCCLURE REACHES 2,000 WINS – Thursday, March 15
No driver has won more races in Canada over the last two-years than Bob McClure and Thursday night at Woodbine he increased his career win total to 2,000 with a victory in the evening's final race.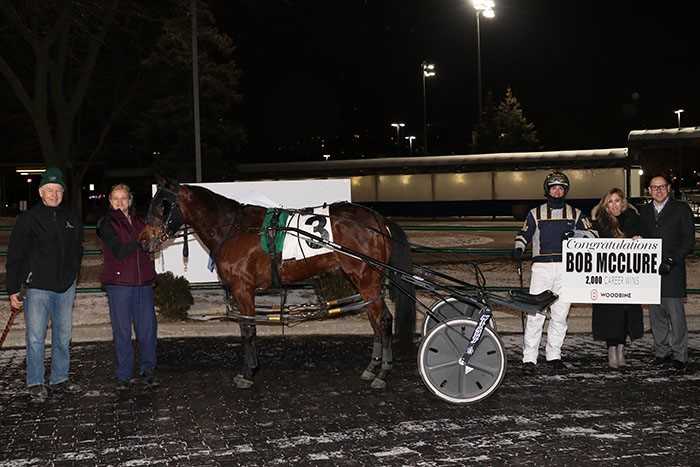 McClure, 27, steered Princess Jewels to victory in the evening's final-race to reach the milestone. It was the second win of the day for McClure, who picked up win number 1,999 a few hours earlier at Flamboro Downs.
A resident of Elora, Ontario, McClure has been the "top-dog" at various tracks throughout Ontario over the last few seasons, but this Winter he turned his attention to driving more regularly at Woodbine. That decision has worked out, as McClure has won 38 races during the Woodbine Fall-Winter meet.
To read more about McClure's milestone, click here.
MOHAWK PARK OPENS FOR TRAINING – Monday, March 19
The return of live racing to Woodbine, Mohawk Park is inching closer and as if we needed anymore reasons to be excited, this week we got the sure sign that racing is right around the corner.
The track and paddock at Mohawk Park officially opened for training on Monday morning. Andrew McCabe trainee Billies Js Passion, a three-year-old pacing filly, was the first horse to test out the track this season.
3YO pacing filly Billie Js Passion and trainer Andrew McCabe take the first tour of @WoodbineSB this season! The track and paddock officially opened for training this morning. pic.twitter.com/uAvo8goCvK

— Mark McKelvie (@MohawkMarkM) March 19, 2018
The first qualifying session of the season is scheduled to take place this Thursday (March 22) beginning at 10 a.m.
The 2018 Woodbine, Mohawk Park racing season begins Thursday, April 12.
UP NEXT: March 22-26
Live racing resumes Thursday evening at Woodbine Racetrack and continues Friday, Saturday and Monday. Post time for each card is 7:10 p.m.
To download a FREE Program for each card of live racing, click here.