Whenever the starter car calls the field to line up behind the gate, the well-travelled trotter is already in the zone.
On Monday night at Woodbine Mohawk Park, Cindy Lynn will contest the 94th dash of her career and chase after her 21st lifetime score in race nine on the 10-race card.
Whether she nets her third straight score or not, the man who campaigns the savvy veteran and the man in the race bike know what they can expect from the seven-year-old daughter of Credit Winner.
"I think the thing that makes her a little bit special is her gait," said trainer Joe MacIsaac who along with his partner, Carolyn Williston, bred and own Cindy Lynn. "She's one of the best-gaited trotters I've ever been around. She's got a pretty flawless gait and she's very easy on herself. The guys that drive her, they seem to like to drive her."
Just ask Bob McClure.
The reinsman, who won his first O'Brien trophy as Canada's 2020 Driver of the Year following a career-best season in purse earnings, has a plethora of superlatives that come with the privilege of piloting a smooth-sailing trotter.
"She's so handy that if you had to take her back, you could do it without any fuss at all," praised McClure. "I've won with her off the helmet and I've won with her off the front. She's literally push button. She's all racehorse. You can take her off the gate – you can literally do anything you want with her. She's perfect gaited. You can drive her like a pacer."
For MacIsaac, who has amassed 218 career conditioning wins, Cindy Lynn, named after one of Williston's best friends, was an eager student well before her first race on January 25, 2018, which yielded a fourth-place finish at Flamboro Downs.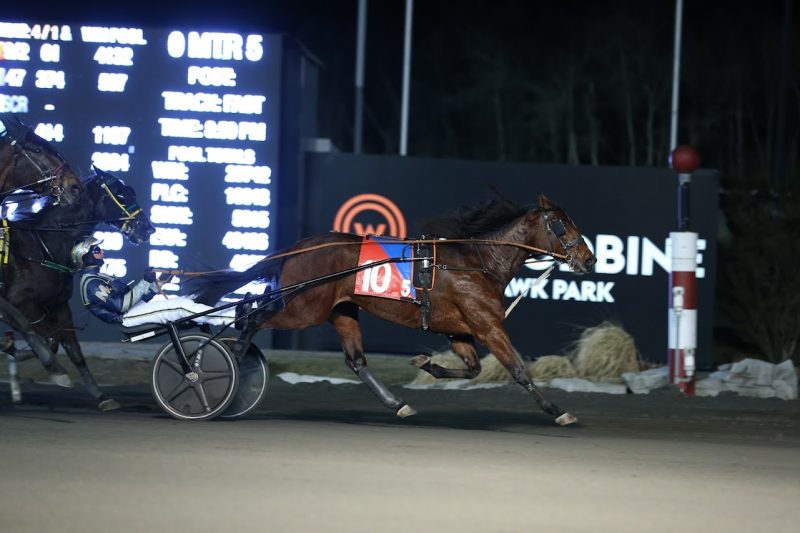 "You never know, but you saw that she had the will and the talent. Sometimes, we shut the mares down a little earlier and breed them. But with her, I thought she had some racing in her."
Even after a pair of less-than-impressive qualifiers ahead of her first start, one at Woodbine Mohawk Park and the other at Flamboro Downs, Cindy Lynn still showed signs that racing longevity was in her future.
"She has a quick turn of speed, but most of all, she loves to race," offered MacIsaac. "That's her favourite thing. She loves going to the track and being out there. You could see that from the very beginning."
Cindy Lynn, whose milestone first victory came in her second career engagement, also at Flamboro, didn't have a memorable debut at Woodbine Mohawk Park just over four years ago when she broke stride and finished ninth.
Thankfully for her connections, her performances at the Milton oval, like her talent, grew exponentially over time.
She's been a regular, give or take a handful of races, at the seven-eights track since late September 2018.|
Last year, Cindy Lynn was limited to just five starts, the result of an ailment-riddled campaign.
"We went through a bad little spell with her," recalled MacIsaac. "I think she was as good as she's ever been in her life in early 2020. She won some nice races and was pretty high up in class. I just kept running into problems with her, unfortunately. I thought I had her okay and I brought her into race one night. I thought she warmed up okay but something happened and it got her pretty sore. Jody [driver, Jamieson] had to pull her up. You hate seeing that. You want to make sure they are sound and ready, so I guess it was just one of those things. She didn't have to stay in the stall long, we just let her heal and gave her the time she needed. But she came back out of it well and she seems to be really good right now."
Her recent form certainly backs up MacIsaac's view.
So far in 2022, Cindy Lynn has three wins from nine starts. She was recently displaced from record books for fastest yearly mile by a trotting mare on a Canadian seven-eighths track.
It wouldn't be a longshot to see her reclaim that crown.
"For a mare to race at Mohawk and in the condition races, you've got a pretty nice horse on your hands," offered MacIsaac. "She's okay to work around, but she can be a little feisty at times. That's in the family, though. They are all a little bit like that. But for the most part, at the track, she's perfect."
Pre-race, Cindy Lynn is like a prizefighter waiting for the opening-round bell.
"She likes to race, and she like to compete," said MacIsaac. "That's her thing. She doesn't like being in the paddock long or hanging around a bunch of people. She likes to be out there waiting for the race to start. The good ones have a good attitude. Some mares, if they have a little streak in them, they kind of seem to be a little tougher on the racetrack. That's just the way I see them."
The lens in which the longtime horseman views his stable star pans beyond her next start.
There will be a time, sooner rather than later, noted MacIsaac, when Cindy Lynn will make the transition from racehorse to broodmare.
"I think she has some value as a broodmare. You get to a point when that time will come, where you will have to make that decision. We were toying with the broodmare idea this year, but it's up to her. If she shows any kind of issues, it will probably be the time do it. Right now, she looks like she has put together another season on the track. Whatever decision we make, we'll do the right thing for her."
For now, the trotter will continue to do her own thing.
And, as she's done throughout her career, she'll do it well, in victory or otherwise.
"She's an absolute angel," praised McClure, who is closing in on 2,950 lifetime wins. "I was talking recently with Sylvain [driver, Filion] after I drove her. There isn't a nicer horse to drive. She's as close to perfect as you'll get. She's two fingers, literally. You could drive her with your pinky. She steers so well. She can follow the [starter] car all the way to the turn so you can leave so fast. She's as close to perfect to drive as you're ever going to find."
Chris Lomon, Woodbine Communications