MILTON, September 18, 2021 – Allywag Hanover confirmed his position at the top of the open pacers in North America tonight as he absolutely dominated in the $100,000 Mohawk Gold Cup at Woodbine Mohawk Park. It was the fourth straight win for Allywag whose streak started with the McKee Memorial on Hambletonian Day and his most recent win in the prestigious Canadian Pacing Derby on September 4.
Tonight, Todd McCarthy put Allywag on top early and never looked back through splits of :27, :55, 1:21.3 and he was home with five lengths to spare in 1:48.1. Enavant and Bob McClure attempted a challenge but had to be content with second this night. Warrawee Vital was third and Sintra, who never saw the rail, took the fourth place cheque.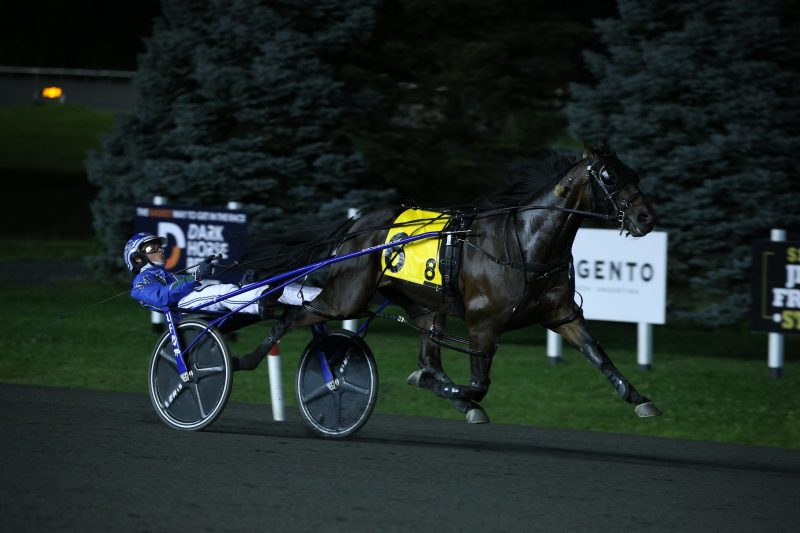 "He's developed a new dimension where he can leave and really carry his speed – he's loving it right now," praised trainer Brett Pelling.
"He's effortless. He travels over the ground so well. I think Todd fits him great. With his gait speed now he's putting himself into the race every time. It's made him go to another level."
As for the rest of the season he still has some room on his dance card. "He has the TVG, Breeders Crown, we may take him down to Kentucky for one run. There are a few races left. He's still young. He's definitely going to come back at five. That's my first Gold Cup and I'd like him to be my second as well."
Owned by the Allywag Stable of Wellsville, Pa., the four-year-old son of Captaintreacherous is now 8-2-0 in 15 trips behind the gate this year for $676,450 earned. His dam is a Camluck sister to Gregg McNair's former standout Aracache Hanover, a winner of $1.7 million in his career.
Heather MacKay Roberts for Woodbine Communications