TORONTO, August 19, 2021 – Woodbine's weekend stakes showcase launches Saturday afternoon with four stakes contests to lead into Sunday's Queen's Plate card.  
A pair of Grade 3 $150,000 events, the Singspiel Stakes and Seaway Stakes, and two $125,000 stakes, the Catch A Glimpse and Soaring Free, makeup Saturday's stakes quartet.  
Record-setter Eons takes on seven in Grade 3 Singspiel  
After blazing to a course record in the $150,000 Buckland for 3-year-olds and older on the Colonial Downs' inner turf, Eons will make his Canadian debut in the 1 ¼-mile Grade 3 Singspiel, for 3-year-olds and up, to be contested over the E.P. Taylor Turf Course. 
Trained by Arnaud Delacour for owner Mark Grier, the chestnut covered 1 1/8 miles in 1:48.14, heading Kentucky Ghost for the Buckland victory.   
A 5-year-old son of Giant's Causeway, Eons returned $13.20 for the win. 
"He ran a very, very good race," said Delacour. "I was [expecting him to run well]. I was happy with the horse and happy with the ride because it was a patient ride. He always runs well. It was such a long time since he went to the winner's circle, but not by lack of good effort. He was running well against good horses. 
"He's always on edge, but he is great. You can do what you want with him. He's really athletic, but he has a lot of energy, for sure."  
Eons launched his career with a pair of starts at Tampa Bay Downs in early 2019, before making four consecutive trips to the winner's circle, including a victory in the Grade 3 Kent Stakes at Delaware Park. 
His win in the Buckland was his first since the Kent triumph. Overall, he sports a mark of 5-2-1 from 17 career starts.  
"The key with him is always the same… I'm always hoping for a fast pace, where the other horses can come back a little bit," said Delacour. "He needs a lot of stretch to get going and that's probably one of the reasons I would love to try him at Woodbine. The stretch is very long and horses have time to really get into a rhythm." 
Patrick Husbands, who won the 2016 Singspiel aboard Danish Dynafomer, will ride Eons on Saturday. 
"We've been lucky with Patrick in the past. He's done well for us. I'm very happy with how we're going into the race." 
Bred in Kentucky by Camas Park Stud out of the multiple stakes-winning Hansel mare Golden Antigua, Eons is a full brother to graded/group stakes winners Giant Gizmo and Tableaux, and a half brother to the dam of multiple graded stakes champ Cheermeister. 
Clancy Bloodstock purchased Eons for $300,000 from the Eaton Sales consignment to the 2017 Keeneland September Yearling Sale.  
His rivals in the Singspiel include Belichick, who won last years' Breeders' Stakes, third jewel in the OLG Triple Crown, and multiple graded stakes placed Corelli, a 6-year-old son of Point of Entry, who is 4-3-3 from 17 starts.  
The Singspiel is named after the Irish-bred son of In the Wings, whose nine victories in 20 lifetime starts include the 1996 Canadian International Stakes. 
Trainer Roger Attfield won five consecutive editions (2009-13) of the Singspiel, and eight runnings in all. 
FIELD FOR THE GRADE 3 $150,000 SINGSPIEL (Race 8) 
POST – HORSE – JOCKEY – TRAINER 
1 – Eons – Patrick Husbands – Arnaud Delacour
2 – Theregoesjojo – Rafael Hernandez – Michael De Paulo
3 – Woodbridge – David Moran – Mike Keogh
4 – Peace of Ekati – Steven Bahen – Ashlee Brnjas
5 – English Conqueror – Antonio Gallardo – Darwin Banach
6 – Belichick – Luis Contreras – Josie Carroll
7 – Primo Touch – Justin Stein – Harold Ladouceur
8 – Corelli – Kazushi Kimura – Jonathan Thomas  
Grade 3 Seaway draws seven hopefuls, including Our Secret Agent 
TORONTO, August 19, 2021 – Set for seven furlongs on the Woodbine Tapeta, the Grade 3 Seaway Stakes, for fillies & mares, 3-year-olds and up, has drawn seven starters, including Mark Casse trainee Our Secret Agent. 
Owned by Gary Barber, the 4-year-old daughter of Secret Circle is as consistent as they come, assembling a record of 2-5-4 from 11 career starts. 
Our Secret Agent is no stranger to Woodbine, having competed at the Toronto oval on seven occasions, compiling a 2-3-2 mark in the process. 
The only thing missing from her résumé is a trip to the stakes winner's circle.  
"What a nice filly," praised Casse. "She comes to play every time."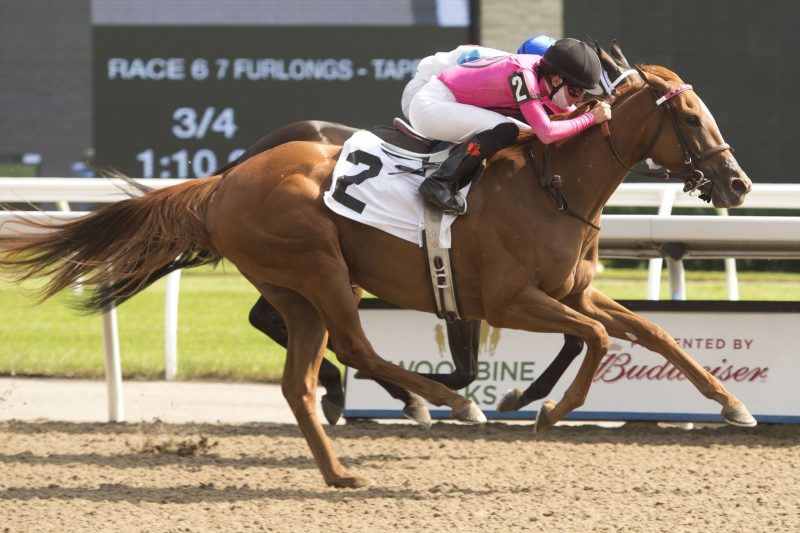 The dual Hall of Fame conditioner believes the Kentucky-bred (Paul Tackett Revocable Trust) will appreciate the seven-panel Seaway distance.  
"I think seven furlongs will be perfect for her," offered Casse. 
Standing in her way is a solid group of rivals, including multiple graded stakes winner Amalfi Coast and graded stakes champ Boardroom. 
FIELD FOR THE GRADE 3 $150,000 SEAWAY (Race 10) 
POST – HORSE – JOCKEY – TRAINER 
1 – Golden Vision – Omar Moreno – Tino Attard
2 – Hell N Wild – Antonio Gallardo – Lorne Richards
3 – Amalfi Coast – Justin Stein – Kevin Attard
4 – Fiduciary (GB) – Kazushi Kimura – Josie Carroll
5 – Toffen – Rafael Hernandez – Kevin Attard
6 – Our Secret Agent – Emma-Jayne Wilson – Mark Casse
7 – Boardroom – Luis Contreras – Josie Carroll      
Casse sends out quartet in Catch A Glimpse  
TORONTO, August 19, 2021 – Mark Casse conditioned Catch A Glimpse, who was Canada's Horse of the Year, Outstanding Two-Year-Old Filly, and Outstanding Turf Female of 2015 after winning Woodbine's Grade 1 Natalma and the Breeders' Cup Juvenile Fillies Turf at Keeneland. 
On Saturday, the dual Hall of Fame trainer will be will be looking for his first win in the stakes race named for his champion runner as he fields half of the eight entrants in the $125,000 tilt for 2-year-old fillies at 6 ½ furlongs on the grass. 
Diabolic is perfect in two starts, having scored first time out over five furlongs of turf at Gulfstream Park and returned to action more than two months later with a smart score here at 5 ½ furlongs on the Tapeta in the My Dear Stakes. 
"She's got to be considered one of the favourites, I would think," said Casse. "I don't think the added ground will be a problem. She finished strongly, and galloped out well in her last start."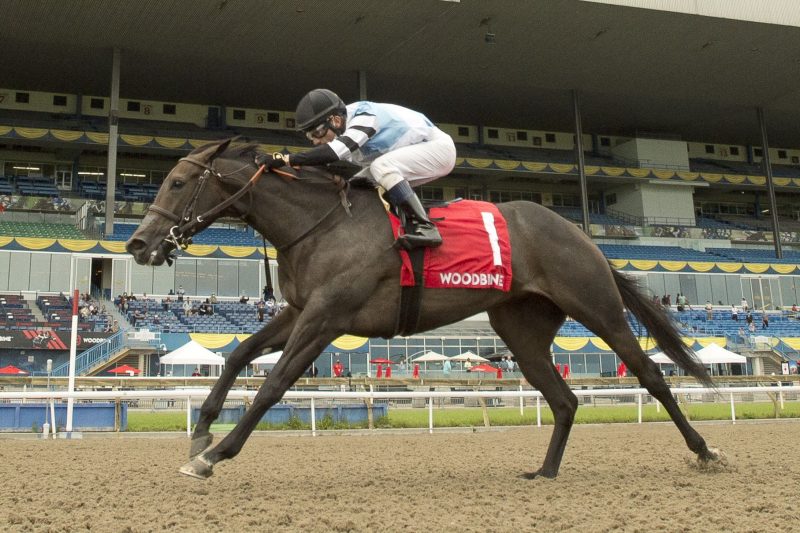 Lois Len also has raced twice, scoring at five furlongs here first time out and then ending fourth as the favourite in the My Dear following a troubled beginning. 
"I actually thought she ran very well, given her break," said Casse, who trains Lois Len for D.J. Stable LLC, Aron Yagoda, and Quintessential Racing Florida LLC. "I'm not sure about the turf – I think she'll be fine, we breezed her over it – but we're looking for more ground more than anything. She wants to run farther." 
Mo Touring, a homebred owned by Gary Barber, was a front-running winner of her only start to date, a five-furlong maiden turf race at Gulfstream back on June 3. 
"She was impressive," said Casse, of the Ontario-bred. 
Mrs. Barbara, a homebred who races for Spruce Stable, is winless in two starts but was a close second when making her local debut at 5 ½ furlongs on the main track.  
Rounding out the field will be locals Curlin Candy and Silver Magnatize along with shippers Royal Engagement and Miz Jameson. 
Curlin Candy, the first foal of Canadian Horse of the Year Caren, ran second to Diabolic when debuting in the My Dear. Caren won three turf stakes here in her 2016 championship campaign and finished third to Catch A Glimpse in the previous year's Natalma at one mile on the grass. 
The Catch A Glimpse was run for the first time in 2018. Shippers have won the last two editions with Alda connecting for trainer Graham Motion in 2020 following Fair Maiden's score for conditioner Eoin Harty the previous season.  
FIELD FOR THE $125,000 CATCH A GLIMPSE STAKES (Race 6) 
POST – HORSE – JOCKEY – TRAINER 
1 – Curlin Candy – Justin Stein – Mike De Paulo
2 – Diabolic (IRE) – Antonio Gallardo – Mark Casse
3 – Mrs. Barbara – Emma-Jayne Wilson – Mark Casse
4 – Royal Engagement – Kazushi Kimura – Timothy Hamm
5 – Mo Touring – Rafael Hernandez – Mark Casse
6 – Miz Jameson – Luis Contreras – Steve Asmussen
7 – Silver Magnatized – Gary Boulanger – Kevin Attard
8 – Lois Len – Patrick Husbands – Mark Casse  
First Empire, Twenty Four Mamba a solid team for Casse in Soaring Free 
TORONTO, August 19, 2021 – Trainer Mark Casse won last year's Soaring Free Stakes with Gretzky the Great, who went on to capture Woodbine's Grade 1 Summer Stakes en route to being voted Canada's champion male 2-year-old. 
On Saturday, Casse will send out the duo of First Empire and Twenty Four Mamba as he seeks to follow that blueprint in the $125,000 Soaring Free, a 6 ½-furlong race for 2-year-olds on the E.P. Taylor Turf Course, which lured a field of six. 
"Hopefully, if they run good, it will set us up for the Summer Stakes," said the trainer. 
First Empire, a Canadian-bred who races for Harlequin Ranches, faltered to finish fifth here when debuting on the Tapeta but rebounded with a front-running score at six furlongs on the main turf course. 
"We were disappointed in his first start but he came back and ran well on the turf," said Casse. "He should run well." 
Twenty Four Mamba failed to make much of an impact in his first two starts at Churchill Downs but struck from off the pace in his local bow and then ended the runner-up behind the very sharp shipper One Timer in the 5 1/2-furlong Victoria.  
"He's a horse that I had a lot of hopes for early on, and he was disappointing at first," said Casse. "But, I thought he broke his maiden impressively. And in his last start, that horse (One Timer) was just too fast. I thought he ran a good second." 
Casse believes that the Soaring Free distance, at least, will be in Twenty Four Mamba's favor. 
"He wants more ground," said Casse." I have no idea whether he'll turf, but so far, what I've seen of the Classic Empires, they've run pretty good on it." 
Classic Empire, trained by Casse during a career which included a Breeders' Cup Juvenile and Eclipse Award-winning juvenile campaign plus a victory in the Grade 1 Arkansas Derby and a near-miss in the Preakness, is off to a promising beginning at stud. 
Silent Empire, runner-up to First Empire when debuting for The Estate of Gustav Schickedanz and trainer Mike Keogh, will be looking to turn the tables in this rematch. 
"I think he should have won first time out," said Keogh. "It's not the rider's fault – he just got boxed in for the longest time. When he did come up the rail the other Casse entrant came in on him, and stopped him from getting out." 
Degree of Risk, coming off a smart maiden score on Arlington's synthetic surface, and Heaven Street, a last-out front-running winner over 7 ½ furlongs of turf at Indiana Downs for trainer Steve Asmussen, adding intrigue to the Soaring Free lineup. 
Locally-based Concealed Carry, victorious in his debut here before ending third in the Victoria, completes the lineup. 
Soaring Free, who lends this stakes his name, was Canada's Horse of the Year and Outstanding Turf Male in 2004 after capturing the Grade 1 Woodbine Mile. The Sam-Son Farm homebred finished a close second in the previous year's Woodbine Mile and was honoured as Canada's Outstanding Sprinter.  
First post for Saturday's 11-race card is 1:10 p.m. Fans can watch and wager on all the action via HPIbet.com. 
FIELD FOR THE $125,000 SOARING FREE STAKES (Race 3) 
POST – HORSE – JOCKEY – TRAINER 
1 – Twenty Four Mamba – Rafael Hernandez – Mark Casse
2 – Concealed Carry – Shaun Bridgmohan – Barbara Minshall
3 – Silent Farewell – David Moran – Mike Keogh
4 – Heaven Street – Luis Contreras – Steve Asmussen
5 – First Emperor – Patrick Husbands – Mark Casse
6 – Degree of Risk – Justin Stein – Eoin Harty