Ben Wallace
Standardbred Trainer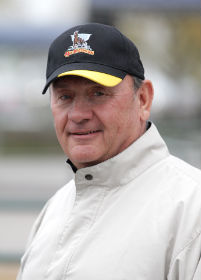 Born: 1/29/1949 in Guelph, Ontario
Resides: Milton, Ontario
Colors: Maroon-Grey-White
Career
In 2014, Wallace's stable star Apprentice Hanover won nine starts in his four-year-old season and banked over $400,000.
Wallace's stabled earned over $1 million for the 18th consecutive year in 2013 and won 83 races.
In 2012, Wallace's three-year-old pacing filly Big Mcdeal won multiple Pennsylvania Sires Stake events and the Cinderella Stakes at Maywood Park in Illinois.
Wallace has been a top conditioner on the WEG circuit for many years. 2011 marked the 16th consecutive year where Wallace has earned over $1 million in purses.
In 2011, Wallace sent out 71 winners from 566 starters banking $1,557,929 in earnings, which includes 33 wins from 332 starters and $1,011,960 in earnings on the WEG scene.
Wallace's top pupil in 2011 was Art Professor. Wallace purchased Art Professor at the 2011 Harrisburg Mixed Sale and the son of Art Major returned a handsome $394,037 last season for owners Brad Grant and Holland Racing Stable. His biggest payday came in his second-place effort in the $300,000 Molson Pace at Western Fair. On July 23, 2011, Art Professor became the fastest aged horse in Canadian harness racing history when he won the $45,000 Open Pace in 1:47.4.
Wallace also sent out Classy Lane Rose in 2011, who earned $143,130 in her rookie season. The daughter of Jeremes Jet competed in the OSS and finished third in the $300,000 OSS Super Final.
Wallace's stable enjoyed another productive campaign in 2010. As for the WEG scene, Wallace's pupils notched 48 wins and $807,633 in earnings. The star pupil from the Wallace barn in 2010 was the two-year-old trotting colt, Air Stewart. The son of Striking Sahbra banked $158,733 in 2010 while competing in the Ontario Sires Stakes program.
From 2004-2008, the free-legged pacer Zooka emerged as one of the most prominent horses on the WEG circuit and in North America. The son of Astreos banked well over $1.3 million lifetime and remains the fastest free-legged pacer of all-time with a 1:49.3 speed badge taken at Kawartha Downs in '07. The Ontario Sires Stakes graduate scored 25 wins from 159 career starts. A $24,000 yearling purchase, Zooka captured multiple Opens on the WEG circuit and finished third in the $544,000 Breeders Crown.
After a career year in 2002 (when Wallace finished second on the circuit with more than $3.1‑million in earnings) he had another highly productive 2003 despite losing his stable star Totally Western just as his sophomore campaign was nicely underway. The Western Hanover colt came up lame just days before the $1.5‑million Pepsi North America Cup. Still, the Wallace operation posted 55 wins that produced purse earnings in excess of $1.3 million.
In '03, three year‑old colt pacer Pronger emerged as Totally Western's successor and won 11 of 19 starts including eliminations of the Little Brown Jug and Breeders Crown…Cam Swifty started the 2003 season off slowly, but by mid‑season was tackling the continent's finest pacing mares and banked $194,000 and surpassed the $1‑million plateau for her distinguished career.
Totally Western's victory in the Breeders Crown two year‑old colt pace stands out as one of the most memorable moments of Wallace's 2002 season…Camotion, an O'Brien Award finalist (Pacing Horse division), retired with $1.9‑million in career earnings.
In 1999 Wallace won an O'Brien Award as Canada's Trainer of the Year when his stable was headlined by superstar three year‑old pacing colt Blissfull Hall. The Cambest speedball became just the ninth horse in history to win pacing's Triple Crown (Cane Pace, Little Brown Jug, and Messenger Stakes).
The year also featured juvenile filly Armbro Terrace, who won divisions of the Champlain Stakes and Harvest Stakes, and was second in a Breeders Crown elimination.
Wallace was voted OJC's 1996 Trainer of the Year.
His stable celebrated its first $1‑million season in 1997.