Blair Burgess
Standardbred Trainer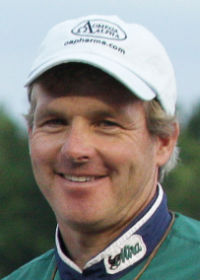 Born: 9/27/1961 in Toronto, Ontario
Resides: Campbellville, Ontario
Colors: Blue-Green-White
Career
In 2013, Burgess' three-year-old pacer Resistance Futile won a heat of the Little Brown Jug

In 2011, Burgess sent out 46 winners from 318 starts and banked $1,270,684 in earnings.

Friendly Amigo, a homebred of Burgess along with his father, Bob, earned $159,393 in 2011 including a victory in the $83,700 Allergae Farm Trot at The Red Mile.

On August 24, 2011, Il Villaggio captured the $215,000 Pride In Progress at Indiana Downs in 1:53. The five-year-old son of Yankee Glide earned $250,910 for Burgess in '11.

On June 18, 2011, Blue Porsche captured the $347,000 Goodtimes Trot final, stopping the teletimer in 1:54.2 at Mohawk.

2010 proved to be a memorable year for veteran trainer Blair Burgess, as he celebrated $1,354,830 in seasonal earnings from 362 starters. Blue Porsche was the stable star this past season, as he captured the $539,000 Valley Victory final to end his freshman campaign with $405,661 in earnings. The homebred son of Glidemaster also captured an O'Brien Award as Canada's Two-Year-Old Trotting Colt of the Year. Other top performers in '10 for Burgess include All Cantab ($159,142) and Friendly Amigo ($79,675).

On the WEG circuit in 2009, Burgess sent out 17 winners from his stable with purse earnings of just over $530,000. His overall numbers for the season basically doubled his local output, led by top stakes performers such as Apricot Brandy ($148,464), Friendly Amigo ($283,773), Truth In Action ($156,521) and Passmaster Hanover ($308,653).

In 2007, Tell All was certainly the bright spot for the operation with earnings of $1,568,183. The speedy son of Real Desire took home Three‑Year‑Old Colt Pacer Of The Year hardware in both Canada and the U.S. and was also voted as Co‑Horse Of The Year in Canada.

The 2006 season was simply sensational for Burgess, who proved that it's all about quality, not quantity. His students started in only 180 races (the fewest his barn has sent out since 1994), but they earned him a career‑best $3.08‑million in purses. The campaign saw Burgess become the first Canadian trainer to condition a trotting Triple Crown winner in Glidemaster (the eighth horse to accomplish the feat). The son of Yankee Glide won the Hambletonian (in stakes and Meadowlands track record 1:51.1), the Kentucky Futurity (in straight heats at The Red Mile), and the Yonkers Trot (at Yonkers Raceway). The Yonkers Trot victory came in what was Glidemaster's first start on a half‑mile oval, making the versatile brown colt the first horse since Super Bowl (1972) to achieve the Triple Crown with a half‑miler involved.

Glidemaster's $1,979,834 in seasonal earnings in 2006 is the most ever by a trotter.

Burgess also made noise in 2006 with three‑year‑old pacer Armbro Deuce, who won Flamboro's Confederation Cup in a Canadian record 1:50.2 over the half‑mile oval. Armbro Deuce finished third in each the Meadowlands Pace, Little Brown Jug and Progress Pace, and also won a division of the Simcoe Stakes at Mohawk.

The 2006 season also saw Burgess win the $432,700 Valley Victory at the Meadowlands with two‑year‑old trotting colt. Burgess has developed many other world class performers throughout his career, including Real Desire ($3,323,606), Frugal Gourmet ($1,349,560), Amity Chef ($1,373,933), Quality Western ($1,078,249) and Road Machine ($910,717).

Before starting out on his own, he tutored under colt specialist Stew Firlotte. 
Follow Blair on Facebook: http://www.facebook.com/people/Blair-Burgess/1147382273 or on Twitter: @Desibesi